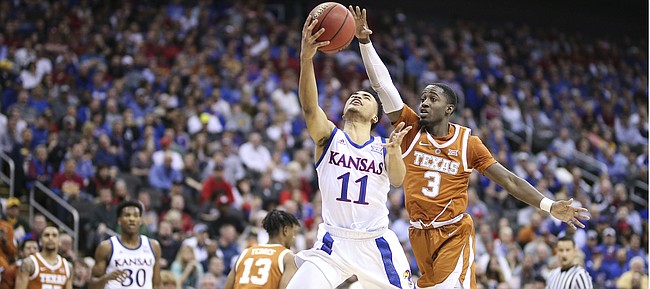 Kansas City, Mo. — Some coaches like to say that freshmen aren't really freshmen anymore this time of year.
The theory goes that they've played so many games by this point of a college basketball season, experienced so much in the previous four months that to label them as unqualified or inexperienced isn't accurate.
That adage was put to the test Thursday night at Sprint Center, where, per usual, Kansas started four freshmen in its Big 12 quarterfinal matchup with Texas.
Sure, the Jayhawks used the same combo around junior Dedric Lawson in each of the regular season's final eight games, but this was a new stage. Would they play like freshmen? Or show out like sophomores?
It turned out the those bright lights shining down on the hardwood for the Big 12 tournament weren't too much for two of KU's first-year standouts to handle.
The relentlessness of point guard Devon Dotson and the unmitigated power of David McCormack kept these Jayhawks who came up short of a regular season league title in the hunt for the hardware the conference will hand out following Saturday night's final, as the Jayhawks advanced with a 65-57 victory in the last game of the day.
While one never knows with this KU team (24-8) which freshmen will best complement Lawson on any given night, it became clear early during this one that the blur known as Dotson and the brut known as McCormack were locked in.
"That's the focus that I wanted to have," Dotson said. "Just really get the team going and don't let it get to a bad start."
Photo Gallery
Kansas basketball v. Texas (Big 12 Tournament)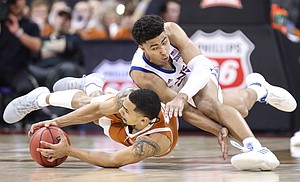 View a gallery of images from the Jayhawks' Big 12 Tournament opener against Texas on Thursday at Sprint Center.
The 6-foot-10 McCormack continued his explosive March rise by opening the postseason with a strong take into the paint for a jump hook that appeared years beyond what that same shot would have looked like just a month ago.
Seconds later Dotson sprinted through the passing lane and rode that wave all the way to a layup.
Although Quentin Grimes and Ochai Agbaji weren't quite as ready to pounce as their fellow freshmen versus the Longhorns, it oftentimes didn't kill the Jayhawks because Dotson and McCormack were so willing and able to pick up the slack.
At one early juncture in the first half, Grimes was off the mark with a layup but McCormack had it under wraps, taking off for the kind of two-handed follow slam that would make Udoka Azubuike proud.
When KU's postseason opener hit a lull in the first half, and the No. 3 seed had gone more than 3 minutes without scoring, Dotson put it on himself to end that misery by blowing by the UT defense for a layup.
Even though not every Dotson foray into the paint went his way, his persistence paid off, as he kept fighting and speeding his way into the restricted area.
"I felt like there were driving lanes I could attack and that was an emphasis, just to get downhill and make plays," Dotson said inside KU's locker room after the victory.
"I've watched some film, just seeing what I can do to improve each and every game, and that was one emphasis. I can get in there a lot more and make plays."
The 6-2 point guard looked wise beyond his years on one fast break late in the first half. Instead of forcing the issue and taking what would have been a bad-decision shot for himself, he dumped the ball off to a trailing Marcus Garrett for a layup that tied the game at 29.
Dotson's sophomore-level efforts and executions assured Kansas of a strong start to the second half, as well.
He reminded the Longhorns that he'd be living in the paint this night and scored inside less than a minute removed from intermission.
And because they had to be inspired of the play of Dotson and the at times superhuman look McCormack took on offensively, Agbaji and Grimes started contributing in key moments, too.
Agbaji shot out of a cannon down the sideline on one Texas turnover, and his anticipation made it easy for him to get to the rim and finish over a defender for a layup.
Even though Grimes' shots weren't dropping, his passing picked up just as KU began giving itself some breathing room.
"We just feed off that energy," Grimes said. "That makes us play harder on the defensive side, made Texas take some bad shots."
One of the most impressive individual plays of the quarterfinal came in the second half, when Dotson dissected a pick and roll like a veteran before missing a lay-in like a freshman. No worries. McCormack's hustle cleaned it up.
The hands down loudest play of the night in front of a pro-KU crowd came when Agbaji swung the ball to Dotson in the left corner for a sure 3-pointer that stretched the KU lead to 7.
Soon after, Grimes finally got a basket to drop, around the 13-minute mark of the 2nd half. It was a big one, too, a quick response to an Dylan Osetkowski 3 on the other end. It got KU's lead back to 9 in a pivotal moment.
Between Dotson (17 points, 4 assists), McCormack (13 points), Agbaji (2 points) and Grimes (12 points), KU got 44 points out of its four freshmen starters.
It wasn't a perfect night for the foursome, but it was definitely a promising one for the dynamic Dotson and the powerful McCormack.
And both Agbaji and Grimes now know what this stage feels like. And that it's possible to shine as a freshman.
McCormack left Sprint Center late Thursday night anticipating more growth for the four youngest Jayhawks.
"We're depending on freshmen, but now that everyone's got their feet wet and has experience in the game, we just kind of embrace it," McCormack said. "A lot of people say youth is kind of hard to deal with. But we embrace the energy that we can bring to the table as young freshmen."
The Jayhawks will only go as far this weekend and beyond as their four freshmen and Lawson can take them.
"Everything matters," Grimes said of what they learned about the postseason while defeating Texas. "Every possession. Every second. Every loose ball. Every rebound. So you just can't go back to the locker room and say 'damn, I let that one slip away.'"
Their first postseason experience revealed this season isn't dead yet.
"I feel like today we handled it pretty good," Dotson said. "We can only keep improving. Just build off of this game. We got the first game jitters out and just ready to roll."