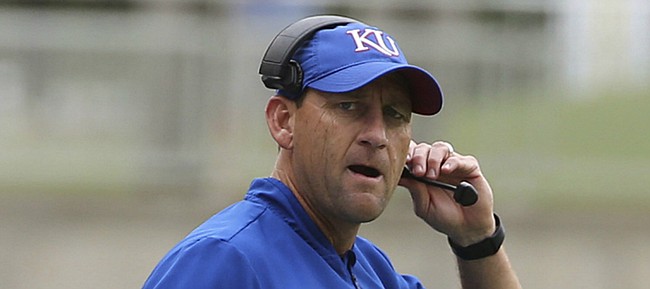 The David Beaty era at the University of Kansas may have ended on the field in November of 2018, but the athletic department that fired him hasn't heard the last from its former embattled head football coach.
Beaty filed a lawsuit against his former employer, Kansas Athletics Inc., on Tuesday, alleging a breach of contract and unpaid wages of $3 million owed to him.
KU Athletic Director Jeff Long fired Beaty with three games remaining in the 2018 season, Beaty's fourth year in charge of the program. Per the contract extension Beaty signed in 2016, if Kansas Athletics fired him without cause, he would be owed $3 million.
According to attorneys at Dallas-based Deans & Lyons LLP, Kansas Athletics officials "immediately began discussing what it would take to avoid the $3 million payout," after firing Beaty, and allowing him to finish out the season.
The suit, filed in U.S. District Court for the District of Kansas by Deans & Lyons and Kansas City-based Scharnhorst Ast Kennard Griffin PC, states that the athletic department wanted to find "something" on Beaty, such as "a dead hooker in [his] closet."
While the university doesn't typically comment on unresolved lawsuits, athletics department spokesman Jim Marchiony said Tuesday evening the nature of the court filing warranted a response.
"Beaty was informed he would not be retained by KU on November 4, 2018, but would be able to coach the remaining games. Immediately following the end of the season, Kansas Athletics staff conducted standard exit interviews of all football coaches and staff, and through that process we learned of possible NCAA violations allegedly committed by Beaty," Marchiony stated. "KU contacted the NCAA and the Big 12 Conference and began an investigation into the matter. Beaty refused to cooperate with the KU review and, ultimately, the NCAA took the lead in the still-ongoing investigation."
If proven true, those violations would be deemed just cause for the termination of Beaty's contract, Marchiony pointed out.
"The university has withheld payment of money owed to Beaty pending the outcome of the NCAA investigation," Marchiony said. "In a show of good faith, the university has placed the full amount owed in escrow."
On behalf of Kansas Athletics, Marchiony added: "While disappointed in the court filing, the university is committed to seeking the truth and upholding our high standards of ethical conduct."
According to attorneys representing Beaty, the former KU football coach was informed on Dec. 13 that Kansas Athletics had initiated an investigation into allegations "involving a member of the football staff and that Kansas Athletics would not make the guaranteed payments until its self-initiated investigation was completed."
Per the attorneys, Beaty has cooperated with the investigation and maintains he was "unaware of any violations of any NCAA rules while the head football coach at KU."
Beaty did not respond to multiple requests from the Journal-World seeking comment on Tuesday night.
Deans & Lyons co-founder Michael Lyons stated Tuesday that Kansas Athletics has "moved the goal posts" on Beaty since the conclusion of his tenure as KU football coach.
"Kansas Athletics can't walk back its decision to terminate Coach Beaty without cause after confirming it publicly, privately, and in writing," Lyons stated. "Coach Beaty and his family will always cherish their time at KU, but they do not understand why Kansas Athletics has reneged on its promises."
Later Tuesday evening, Kansas Athletics made an amendment to its original statements, making sure to add that the law suit was "full of false claims and factual misstatements, including that KU's Director of Athletics made salacious comments about seeking reasons to withhold payment from Beaty. Simply, that did not happen."
Hired by former KU Athletic Director Sheahon Zenger in December of 2014, Beaty went 6-42 as the Jayhawks' head football coach over the course of four seasons, 2015-18.
KU's 3-9 mark in his final season was its best under Beaty, who had three years remaining on the contract extension he signed in 2016 when the deal was terminated.
Long hired Les Miles, former head coach at LSU and Oklahoma State, as Beaty's replacement two weeks after firing Beaty.