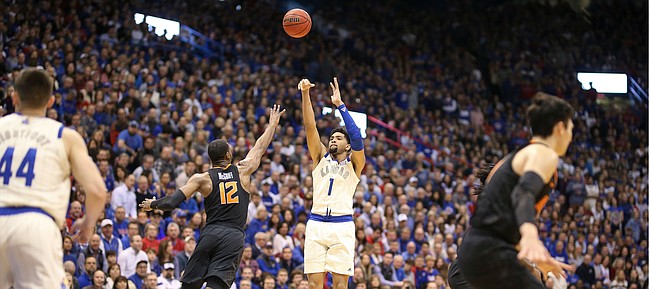 He delivered 20 double-doubles, averaged 19.1 points and 10.6 rebounds per game and helped lead the Kansas men's basketball team to a perfect record at Allen Fieldhouse.
All of that, and more, led to KU junior Dedric Lawson earning Big 12 Newcomer of the Year honors, the conference announced Sunday morning.
Lawson, the 6-foot-9 Memphis transfer who started every game of the regular season for the Jayhawks in his first season of eligibility with the program, also earned first team all-Big 12 honors and became one of just a handful of players in Big 12 history to lead the conference in points and rebounds in the same season, joining the likes of Blake Griffin, Kevin Durant and Michael Beasley.
He becomes the second consecutive Jayhawk to be named Big 12 Newcomer of the Year, joining Malik Newman, who earned the honor in 2017-18.
Dating back to the Big Eight Conference, Lawson is the 10th Kansas player to be named its conference's newcomer of the year.
He was edged out in player of the year voting by Texas Tech's Jarrett Culver, who joined 2019 Big 12 coach of the year, Texas Tech's Chris Beard, in picking up the conference's two biggest individual honors.
"I'm proud of Dedric being first team, and you know he was right there for player of the year," KU coach Bill Self said. "Jarrett probably deserved it based on how their team finished and how he finished, and I thought Barry was right there as well. I thought either one would have been a good choice."
Culver was a huge part of the reason KU's streak of 14 consecutive Big 12 regular season titles came to an end this season, with Texas Tech earning a share of the 2018-19 Big 12 title with Kansas State at 14-4. KU finished the season 12-6, with road losses to both programs.
Culver ranked third in the Big 12 in scoring (18.3), fifth in assists (3.6) and 10th in rebounding (6.2). Those numbers included a monster 31-point outing at Iowa State on Saturday in a win that delivered the Red Raiders a share of the title.
Culver and Lawson were joined by Kansas State's Barry Brown Jr. and Dean Wade and Iowa State's Marial Shayok on the all-Big 12 first team.
Culver, Brown and Lawson were unanimous first team picks and Wade, the Big 12's preseason player of the year, was the only repeat first-team selection from last season.
Two other Jayhawks joined Lawson in being honored by the Big 12 coaches on Sunday.
Freshman Devon Dotson, who averaged 12.3 ppg, 3.9 rpg, 3.8 apg and 1.3 spg in Big 12 play, earned third team all-Big 12 honors and was named to the five-man all-freshman team. And sophomore Marcus Garrett was named to the all-defensive squad.
"I think Dedric being named first team and Devon third team are very deserving," Self said. "The only thing I am disappointed with is I thought Devon should have been second team.
"The other thing that is disappointing is, without Udoka (Azuibuike) and Lagerald (Vick) eligible, you don't have anybody that made honorable mention, which is probably a first for us in many, many years. I thought it was good for those two (Dedric and Devon) and I thought Marcus making the all-defensive team was definitely deserving and I think he would have a chance for defensive player of the year if he hadn't got injured."
The Associated Press also will release its all-Big 12 honors on Tuesday.
"Overall, it was solid," Self added of the postseason selections made by the Big 12 coaches. "Nothing unexpected happened. If anything, this will be motivation for all the players either selected or not selected to go either validate their season-long performance in the upcoming tournaments or to prove people wrong. It just adds to the competitiveness of the tournaments."
Here's a look at the rest of the all-Big 12 honors for the 2018-19 season. Coaches were not allowed to vote for their own players.
All-Big 12 2018-19
Player of the Year: Jarrett Culver, Texas Tech
Coach of the Year: Chris Beard, Texas Tech
Newcomer of the Year: Dedric Lawson, Kansas
Defensive Player of the Year: Barry Brown, Jr., Kansas State
Freshman of the Year: Jaxson Hayes, Texas
Sixth Man Award: Lindell Wigginton, Iowa State
Most Improved Player Award: Kristian Doolittle, Oklahoma
First Team
Marial Shayok, Iowa State
Dedric Lawson, Kansas
Barry Brown, Jr., Kansas State
Dean Wade, Kansas State
Jarrett Culver, Texas Tech
Second Team
Makai Mason, Baylor
Jaxson Hayes, Texas
Desmond Bane, TCU
Matt Mooney, Texas Tech
Derek Culver, West Virginia
Third Team
Devon Dotson, Kansas
Kristian Doolittle, Oklahoma
Christian James, Oklahoma
Alex Robinson, TCU
David Moretti, Texas Tech
Honorable Mention
Jared Butler (Baylor), Mario Kegler (Baylor), Mark Vital (Baylor), Talen Horton-Tucker (Iowa State), Nick Weiler-Babb (Iowa State), Lindell Wigginton (Iowa State), Xavier Sneed (Kansas State), Kamau Stokes (Kansas State), Brady Manek (Oklahoma), Cameron McGriff (Oklahoma State), Lindy Waters (Oklahoma State), Kouat Noi (TCU), Matt Coleman III (Texas), Kerwin Roach II (Texas), Tariq Owens (Texas Tech)
All-Defensive Team
Mark Vital, Baylor
Marcus Garrett, Kansas
Barry Brown, Jr., Kansas State
Jaxson Hayes, Texas
Matt Mooney, Texas Tech
Tariq Owens, Texas Tech
All-Newcomer Team
Makai Mason, Baylor
Marial Shayok, Iowa State
Dedric Lawson, Kansas
Jaxson Hayes, Texas
Matt Mooney, Texas Tech
All-Freshman Team
Jared Butler, Baylor
Talen Horton-Tucker, Iowa State
Devon Dotson, Kansas
Jaxson Hayes, Texas
Derek Culver, West Virginia