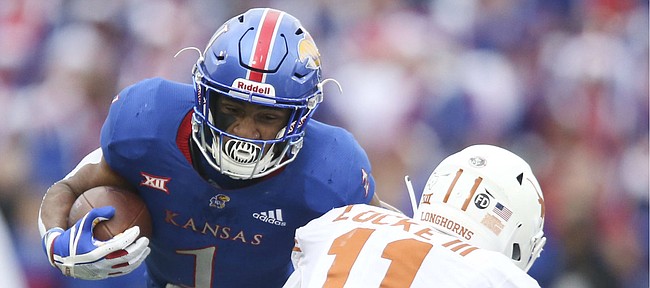 While almost all of the 90-plus players listed on the Kansas football roster suited up Wednesday, sans shells and pads, for the first day of spring practice inside the program's new indoor facility, running back Pooka Williams was nowhere to be seen.
KU football coach Les Miles said afterward that there is no timetable for the possible return of Williams, charged this past December with domestic battery.
"It's an ongoing process and it's not one that we're going to mess with in any way," Miles said.
When a Dec. 5 incident in which Williams, 19, was accused of punching an 18-year-old woman in the stomach led to charges, Miles responded at the time by suspending the running back from KU football activities indefinitely, pending further investigation.
The Douglas County District Court granted Williams a diversion in the case, but as of Wednesday, no record existed of one being filed. Williams last appeared in court in February, when a trial date for the case was set for June 3.
Williams' attorney, Hatem B. Chahine, stated previously he asked for a later trial date to give both sides time to sort out a diversion agreement.
The Jayhawks' offensive star in 2018, Williams, who played in 11 games, rushed for 1,125 yards and seven touchdowns, caught 33 passes for 289 yards and two touchdowns, and accounted for 246 yards on kickoff returns as a true freshman.
The 5-foot-10, 170-pound back from Louisiana earned first-team All-Big 12 honors from both the conference's coaches and the Associated Press in 2018.
Miles first referenced Williams during his media session Wednesday evening while discussing the team's running back depth.
"We don't have one of the running backs that we will eventually — and we'll see if we can have him," Miles said.