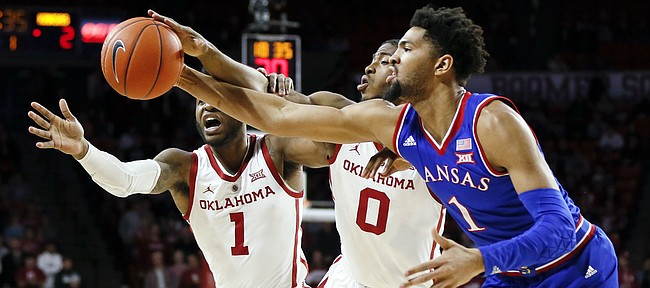 Norman, Okla. — When KU forward Dedric Lawson first arrived at Kansas, he brought with him 36 career double-doubles from his two seasons at Memphis, where he both grew up and played before transferring to KU prior to the 2017-18 season.
Today, as the 6-foot-9 junior closes in on the end of his first season with the Jayhawks — which has anywhere between 3 and 10 games left in it — it's clear that the jump in level and competition, from Memphis to a power conference, has done nothing to slow Lawson's ability to record double-doubles.
In fact, Lawson is slightly ahead of pace to deliver what he did at Memphis and is in the process of making his mark on both the KU and national record books.
On Tuesday, in a brutal 81-68 loss at Oklahoma, Lawson pushed his total to 19 with an 18-point-11-rebound effort against the Sooners.
Lawson leads the Big 12 in double-doubles, having hit double-figures in both points and rebounds in eight of his last 13 games, and 11 in his last 18 outings.
What Lawson has done for the Jayhawks this season, though somewhat overlooked because of all of the struggles this roster has faced and this team's troubles on the road, is rare even by Kansas standards.
In the past 17 seasons, just three Jayhawks have recorded 18 or more double-doubles in a single season, with Thomas Robinson's single-season record of 27 during the 2011-12 season leading the way, followed closely by Drew Gooden's 25 in 2001-02 and Cole Aldrich's mark of 21 during the 2008-09 season.
While Lawson likely does not have time to catch Robinson or Gooden at the top, catching Aldrich, who is tied with Raef LaFrentz for third on KU's single-season double-doubles list, appears to be in range.
LaFrentz also is tied with Dave Robisch (1969-70) for KU's fifth-best single-season mark (19), and KU legend Danny Manning recorded 18 during the 1986-87 season.
As the years have gone on, the seasons have grown longer, but Lawson's achievements are still noteworthy both at KU and on the national scene.
His 55 career double-doubles in 95 games put him in fourth place on the NCAA's list of active players and Lawson is the only non-senior in the Top 4.
R.J. Hampton visit on deck
Class of 2020 point guard R.J. Hampton will begin his 48-hour official visit to Kansas on Thursday, Hampton's father, Ron Hampton, confirmed to KUsports.com recruiting insider Matt Scott earlier this week.
The do-everything, 6-foot-5, 170-pound point guard from Little Elm, Texas, who is ranked No. 5 overall in his class by Rivals.com, will arrive on Thursday evening and stay through Saturday's regular-season finale against Baylor, which is slated for a 1 p.m. tipoff at Allen Fieldhouse.
Hampton is considered by many to be the best guard in the country, no matter the class.
Duke, Kentucky, Memphis, TCU and Kansas are the schools remaining on Hampton's list after he cut it to five in early February.
Chalmers to Italy
As the NBA heads toward the 2019 playoffs, former Kansas great Mario Chalmers, a two-time NBA champion with the Miami Heat, is in the process of transitioning to basketball on a different continent.
According to multiple reports, along with his own posts on his Instagram page, Chalmers recently agreed to a deal with Virtus Segafredo Bologna of Italy for the rest of the season.
The 32-year-old Chalmers, who hit what many consider to be the biggest single shot in Kansas basketball history during the 2008 national title game, played 66 games for the Memphis Grizzlies during the 2017-18 season after recovering from a torn Achilles that forced him to miss the 2016-17 season.
During recent trips to Lawrence, Chalmers talked about his desire to catch back on with an NBA team, perhaps one in need of a veteran guard in a back-up role, but a handful of inquiries and tryouts with teams for the current season yielded nothing solid and kept Chalmers on the sidelines.
To date, Chalmers has appeared in 646 games during his 9-year NBA career.
This and that...
Tuesday's loss dropped the Jayhawks to 3-8 in true road games this season, including a 2-2 record in their past four road games, with wins at TCU and Oklahoma State and losses at Texas Tech and Oklahoma... The Jayhawks are now 7-8 in games played away from Allen Fieldhouse this season... KU's six losses in conference play are the program's most since finishing 6-8 in Big Eight play during the 1988-89 season... KU now leads the all-time series with the Sooners, 148-68, which includes a 52-44 mark in games played in Norman and a 19-19 record inside Lloyd Noble Center... Kansas has now lost two in a row on OU's home court.... With Tuesday's loss, KU coach Bill Self dropped to 20-7 all-time against the Sooners, 20-5 while at Kansas.