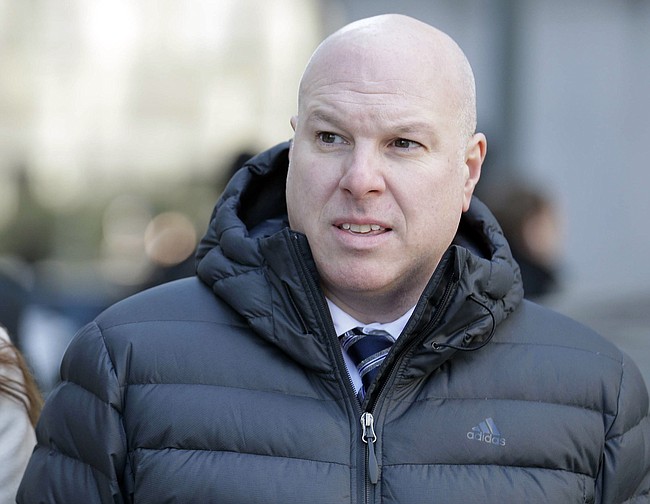 The three men who were convicted of fraud for their schemes in a college basketball recruiting scandal — which included the University of Kansas program — were sentenced on Tuesday to months in prison.
Judge Lewis A. Kaplan sentenced former Adidas executive James Gatto to nine months in prison and business manager Christian Dawkins and amateur league director Merl Code to six months in prison. He recommended all three men serve their sentences at minimum security prisons.
The judge said each could remain free until a federal appeals court decided whether to uphold their convictions.
Prosecutors in the Southern District of New York previously recommended a sentence of 46 to 57 months for Gatto and 30 to 37 months for Code and Dawkins.
However, prior to sentencing, Kaplan said he sympathized with the argument that the defendants were being punished when others who did similar things were not being prosecuted. Nonetheless, he said, "These defendants all knew what they were doing was wrong."
Kaplan acknowledged none of the defendants "took home a nickel" from the scheme, but said it was wrong to say there was no economic motive because each defendant's career stood to benefit.
The judge added that he wanted to send "a great big warning light to the basketball world."
"I deeply regret my actions," Gatto said in a shaky voice.
Dawkins referenced "social dysfunction" in college basketball and said his actions were "clouded" by a "system that takes advantage of kids."
"I realize now more than ever none of this was worth it," Dawkins said.
Code said he also regretted his actions but added, "Some things really got to be changed about college basketball."
In October, a jury found Gatto, Dawkins and Code guilty of fraud.
The trial centered on whether the men's admitted effort to channel secret payments to the families of top recruits, luring them to major basketball programs sponsored by Adidas, including KU, was criminal. At stake was a fortune in revenue for the basketball programs and potential endorsement deals for the players if they went pro, both the prosecutors and defense have contended.
During the trial, testimony focused on KU coach Bill Self's relationship with government witness T.J. Gassnola. Gassnola, a former Adidas consultant, testified that he paid the families of players to steer them to KU, including $90,000 to the mother of former KU player Billy Preston and $2,500 to the guardian of current KU player Silvio De Sousa. Gassnola testified that he never told Self about the payments. Gassnola is awaiting sentencing in a separate but related federal case.
The defense in the case argued that the coaches, including Self and KU assistant coach Kurtis Townsend, were aware of the payments to players. Despite the argument, the jury found all three men guilty of defrauding universities, including KU, by providing money to players' families to push them toward certain programs.
Attorneys for the three men recently asked the judge to sentence them to probation. Last week, attorneys for KU, Louisville and North Carolina State requested an order for the three men to pay restitution to recover money the universities had lost because of the men's action.
KU's total requested restitution is $1,136,424. Louisville only requested restitution of about $31,000, and NC State requested about $258,000.
The restitution requested by KU covers:
• $112,731 for two athletic scholarships and financial aid the university provided to De Sousa and Preston.
• $346,393 for legal fees the university paid in response to the NCAA investigating De Sousa and Preston.
• $308,472 for fees the university incurred to cooperate with the federal investigation of the Gatto, Code and Dawkins crimes.
• $289,886 for professional service fees the university incurred to respond to federal subpoenas related to the men's crimes.
• $78,942 for fees the university incurred to prepare Jeff Smith, KU Athletics senior director of compliance, as a witness to testify and to have an attorney present during the trial.
As part of Tuesday's sentencing, Code and Dawkins are required to pay $28,261 in restitution to Louisville, according to a tweet from Adam Zagoria, a college basketball reporter covering the trial.
It's not clear how much, if any, money would be paid to KU. How much Gatto would owe in restitution has not yet been announced, according to Zagoria.
KU officials did not respond to a Journal-World request for comment.
— The Associated Press contributed to this report.