For years, the Rock Chalk Roundball Classic was a fun, summer event that brought together a bunch of former KU basketball players for a night of highlights.
Today, the Roundball Classic has become a powerhouse, three-day fundraiser for a great cause — helping area families that are fighting against pediatric cancer.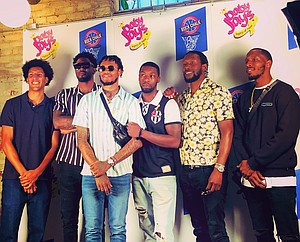 According to event organizer Brian Hanni, the voice of the Jayhawks, the early returns on last weekend's extravaganza indicate that this year's three-day event was on pace to approach or even surpass the $171,500 the event raised a year ago, all of it earmarked for five local families fighting pediatric cancer.
That will bring the 11-year total the event has raised to more than half a million dollars.
If you've never experienced the Rock Chalk Roundball Classic be sure to put it on your to-do list. In addition to the exhibition game, the event includes a VIP dinner and celebrity golf tournament that has given fans a chance to interact with past KU greats like Frank Mason, Sherron Collins, Mario Chalmers, Keith Langford, Darnell Valentine, Ben McLemore, Dave Robisch and others.
While those big names get the crowd excited, give Hanni a ton of credit for injecting the passion and energy that an event like this requires.
Photo Gallery
2019 Rock Chalk Roundball Classic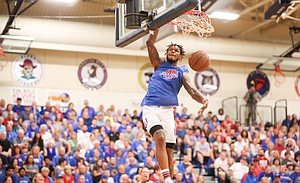 View a gallery of images from the 2019 Rock Chalk Roundball Classic
Remember, Hanni for the better part of four years hosted the Roundball Classic in Lawrence despite serving as a play-by-play announcer for Texas Tech in Lubbock, Texas. It would have been real easy for Hanni to give the event the old out-of-sight-out-of-mind treatment when he headed south. But the event, Lawrence and, most importantly, the kids meant too much to him to let it disappear.
So he didn't. Instead, he sought to make it bigger and better and continues to operate it that way every year.
Hanni said he has a list of all the past rosters hanging in a prominent place where he can see them any time he wants. And each year, when the calendar flips and the event draws closer, Hanni and his team ramp up their efforts to make sure that year's roster is bigger and better than the year before it.
What started as a cool way to play some ball with a few former friends has blossomed into a bona fide, annual Kansas basketball reunion.
Some of the biggest names and most accomplished players from KU have made this a must-attend event. And instead of walking around like they're too cool for school or untouchable celebrities, these guys bounce around like they're old pals at a high school reunion, except there is a vibe that goes beyond just catching up.
No one better summed up that spirit over the weekend than former player Kenny Gregory, who I had classes with at KU and enjoyed catching up with tremendously.
"The more time that passes, the more you appreciate everything," Gregory said.
That realization is a highlight-reel moment that we all can hope to have.
For more information on the history of the event or to find out how you can get involved and donate year-round, log on to RockChalkRoundballClassic.com.