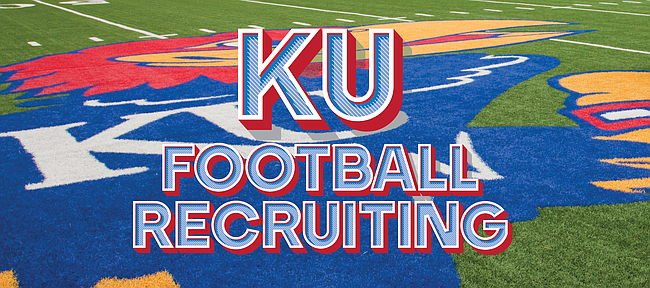 A lively weekend for the Kansas football program's recruiting efforts kept jetting along Saturday night.
Fewer than 24 hours removed from the first commitment of a dizzying span featuring high school prospect after high school prospect announcing his plans to join the Jayhawks, the weekend total for new Class of 2020 pledges hit seven when a defensive lineman from Louisiana added his name to the list.
Just like many of his fellow members in KU's seemingly constantly multiplying recruiting class, Kenean Caldwell jumped on Twitter, posted some photos of himself decked out in a Kansas uniform and declared himself "110%" committed to head coach Les Miles' program.
"After visiting and talking with Coach Les Miles and Coach Kwahn Drake," Caldwell wrote, referencing both the man in charge and KU's defensive line coach, in a note that accompanied his announcement, "I have decided to continue my academic and football career at the University of Kansas. … I would like for everyone to respect my decision."
Per Rivals, Caldwell, a three-star prospect from Oak Grove, La., previously took an official visit to Ole Miss, and the 6-foot-2, 305-pound defensive tackle also had offers from the likes of Oregon, TCU, Texas A & M, Mississippi State and Colorado.
A flurry of commitments began piling up for KU on Friday night and Saturday morning on a weekend that Miles and his staff planned to play host to 14 players on official visits, with about five others making unofficial visits.
Offensive lineman Garrett Jones and cornerback Ja'Cobee Bryant were the first KU recruits to announce their college football plans on Friday night, before five more hopped on for the ride Saturday: O-lineman Nicholas Martinez, receiver Malik Johnson, defensive end Caleb Taylor, O-lineman Tommy Brandt and finally Caldwell.
Caldwell became the third member of KU's class from Louisiana, joining linebacker Kershawn Fisher and D-end Khari Coleman.
Thanks to a bountiful recruiting weekend, the Jayhawks now have 19 players in their 2020 recruiting class, with 14 of those coming during a frantic June.
Thirteen of the 19 prospects currently attached to KU are rated as three-star talents. All verbal pledges, of course, are nonbinding. The earliest any of the recruits for the 2020 class can sign and make their ties to KU official is December.
2020 KU football recruiting class
- Verbal commitments
• Kershawn Fisher - 3-star LB from Louisiana
• Duece Mayberry - 3-star CB from Oklahoma
• Jackson Stoefen - 3-star OL from Iowa
• Keenan Hambrick - 3-star WR from Alabama
• Trevor Kardell - 3-star TE from Missouri
• Will Huggins - 3-star TE from Kansas
• Krishawn Brown - 3-star LB from Oklahoma
• Khari Coleman - 3-star DE from Louisiana
• Garrett Jones - 3-star OL from Michigan
• Ja'Cobee Bryant - 3-star CB from Alabama
• Malik Johnson - 3-star WR from Texas
• Caleb Taylor - 3-star DE from Missouri
• Kenean Caldwell - 3-star DT from Louisiana
• DaVonshai Harden Jr. - 2-star QB from Kansas
• Luke Grimm - 2-star WR from Missouri
• Tommy Brandt - 2-star OL from Minnesota
• Kyler Pearson - WR from Oklahoma
• Jaylin Richardson - Athlete from Kansas
• Nicholas Martinez - OL from California
- Former commitments
• Keith Miller III - 3-star WR from Texas (flipped to Colorado)