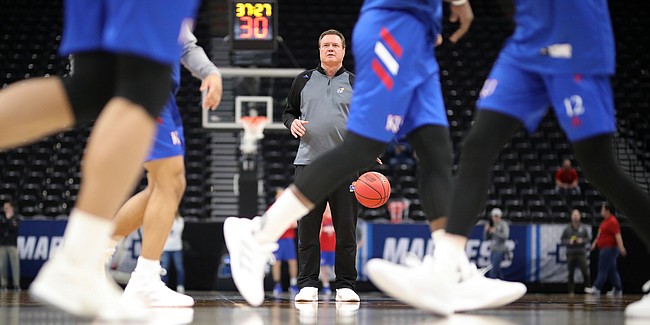 Count Kansas basketball coach Bill Self in the group of people unsure of whether KU will be one of the programs receiving a Notice of Allegations from the NCAA later this summer.
Speaking with reporters at Monday's Bill Self Basketball Camp, Self offered his input on last week's report from CBS Sports that quoted NCAA vice president for regulatory affairs, Stan Wilcox, as saying, "at least six Division I men's basketball programs" would be receiving notices this summer in the wake of a federal investigation into corruption in college basketball recruiting.
"I have no knowledge of who he was talking about or anything like that," Self said Monday. "But certainly the fan bases of all the (programs) that were mentioned, I'm sure, are very interested in what he meant by that."
Last week's CBS report indicated that "at least 20 schools were mentioned during the course of the FBI's investigation." In addition to acknowledging that notices were forthcoming for Level I violations, Wilcox added that at least two "high-profile programs" would receive theirs by early July.
Four programs that were brought up in federal trial — Arizona, Auburn, Oklahoma State and USC — recently saw assistant coaches plead guilty to conspiracy to commit bribery.
Others that were mentioned at one point or another during the recent federal trials include KU, Louisville, LSU, Creighton, North Carolina State, TCU, Miami (Fla.) and more.
"I've got no comment on (the CBS report) because only he knows exactly what he meant by what he said," Self said Monday. "I just think to predetermine what's going to happen before investigations are done, I think that comes pretty strong. … I was shocked to read that something could be said that was not specifically intended for anyone, but it made all 20 schools that were mentioned in the FBI deal and their fan base feel like it was."