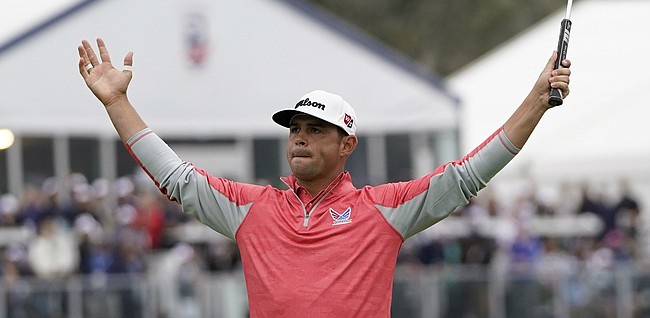 After taking the lead with a monster second round at famed Pebble Beach on Friday, former Kansas golf standout Gary Woodland kept the lead to the end, finishing the job Sunday afternoon by winning the first major title of his career.
All Woodland had to do to win was hold off two-time defending U.S. Open champ, Brooks Koepka, who made a serious charge and got to 10-under for the tournament, putting just enough pressure on Woodland on Sunday afternoon to make him feel every heartbeat.
But Woodland, 35, was up to the challenge and never blinked en route to becoming the first Jayhawk ever to win a major.
After giving a shot back on the 13th hole, Woodland birdied No. 14 after an aggressive second shot at the Par 5 that both reached the green and gave him the confidence he needed to get to the end.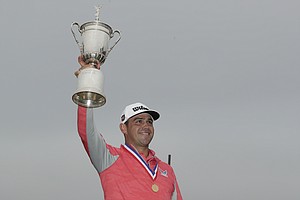 "The idea was to play to win," Woodland said during a TV interview after his triumph. "That birdie kind of separated me a little bit."
A few holes later, his chip shot on the Par 3 17th hole, which helped him card yet another par after safely traveling from one edge of the green to makeable-putt distance on the other side, preserved his two-shot lead heading into the final hole and earned a fist bump from playing partner Justin Rose, who led the tournament after Round 1 and trailed by just one entering Sunday's final round.
"I was just trying to get it over that hump there," Woodland said of the chip that all but sealed his victory. "It came off perfectly. I thought it had a chance to go in, but it's not one I want over."
From there, he played it safe on 18 and then, fittingly, rolled in a bomb of a putt for birdie on his final hole to finish at 13-under for the tournament, three strokes better than Koepka.
Woodland made just four bogeys all tournament — tying the Pebble Beach record — and did some of the best scrambling of his career to avoid whatever trouble presented itself. He brought home a first-place prize of $2.25 million for his efforts.
"I never let myself get ahead," an emotional Woodland acknowledged after winning. "And I never really thought the tournament was over. Once that (last putt) went in, it all kind of came out of me and it was special to finish it off here at Pebble Beach."
It was Rose, a former major champion himself, not Woodland who faded down the stretch in the final group, paving the way for the Woodland-Koepka race to the end.
"Gary, he played a hell of a round today," Koepka said on the FOX broadcast after the tournament. "To see him go out in style like that was pretty cool. I don't think anyone in the world played as good as Gary did this weekend. It was cool to see. Happy for him."
The U.S. Open victory is Woodland's fourth career PGA Tour victory and came with Jayhawk hats in the gallery and sounds of the Rock Chalk chant following him to the green on the 18th hole of the best tournament of his life.
"This will change his life overnight," the FOX broadcasters said during coverage of Sunday's final round as Woodland walked up the 18th fairway.
Woodland, a Topeka native who is a member at Lawrence Country Club and still owns a home in Lawrence, had led after 54 holes seven other times in his career but had yet to seal the deal until Sunday. He entered the week ranked No. 25 in the world and No. 9 in the FedEx Cup standings.
After his putt rolled in on the last green, the normally reserved Woodland threw his arms high in the air and exploded with a vicious fist pump while his parents, Dan and Linda, celebrated just off the green.
As he walked to the scorer's tent to sign his scorecard, Woodland was met and hugged by nearly a dozen of his competitors, all greeting him with smiles and 'atta boys.
As he received the Jack Nicklaus gold medal and tournament trophy on the 18th green, Woodland was introduced to the still-buzzing gallery as the winner of the 119th U.S. Open.
Asked how that sounded to him by FOX golf broadcaster Curtis Strange, Woodland said simply, "Sounds really, really good. I like that."