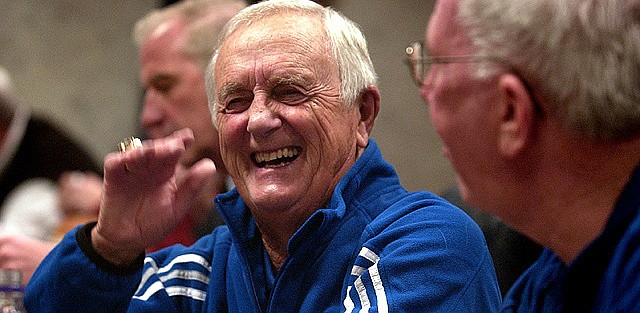 Max Falkenstien, whose enthusiastic voice was a key part of the soundtrack of Kansas basketball and KU football for decades, died Monday afternoon.
He was 95.
News of his passing reached all corners of the country and no doubt affected both those who knew him and those who only felt like they did in a similar manner.
"Max was a member of the greatest generation, a pioneer sports play-by-play broadcaster in Lawrence and Topeka, and just a fun guy to be around," longtime radio partner and former play-by-play voice of the Jayhawks Bob Davis said. "In the years we worked and traveled together we spent much of our time laughing. He once said we should have been married. In all these years I don't think we'd ever had an argument, so I guess we couldn't have been married. We had some great times together. I loved him."
Born in Lawrence on April 9, 1924, Falkenstien called his first radio broadcast of a KU basketball game on March 18, 1946, when Kansas faced Oklahoma A&M; in an NCAA Tournament game.
His next KU broadcast was the Jayhawks' football opener against TCU later that year and he served as play-by-play voice of the Jayhawks for 39 years before switching to the commentator's role in September of 1984, when Davis was hired to take over play-by-play duties.
For the next 22 years, the dynamic duo affectionately known to thousands of KU fans simply as "Bob and Max" called hundreds of KU football and basketball games together until Falkenstien's retirement in 2006.
Even after his retirement Falkenstien remained visible at all kinds of KU sporting events, routinely attending football games, volleyball matches and sitting courtside at Allen Fieldhouse for men's basketball games.
"I've known Max since 1985, and back then, even being young in the profession, I quickly realized that Max was as big a part of the great history of KU basketball and football as the players and coaches were," KU basketball coach Bill Self said. "He was an absolute joy to be around, and he will be remembered as an absolute treasure. He was loved by everyone. His personal touch made every fan, player coach and administrator feel they were part of the KU family. I hope Max realized the positive impact he had on KU and everyone connected with it. He'll be missed, but his legacy will never be forgotten."
Just before his retirement, Kansas Athletics honored Falkenstien as the only non-player to have his jersey hanging in the south rafters at Allen Fieldhouse. It still hangs there today, with his name and the number 60 gracing the fabric in honor of his 60 years of service to KU.
He also received an honorary "K" by the K Club, Kansas Athletics' association of former student-athletes.
Falkenstien's last KU football broadcast was the Jayhawks' victory over Houston in the 2005 Fort Worth Bowl.
His final men's basketball broadcast came on March 17, 2006, when Bradley upset the Jayhawks in the first round of the NCAA Tournament. And his final call inside Allen Fieldhouse came on March 1, 2006, 51 years to the day after he had broadcast the first game played in Allen Fieldhouse.
While many used the word "legend" to describe Falkenstien throughout his life and immediately after his passing, it became clear long before then that he was a wealth of KU knowledge, a walking encyclopedia of sorts who in an instant could recall the day, location and circumstances of just about any Kansas basketball game he had broadcast.

"When I arrived on the KU campus, Coach (Dick) Harp wanted me to gain an understanding of the tradition of Kansas basketball," longtime KU basketball coach Ted Owens said. "He had me watch and listen to the highlights of the 1952, 1953 and 1947 years narrated by Max. Later, when we traveled by bus to all of our road games, I listened to Max, (trainer Dean Nesmith), (sports publicist) Don Pierce and Coach Harp as they told stories of Kansas basketball, especially Phog Allen, who was so much a part of Kansas basketball history. A large share of my love and understanding of the great tradition of Kansas basketball comes from Max. He was a great friend of the players and coaches, and will always be a part of this great tradition."
Added Larry Brown, who succeeded Owens in 1983 and guided Kansas — and Falkenstien — to the 1988 national championship: "I spent a lot of time with Max – doing radio shows in Topeka, traveling to games – and I saw how Max impacted so many people in a positive way. He was one of a kind. When I got the job at Kansas, Coach (Dean) Smith told me about all the great people at KU, the love they had for the school and for basketball. When you talk about those great people, and everyone connected with all that tradition, Max is one of the first people you think about."
That sentiment remains true to this day for former Kansas coach Roy Williams, 16 years after leaving KU for his alma mater in North Carolina.
"One of the truly great legends of Kansas Athletics," Williams proclaimed of Falkenstien in a KU news release announcing his passing. "I loved Max Falkenstien and just the mention of his name will always make me smile. Thanks, Max. You were one of a kind."
Falkenstien graduated from Liberty Memorial High School (now Lawrence High School) in 1942. After a semester at KU he enlisted in the Army Air Corps and left the service in March 1946.
He earned a degree in mathematics from KU in 1948 and his father, Earl, served as business manager of Kansas Athletics for 33 years.
In 2004, The Naismith Basketball Hall of Fame paid tribute to him iwith its Curt Gowdy Award. Eight years earlier, the College Football Hall of Fame honored him with its Chris Shenkel Award.
After retirement, Falkenstien was inducted into the State of Kansas Sports Hall of Fame and the Kansas Athletics Hall of Fame and also was the first inductee of the Lawrence High School Hall of Honor.
Whether people knew him as a youngster growing up in Lawrence, when he got his start in radio or throughout his time as one of the biggest names in Kansas Athletics history, many who crossed paths with Falkenstien often latched on to the moment and spoke of their connection for years.
Former KU Athletic Director Sheahon Zenger often marveled at how just being in Falkenstien's company could make any day or mood better.
When Zenger was hired by KU, one of his requests upon taking the job was to sit courtside with Falkenstien at all men's home basketball games. And during eight years he spent with Kansas Athletics, Zenger often spoke highly of his friendship with Falkenstien, the many stories he heard from him and the comfort he always felt simply from being around him.
Falkenstien is survived by his wife, Isobel; they were married for 70 years. They had two children – a son, Kurt, and a daughter, Jane, along with three grandchildren and five great grandchildren.