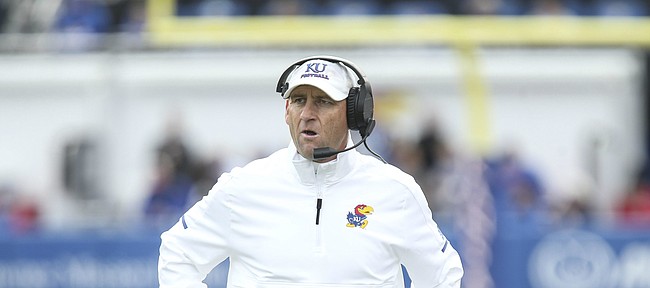 Lawyers representing former University of Kansas football head coach David Beaty say Kansas Athletics Inc., "continues to move the goal posts" when it comes to paying Beaty his $3 million buyout.
The coach's legal team filed on Monday in the U.S. District Court of Kansas its response to a KAI motion to dismiss Beaty's lawsuit against his one-time employer, countering in part that KAI's argument based on "a lack of subject matter jurisdiction" doesn't hold up.
Filed in May, a memo accompanying KAI's motion to dismiss the lawsuit claimed Beaty and DB Sports, LLC, are Kansas citizens suing a Kansas corporation and there is no basis for diversity jurisdiction, as well as that KAI is "an arm of the state" and not a citizen for diversity jurisdiction purposes.
The response filed on Monday argued that KAI is "a $100,000,000 company that operates without the strictures imposed by the University of Kansas."
The 11th Amendment to the U.S. Constitution bars individuals from suing states in federal court.
Beaty's lawyers also referenced Beaty's citizenship, noting he is "a born and raised Texan," and that Beaty moved to Texas after KU fired him, and that he intends to remain there "indefinitely."
Although Beaty's wife and youngest child still live in Lawrence, the former KU coach's lawyers stated Beaty has lived in Austin, Texas, since January and that he is waiting to buy a house in Texas until this lawsuit is resolved and he learns the fate of his buyout.
KU Athletic Director Jeff Long fired Beaty with three games remaining in the 2018 season, Beaty's fourth year in charge of the program. Per the contract extension Beaty signed in 2016, if KAI fired him without cause, he would be owed $3 million.
When Beaty sued for that money in March, KAI claimed that through exit interviews with football coaches and staff it learned of "possible NCAA violations allegedly committed by Beaty." If proven true, such violations would be deemed just cause for the termination of the contract.
According to attorneys representing Beaty, the former KU football coach was informed on Dec. 13, 2018, that KAI had initiated an investigation into allegations "involving a member of the football staff and that Kansas Athletics would not make the guaranteed payments until its self-initiated investigation was completed."
Per his attorneys, Beaty cooperated with the investigation and maintains he was "unaware of any violations of any NCAA rules while the head football coach at KU."
Hired by former KU Athletic Director Sheahon Zenger in December of 2014, Beaty went 6-42 as the Jayhawks' head football coach over the course of four seasons, 2015-18.
KU's 3-9 mark in his final season was its best under Beaty, who had three years remaining on the contract extension he signed in 2016 when the deal was terminated.