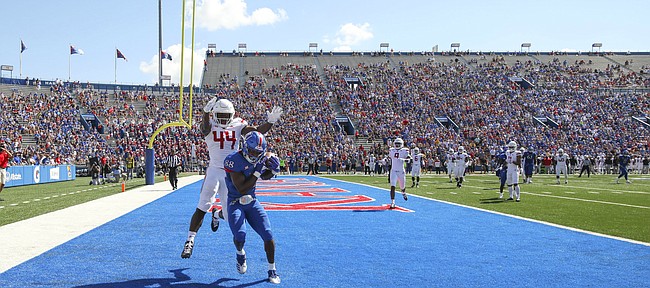 Selling beer at David Booth Kansas Memorial Stadium won't automatically fill the place with 50,000 rabid KU football fans.
But it's a start.
And, frankly, I'm not sure what took this long.
Wednesday morning, KU officials announced that beer and wine would be sold inside KU football's home stadium during the upcoming season.
The move is yet another indication that Athletic Director Jeff Long has the pedal all the way down in his attempt to pull the long-suffering program out of the misery of the past nine years.
And this move, just like hiring Les Miles, doubling the size of the football support staff and pushing for recruiting rule changes that might help Kansas compete faster, is absolutely worth whatever risk is involved.
Sure, introducing alcohol into an environment where tempers run hot and stress and intensity are commonplace can create problems. And to think that alcohol-related incidents won't pop up from time to time as a result of this decision is more than a little naïve.
But Long and company, through education and preparation, are betting on themselves to handle whatever incidents might arise. In doing so, they also are taking a big step toward bringing the program back to the fans.
It's one thing to toss Miles on television and radio commercials with the sound of his voice asking KU fans to be a part of the fun this fall. And it's another thing for Miles to buy KU students lunch or hang out on Wescoe Beach playing tailgate games and offering prizes.
But this move takes fan engagement to a whole new level and provides added incentive for KU fans, young and old, to make Memorial Stadium the place to be on Saturdays instead of choosing to watch games on television with a keg and few friends at home or in the parking lot or with their favorite bartender a few miles down the road.
The goal for that type of fan engagement is obvious and important.
Yes, alcohol sales means more money for the university and, yes, that money means shinier toys for KU's athletic programs.
Just imagine the potential here, as KU plays an average of six home games per season and is riding a paltry six-year average of 28,523 fans per game.
If even just a quarter of those people purchase just one beer or glass of wine at $8 a pop per game, that's an additional $342,000 per season and that kind of cash is nothing to sneeze at.
Again, that $342,000 would be the take (official drink prices are not yet known) from just a quarter of a half-empty stadium partaking in one drink a game. And while we're being real, we all know that one cocktail per game probably won't be the going rate for many fans.
More than any of that, though, the program that for nearly a decade has been waiting for momentum on the field to put fans back in the stands is finally being proactive in creating that momentum.
Long asked and listened, and now happy hour is again a part to KU football.
The theory goes like this: Give the fans what they want — victories in the long term and booze in the short term — and they will feel more invested in the program and be more willing to put their time, money and personal efforts into helping the football team get back on track.
None of it will lead directly to better completion percentages, more first downs or fewer fumbles, but all of it — and more to the point any of it — will go a long way toward giving Kansas a real shot of becoming relevant in football again.
And isn't that the ultimate goal here?
After a series of hirings and firings, facility upgrades and promotional efforts, KU finally appears to have hopped on a rebuilding wagon that has no brakes.
This latest move is the biggest indication of that, and Long and company claim to have done their homework and consider themselves ready for whatever it may bring.
Whether you favor light beer or craft beer, red wine or white, making all of it readily available at Kansas football games is worth whatever risk might be associated with it.