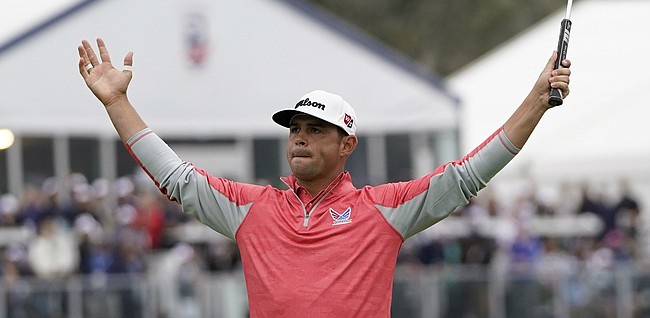 The last time he played in one of the PGA Tour's four major golf tournaments, former Kansas golfer Gary Woodland had to hold off major monster Brooks Koepka to win the U.S. Open.
This time, he'll have to deal with the tournament favorite for the first two rounds.
Teeing it up in a major for the first time since joining the fraternity of golf's major winners last month, Woodland will play Rounds 1 and 2 of this year's British Open with Rory McIlroy, one of the top golfers in the world and the betting favorite, at 8.5-1, according to Wednesday's odds from Bovada.
Woodland, a 60-1 favorite, and McIlroy will be joined by Paul Casey (50-1), and that trio will go off at Royal Portrush Golf Club in County Antrim, Northern Ireland, at 4:09 a.m. central time Thursday.
Woodland's life has changed a lot since that Sunday in June when he hoisted the U.S. Open trophy high into the air after becoming the first Jayhawk ever to win a major.
He has played in just one tournament since winning at Pebble Beach in mid-June. That came two weeks after his biggest victory to date and resulted in him being cut after two rounds at the Rocket Mortgage Classic near Detroit.
And the 35-year-old Topeka native also is a couple million bucks richer, recognized in public much quicker and now a seasoned veteran of big time talk shows and hometown celebrations.
While all of these firsts have been fun for Woodland, he admitted at the block party in his honor a couple of weeks ago in Topeka that winning the U.S. Open was not the finish line for him.
"Obviously it's nice to get the results and get that first major and get that monkey off the back — I never have to answer that question again," Woodland said with a smile. "But I didn't start just to win one time."
To that end, Woodland said he believed his taste of the mountaintop would only fuel his desire to win more. And whether it's nudges from his friends and family, instructions from his coaches or anyone else in his camp, Woodland believes he's in the right place to maintain his focus.
"Fortunately I've surrounded myself with great people," he said. "Coaches and agents and trainers, you name them, I have people around me that have pushed me and don't let me settle."
While most of those people have been in Woodland's corner for a long time, some of them have been the players he competes against on the PGA Tour.
Their message to the newest member of the major winners' club was simple.
"The big deal is to embrace it," Woodland recalled of the message he heard from players like Tiger Woods, Zach Johnson, Henrik Stenson, Graeme McDowell and others.
Woodland enters this week's British Open — formally referred to as The Open Championship — ranked fifth in the world in the FedEx Cup Standings. McIlroy, a four-time major winner who won the British in 2014, enters the weekend ranked No. 3.