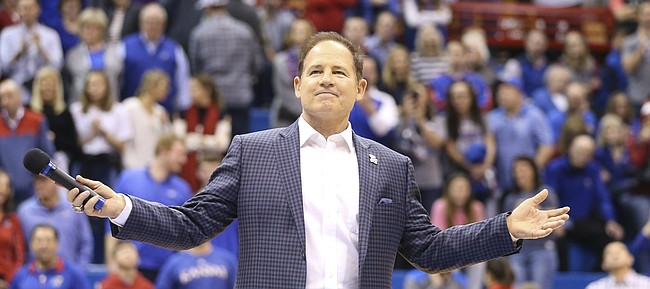 Arlington, Texas — With the help of a camera crew that has followed Les Miles since this past November and will continue documenting the head football coach and his staff throughout his debut season at the University of Kansas, fans soon will get to go behind the scenes for glimpses of Miles' endeavors to rebuild the program.
ESPN and the Big 12 announced Tuesday that an 18-part series starring Miles will debut in August, exclusively on the subscription-based streaming service, ESPN+, on the conference's channel, which is called Big 12 Now.
"Jayhawks fans have waited far too long for a football team that is on the same level of success as the other athletic programs at the University of Kansas," Miles said in a release. "I'd like to thank Jeff Long for believing that I am the coach that can turn this team around. Having cameras behind the scenes all season is not something I am used to, but I look forward to sharing our journey on ESPN+ and my hope is that people can appreciate all the work that goes into building a contender."
The first four episodes will debut in August, during preseason camp, and 14 more will follow throughout the season. An ESPN spokesperson said the episodes will last approximately 18 to 20 minutes, generally, but the first four installments may be a bit longer.
Before the material can feature game footage and in-season preparations, some of the episodes will show how KU went about hiring Miles, as well as how he got acclimated to his new job after spending more than two years away from the coaching profession, once LSU fired him four games into the 2016 season.
A trailer for the series shows KU Athletic Director Jeff Long going through his coaching search after he fired David Beaty this past November. The clip also shows Miles — presumably before he was officially hired — having phone conversations with Long. The trailer goes on to feature some spring football segments, as well.
According to ESPN, the show, produced by JM Associates and Sport & Story, will provide access to "every decision and step along the way, from fundraising, contract negotiations, building the coaching staff, preparing the players and more."
This past spring, the Big 12 Conference and ESPN agreed to expand their rights agreement, which runs through 2024-25. This includes hundreds of additional Big 12 sporting events presented annually on the new Big 12 Now on ESPN+. The ESPN+ agreement will start for Baylor, Kansas, Kansas State and Oklahoma State beginning this year. Iowa State, TCU, Texas Tech and West Virginia will join in 2020.
KU fans interested in watching the upcoming KU football series will need an ESPN+ subscription.
The Jayhawks' Week 2 game against Coastal Carolina also will air exclusively on ESPN+.
Programming on ESPN+ includes MLB and NHL games, exclusive UFC, Top Rank boxing and PFL fights and events, domestic and international soccer, thousands of college sports events (including football, basketball and other sports), tennis and more, plus new and exclusive series, studio shows and the full library of ESPN's award-winning 30 for 30 films. A subscription costs $4.99 a month (or $49.99 per year), with cancellation available at any time.