Still humming along with equal amounts of pride in his home state of Oklahoma and the basketball program at Kansas, former KU head coach Ted Owens turns 90 today.
One of nine head coaches in the 121-year history of Kansas basketball, Owens led the Jayhawks from 1964-83 and guided his teams to two Final Fours (1970-71, 1973-74), 348 victories and a .657 winning percentage.
Sandwiched between names like Naismith, Allen, Harp, Brown, Williams and Self, Owens is regarded by many associated with KU basketball as the least-talked-about but most-interesting man to ever hold the position.
"I think Coach Owens, in many ways, is kind of the forgotten guy," said current KU coach Bill Self during a Monday interview in his office. "He's just a good dude. He's a good dude who cares about people and he loved his time here at Kansas and takes great pride in being the coach here."
A few weeks ago, as the featured speaker at an Oklahoma Sports Hall of Fame quarterly luncheon, Owens talked about all that he had done and seen in his 90 years.
From surviving the Great Depression and Dust Bowl eras to driving a Model A Ford, hearing and watching news footage of the bombing of Pearl Harbor and serving in the Korean War, Owens' life is full of tales in and out of sports.
Back at Cameron Junior College, in Lawton, Okla., where he got his start in 1956, Owens even helped lead the baseball program to a national title in 1958.

After that, he went on to match wits with basketball coaching legends Henry Iba, Adolph Rupp, Dean Smith, Bob Knight and John Wooden and traveled to Japan, China, Spain, Italy, Belgium, France, Switzerland, the Philippines, Korea, England and Israel to teach the game he loves.
And he touched a little on all of it during his recent speech.
Oklahoma-based sports columnist Berry Tramel, who refers to Owens as an American Treasure, called it one of the best speeches he had ever heard.
And Owens, who Self says can still shoot better than his age on the golf course, talked plenty about his time at Kansas during the 15-minute speech.
"I had some time to dream while I was hoeing cotton back on that farm in southwest Oklahoma," said Owens of his small-town beginning in Hollis, Okla. "But my dreams were never so great as to imagine what I have been privileged to do during my lifetime, playing college basketball for the great Hall of Fame coach Bruce Drake at OU, coaching at the University of Kansas, where James Naismith was the first coach and Phog Allen coached and promoted the game, and to coach in the St. Andrew's of college basketball, Allen Fieldhouse."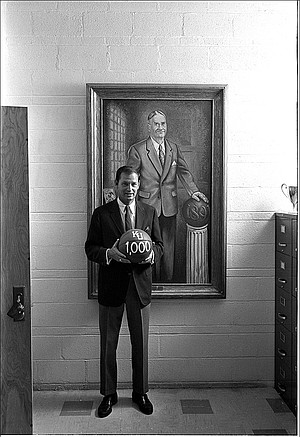 While Owens may have been a little shy on national titles and historic accomplishments during his 19 years as the head coach at Kansas, Self, who first truly got to know Owens in 1993 while coaching at Oral Roberts, said few head coaches ever have had as much passion for the game as Owens did then and still does today.
"Not very often do you go to Oral Roberts from KU," said Self, recalling Owens' career path, which included two seasons at ORU, a short stint in Israel and five years at prep program Metro Christian Academy in Tulsa, Okla., all after his 19 seasons at Kansas. "He loves basketball and just wanted to be around the game."
He still does, in fact. Although Self said he did not believe Owens would take a full-time coaching position today even if one were offered, that has not stopped the six-time Big Eight champion who did not finish lower than second in the conference standings until his eighth season at KU from being involved wherever and however he can.
"Nobody can take away the time he put in here as an assistant with Coach (Dick) Harp and obviously as the head coach for 19 years," Self said. "And I'll tell you this: He would still have a lot to offer, like coming to practice and evaluating and monitoring. He's done that with us quite a bit.
While the two have become close throughout the past few decades, Owens and player evaluation is still a touchy subject with Self, who also grew up in Oklahoma remembers well that Owens never recruited him.
"I always wanted Kansas to recruit me," said Self, smiling with nostalgia. "And they never pulled the trigger at all. Coach already had a slow guard, in Tad Boyle, so he wasn't going to sign two slow guards."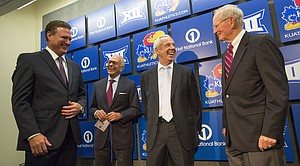 Instead, Self went on to play at Oklahoma State, where he competed against Owens' teams, and later enjoyed the chance to form a friendship based on their common connections at both Oral Roberts and Kansas.
The two share a desire to build their programs around the idea of family. And that philosophy holds up well beyond the few years they're actually coaching their players.
"I don't think I've ever been around a coach that takes more pride in what his ex-players are doing than what he does," Self said of Owens. "But it's also easier to do that because he's older and he's seen his guys grow up to be 60-year-old grown men."
Said Owens during his recent speech: "I have learned that as a coach, your success will be measured by the productive and successful lives of those young men and women for whom you were responsible. A chaplain at the NCAA Final Four was speaking to the coaches at a Sunday church service (years ago) and he said it best: 'You should always remember that you are not using young men and young women to win a game but that you are using the game to win young men and young women.'"
Owens did that, Self said. Even with the men and women he never coached.
"He's an amazing guy," Self said.