When Chevis Jackson approached Hasan Defense with the question, the assistant coach caught his new player a bit off guard.
Jackson, shortly after being hired to coach defensive backs at the University of Kansas, sought out Defense's opinion on which position he wanted to play.
Recruited to KU as a cornerback, it was there where Defense made his first 11 starts with the Jayhawks. But a switch to safety during his 2018 junior season meant Defense had starting experience at that spot, too.
"I pretty much gave him just an indecisive answer," Defense recalled. "I told him I'm at the point where whatever's fine."
At the time, Defense went on, he considered himself 50-50 on the matter, with no dominating affinity for either spot.
"I always wanted to play corner. I like playing corner. But I kind of got into the mindset or the state of playing safety. So I kind of got used to it," he explained of his dilemma.
The way Defense explained the process from that point, Jackson spent some time watching game footage of Defense, took in other considerations regarding KU's positional needs and returned to the defensive back with an answer.
"Then he said corner," Defense shared of his move back to his original position. "At first I was kind of like, 'Ah, I wanted to play safety. I was looking forward to it.' Last year was my first year ever doing it, so I was kind of looking forward to doing that again."
Whatever regret Defense felt at the moment of his coach's decision didn't last long.
"Once I got back at corner," he said, "I was like, 'All right.' It's back home."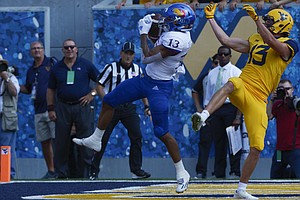 A 6-foot, 193-pound senior from Jacksonville, Fla., Defense trusted that Jackson, who played for Les Miles at LSU before spending four seasons in the NFL, wanted his new pupil at cornerback because that would prove to be the best spot for Defense. In making the move, Defense also hopes it will put him in position to showcase his greatest attributes during his final collegiate season.
Rated by Rivals as a three-star junior college cornerback in the Class of 2017, Defense, who only played one year at Kilgore College (Texas), started 10 games at corner during his first year with the Jayhawks. Defense led KU with nine pass breakups that year, when he played left cornerback.
Following a junior year experiment at safety, during which Defense led KU with seven pass breakups and also accounted for three interceptions and a fumble recovery, he spent the spring playing cornerback on the right side of the secondary.
Senior safety Mike Lee could see Defense improving at his newest spot.
"He had to get the feel for it," Lee said in the spring of the progress his teammate made. "Each and every practice he's working on his technique, really getting better at what he does."
Although Defense only spent nine games as a starting safety for Kansas, his time learning that position in 2018 could prove valuable for him this coming fall.
KU senior safety Bryce Torneden said the eye control Defense showed at safety should help him at cornerback.
"You look at the wrong key it can throw you all off," Torneden said. "But I think Hasan's a guy you can place anywhere. He's going to give it his all. He's going to play for you, he's going to provide for the team, wherever he is."
According to Torneden, Defense looked "very consistent" throughout the spring while battling KU's receivers during practices and scrimmages.
"Obviously he's a great cornerback," Torneden vouched. "I'm excited to see the year that he's going to have."
Defense attested his game reached another level this past spring, fueled by two factors in particular.
For one, Defense said Jackson coached up the cornerbacks and helped his technique "so much more." The other component was defending against KU receivers Andrew Parchment and Ezra Naylor at practices.
Ultimately, everything Defense encountered served him well during his readjustment back to cornerback.
"If anything it was smoother than me moving from corner to safety," Defense said, adding he plays equipped with more knowledge now that he understands how to play safety, too.