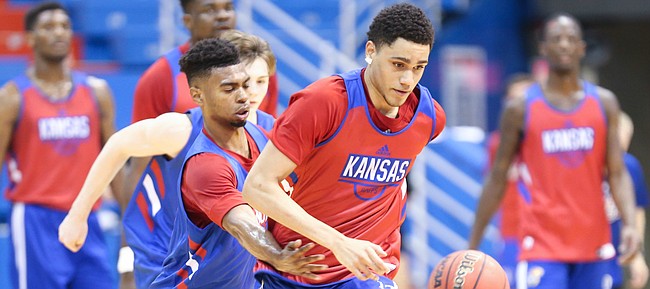 Although their measurements and skills are not exactly the same, the college success of Ukrainian sharp-shooter Svi Mykhailiuk played a small role in Kansas landing 4-star forward Tristan Enaruna.
Enaruna, who officially became a Jayhawk in early May, stands 6 feet, 9 inches tall and is gifted with the kind of versatility that makes just about anything possible on the court and during his career.
Five years ago, the same was said about Mykhailiuk, who signed with KU as a 16-year-old phenom from Ukraine with the potential to play point guard, shooting guard, small forward or a hybrid of all three.
Mykhailiuk's Kansas career featured stretches where he handled all three roles. And Enaruna, who hails from Netherlands and showed the ability to both play and guard four positions at Wasatch Academy in Mount Pleasant, Utah, believes following in Mykhailiuk's footsteps at Kansas is the perfect way to dive into his own college career.
"Yeah, it was a part of it," Enaruna told the Journal-World when discussing his reasons for picking KU. "With Svi, the thing with him is he's kind of a similar build like me, same length. And Coach Self showed me that and some other players that were similar to me, my build and my playing style."
Similar to the 6-7 Mykhailiuk, Enaruna came to the United States as a 15-year-old, arriving at Wasatch Academy midway through his junior season.
At the time, he knew little about college basketball, did not really start watching or following it until "my recruiting started to roll," but believed his dreams of playing at a big time program, and hopefully beyond, could come true here.
"It was pretty hard at the beginning just because I had never been away from home for that long, that far," Enaruna said of his early days in America. "It was an adjustment and it took me some time to get used to everything here, but there are good people around me and everybody just gave me a warm welcome. It made it easier for me."
Mykhailiuk had similar advantages.
Unable to speak much more than broken English when he arrived in Lawrence nearly five years ago, the Ukrainian kid who became a fan favorite quickly latched on to best friend Devonte' Graham and devotedly followed KU coach Bill Self all the way to a 1,000-point career that ended with a trip to the Final Four and hearing his name called in the 2018 NBA Draft.
While Mykhailiuk's rise is just one success story, Enaruna said Self's ability to develop foreign players — KU also has had several African-born players during recent years and Andrew Wiggins is Canadian — caught his eye during his recruitment.
"His knowledge of developing those kinds of players made me realize that me and him will get really far," Enaruna said of Self.
The KU coach agreed.
"We feel like Tristan's ceiling is one that he could be one of the most complete offensive players that we've had here at Kansas over the last several years," Self said in a release announcing Enaruna's signing. "... He has been in the United States the last two years which should allow his transition into college to be a fairly seamless one."
When asked what he wanted to work on most while waiting for his freshman season to roll around, Enaruna pointed to the very skill that made Mykhailiuk a star.
"I think the one thing that I'm really going to work on is my jump shot," he said. "Just to get that more consistent so that I'll be shooting a good 3-point percentage next year."
In a couple of Bill Self Basketball Camp scrimmages during the month of June, Enaruna showed the ability to shoot the ball when open, get to the rim in transition and use his length and active nature to make things happen around the basket on both ends.
"That's what you guys are going to see," Enaruna said of his game. "A lot of versatility. Defense, shooting, passing, trying to block shots, grab rebounds. I try to do everything."