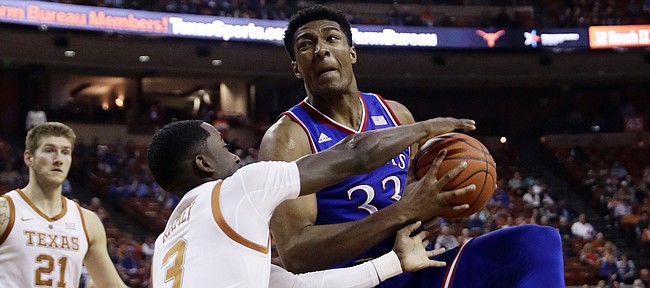 Whether rattling in and out, clanging off the rim or missing the mark altogether, making baskets and, therefore, scoring points has become quite a challenge for the Kansas men's basketball team.
That issue, once again, played a big role in the Jayhawks' latest loss — 73-63 on Tuesday night in Austin, Texas — and Kansas currently is riding one of its worst offensive stretches in the last five seasons.
The Jayhawks have scored 270 points in their past four games — three of them losses — and that total marks the lowest point production in a four-game stretch since the Jayhawks scored 269 points while going 2-2 against Texas Tech, West Virginia, TCU and Oklahoma State back in 2015.
What's more, the Jayhawks (16-5 overall, 5-3 Big 12) have scored 64 points or fewer in four of their five losses this season — all on the road — and have won just one game when failing to reach 70.
This from a team that opened the season by scoring 84 points or better in five of its first six games.
Of course, it's not completely fair to call the late January version of the Jayhawks the same team as the one that opened the 2018-19 season.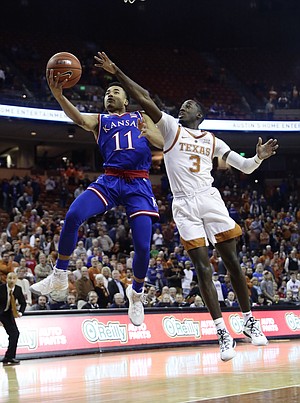 For starters, senior Lagerald Vick was James Harden-hot during the season's opening weeks, and he's been more in the Jerry Hardly mold during the first month of 2019. Vick has made just 50 of his 118 field goal attempts (42.4 percent) during the 6-5 stretch that began with KU's first loss of the season five weeks ago.
Beyond that, the Jayhawks, back then, were playing with arguably the toughest individual matchup for an opposing defender in all of college basketball, in junior center Udoka Azubuike. And, today, they are without Azubuike for the rest of the season because of another wrist injury.
"We'd be ranked No. 1 in the country if we still had Dok," Kansas basketball coach Bill Self said after Tuesday's loss. "I mean, you think about it, we knocked off three top 10 teams when we had Dok. Not that we would've won them all (since then); I'm not saying that at all. But we would still be right up there at the very top, I would think, or towards the top. But we're not."
Instead, the 11th-ranked Jayhawks are heading in the wrong direction in the polls, dropping two spots in the Associated Press Top 25 in each of the past three weeks, with nothing but tough games and five more road challenges on the horizon.
From the sound of it, Self has seen enough.
Ever the coach willing to look at his own role during any rough stretches his teams might endure, Self on Tuesday night pointed the finger squarely at himself when trying to explain KU's offensive woes.
"That's on me," he said. "We've got to find some way to play where I can help the guys offensively. And we just haven't figured it out yet."
Asked if he was surprised by how much of an issue running good offense and scoring points has become for this team, Self first provided some perspective.
"I'm surprised by the success we had early in the season," he began. "But not surprised by (our struggles now). We've known all along that we had some limitations offensively. So it's not a shocker to me by any stretch. But to the level that we've struggled, yeah, that has been somewhat unexpected."
The question now is not as much why the offense is struggling, but what to do about it.
Self had a few ideas on Tuesday and sounded determined to come up with a few more in the days and weeks ahead. On Wednesday night, during his weekly "Hawk Talk" radio show, he hinted at exploring more changes to the starting lineup, which, for the first time this season, on Tuesday included freshman guard Ochai Agbaji, who responded with a 24-point night.
"Our best passer doesn't have anyone to throw it to right now," Self said of junior forward Dedric Lawson, who, while still averaging 19.2 points and 10.9 rebounds per night, has been harassed by length and size in recent games. "It's just kind of something that we've got to figure out."
Could team speed and transition offense be a part of the solution?
"I do think Devon (Dotson is) fast with the ball and we need to play to try to get easy baskets as much as possible," Self said. "We haven't done that consistently well."
Said Dotson when asked for his take on what might cure the ailing KU offense: "The key is just to keep moving the ball. If you get an open look, knock down shots. And just attack and be aggressive."
Much of Dotson's fix already has been mentioned plenty this season, but it's worth noting that most of it is about attitude, not X's and O's.
Regardless of which areas Self and his coaching staff choose to tinker with as the Jayhawks head to February, there seems to be a consensus of opinion among the team that something needs to change.
If that change is major, it will bring Self and the Jayhawks into rare territory.
Though few and far between, Self has been forced into a few midseason offensive tweaks in the past during his 16 seasons at Kansas, and each was born from the idea of fitting a style of play to his specific personnel.
During Self's second season at KU, when Wayne Simien was injured midseason, Self and his staff came up with an offensive set known as "fist," which is a modern-day staple and incorporates more ball-screen action instead of relying solely on the high-low offense in which Simien flourished.
Three seasons ago, with KU's strength being on the perimeter, Self installed a 4-guard offense, with Josh Jackson playing at the 4, in order to take advantage of KU's abundance of athletes and shotmakers on the perimeter.
Both moves worked wonders, but it's debatable whether either is working today.
Coming into the season, with so many big, talented bodies on the KU roster, the plan was to return to the two-big man approach for which Self always had been known.
And that still might be a part of the solution moving forward, with junior Mitch Lightfoot and freshman David McCormack being options to play next to Lawson in the future.
However, an injury to Azubuike and NCAA eligibility issues hanging over sophomore forward Silvio De Sousa have left the Jayhawks shorthanded in the front court and forced to rely on young guards.
"Teams guarding Dedric the way they do puts a lot of pressure on guys to do some things that maybe they're not as good at doing yet," Self said after Tuesday's loss at Texas. "I'm not trying to be negative, but you play a certain way and you anticipate having guys play a certain way and you don't shoot it great and you don't pass it great. That's hard to do when you're playing small."
There's little doubt that Vick, Dotson or Quentin Grimes finding their outside shots, or Agbaji, Grimes and Marcus Garrett hitting the offensive glass for easy buckets, would help this team.
But what's even less of a mystery is the fact that, win or lose, 60 points or 90, the Jayhawks are going to have to figure it out with the players they have and no one's going to feel sorry for them while they do.
"Certainly disappointing, very disappointing," Self said after Tuesday's loss. "But we're going through stuff 99 percent of teams in America go through. We just haven't gone through it much here. And we're just going to have to grind, lean on each other, hopefully get a little bit better in certain situations, but, also, we've got the team that we've got. We're not very big. This is who we are. We've got to just be a little bit better in all areas. We can get it flipped, but right now, obviously, it's a grind. It's a grind."