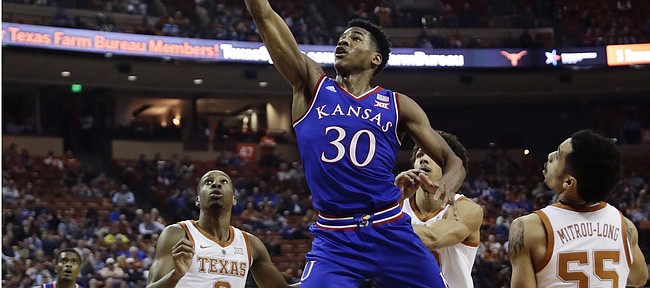 Austin, Texas — After strong efforts in five of the six games he had played since taking off his redshirt a few weeks ago to help this evolving Kansas basketball team, freshman Ochai Agbaji cracked the starting lineup during Tuesday night's 73-63 loss at Texas.
Starting in place of senior Lagerald Vick — a move that KU coach Bill Self called "a coach's decision" — Agbaji hit 8 of 10 shots, grabbed 7 rebounds and finished with a team-high 24 points in 35 high-energy minutes.
Never one to brag on his own play, Agbaji, who learned he would start two days ago during a film session, said he played fine but seemed more concerned about the loss taken by his team.
His teammates, however, were much happier to sing his praises, a silver lining of sorts after another game gone wrong on the road for Kansas.
"He had 24," leading scorer Dedric Lawson said of his young teammate. "This is a guy who was redshirting at one point. You've got to applaud him no matter what the outcome was of the game."
Photo Gallery
Kansas at Texas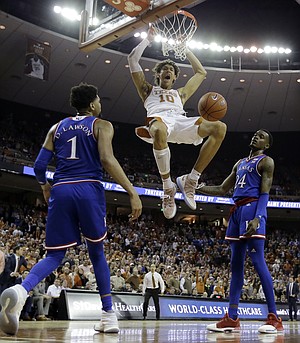 Texas head coach Shaka Smart reacts to a play during the second half on the team's NCAA college basketball game against Kansas in Austin, Texas, Tuesday, Jan. 29, 2019. Texas won 73-63. (AP Photo/Eric Gay)
Asked what aspect of his game he liked the most on Tuesday, Lawson jumped right in with his answer.
"His offensive rebounds," he said. "He gets in there and gets us easy baskets. Things like that."
Texas coach Shaka Smart also sounded somewhat amazed by Agbaji's performance, which looked far different from the 4-point, 4-rebound, 25-minute game he had against Smart's Longhorns on Jan. 14.
"Agbaji was terrific," Smart said of the KU guard who has a sister who plays volleyball at Texas. "It's amazing that (a few) weeks ago he was redshirting."
Slow to move on
Throughout last Saturday's postgame meeting with the media after their 8-point, road loss to Kentucky, the Jayhawks talked about moving on quickly and not dwelling on the outcome of that game, which meant little in the big picture of the team's season.
So, how'd they do?
"I would say average," Self said of both Tuesday night's game and the days leading up to it. "I don't think we've been poor by any stretch, but I don't think we've been great. When you lose, it should really piss you off. And sometimes, when it doesn't do that, you're kind of too comfortable sometimes with accepting what happened. I don't think we accepted what happened, but I don't think we've had the same mindset to fight that maybe some of the teams in the past have had.
"To me, this was a much bigger game than the Kentucky game, but the Kentucky game probably didn't allow us to be as good as I would've wished, but that's such a soft statement by a coach because didn't Texas lose at Georgia (last Saturday)? So I'm not buying that."
Added Agbaji: "I don't think we responded like we thought we would. Like coach said in the locker room, though, tomorrow's a new day and we just have to look forward to Texas Tech."
Pressure a bright spot
With Kansas trailing by 11 (58-47) with 3:37 to play and the reality of the situation quickly setting in, Self went with a full-court press that gave the Jayhawks a shot.
Although KU never closed within fewer than 4 during that frantic race to the finish, the pressure did force Texas into a few turnovers and allowed Kansas to extend the game while cutting into the lead at the same time.
Had the Longhorns not been nearly perfect from the free throw line during that stretch, there's no telling what might have happened.
"Honestly, I thought our guys did a great job with the pressure late," Self said. "Dedric should've fouled Jaxson (Hayes) when he had the dunk (that put Texas up 65-58). He just should've fouled him. But they didn't miss any free throws so he probably would've made them both any way. But I thought we did a nice job with that."
After committing 4 turnovers and forcing just 6 in the first meeting between these two teams, Kansas forced 12 turnovers and gave it away 13 times on Tuesday.
This and that...
Kansas now leads the all-time series with Texas, 32-9... The Jayhawks are 5-3 in Big 12 play for the first time since the 2015-16 season and just the second time in Self's 16 seasons at Kansas... The Jayhawks have now lost consecutive games for the second season in a row (vs. Washington and vs. Arizona State in 2017-18)... Kansas is now 5-5 this season in games played away from Allen Fieldhouse, 1-5 in true road games, 1-0 at Sprint Center and 3-0 in neutral court settings.