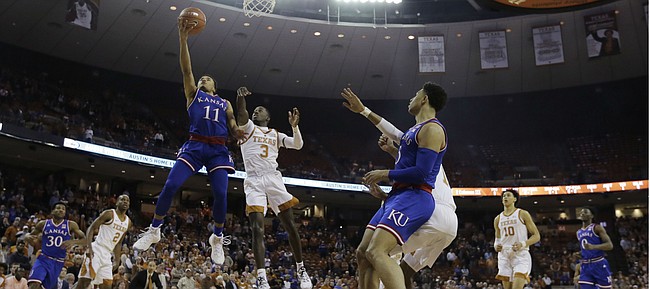 Austin, Texas — Call it a lack of leadership, the absence of a coldblooded mindset, relative inexperience or all of the above. But this Kansas basketball team doesn't yet know how to win on the road.
The evidence against the Jayhawks turning this season into one that will be deemed as acceptable or memorable in basketball-crazed Lawrence mounted Tuesday night at Frank Erwin Center, where KU trailed for more than 37 minutes of a 73-63 loss at Texas.
The Longhorns, losers of five of their previous six games before topping KU, confounded the Jayhawks as much as a hot Kentucky team did in front of a far more packed arena with exceedingly more engaged fans three days earlier.
The venue doesn't matter. Nor does the atmosphere. The fact is, KU's players don't handle adversity inside opponent's arenas in the same way they would inside Allen Fieldhouse.
The Jayhawks' record in true road games dropped to 1-5 on the season with their third consecutive defeat on a foe's home floor.
Photo Gallery
Kansas at Texas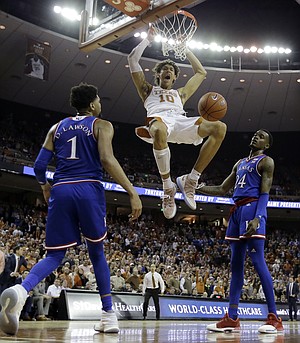 Texas head coach Shaka Smart reacts to a play during the second half on the team's NCAA college basketball game against Kansas in Austin, Texas, Tuesday, Jan. 29, 2019. Texas won 73-63. (AP Photo/Eric Gay)
An irritated Lagerald Vick told his teammates in the locker room afterward, Dedric Lawson shared, that the Jayhawks aren't any good on the road.
Vick's words aren't inaccurate.
But the senior guard also could help matters if it were possible for him to break out of his normal persona and provide some of his far less experienced teammates with the guidance they need in these very situations.
Ochai Agbaji, following his 24-point performance in his first career start — in what was just his seventh college basketball game — was asked for any theories he may have about what issues have torpedoed KU on the road.
"Coach was talking about it in the locker room, which I agree with him," Agbaji began, "just the lack of leadership, really. I mean, this has been a struggle throughout the season."
The number of games remaining for somebody to emerge on that front and fill that void is beginning to dwindle, which makes the idea of one of KU's six primary rotations players suddenly changing character and making it happen seem less than likely.
"I think that's something we really need to work on," Agbaji offered, "or someone needs to step up."
If that and other factors aren't fixed soon, how can this same group of Jayhawks (16-5 overall, 5-3 Big 12) be expected to win at Kansas State next week or at Texas Tech in late February?
KU is now 1-3 in road conference games, a fact that, as of Tuesday night, had KU tied for second in the Big 12 standings, a half-game behind co-leaders K-State and Baylor (the one league team KU has defeated on the road so far).
Now that Bill Self has witnessed his team win just one road game and lose five — at Arizona State, Iowa State, West Virginia, Kentucky and Texas — he has spotted a common theme.
Even though he called KU's 1-5 road mark a "B.S. stat," adding, "Look at who we played," before admitting, "It should be better than 1 and 5, I agree with you a thousand percent on that," Self's big-picture view of what ails the Jayhawks when they're away boils down to coming through at crucial junctures.
"I do think winning important points," Self said of one attribute that's lacking. "Basketball's a lot like tennis, too. There's certain games in a tennis match and certain points that are more important to win than other points. You get a chance to break you've got to win that point.
"I don't play tennis, but I think it sounds pretty intellectual," Self joked of his analogy. "But basketball's the same way. There's certain possessions, you've got to get a stop. You've go to get a stop under five on the shot clock. And you've got to maybe manufacture a basket, under five on the shot clock. But still we get three shot clock violations and they score at the end of the clock."
On a night when KU's offense was ugly at best against the Longhorns (12-9, 4-4), the visitors somehow still had some life in the game's final stages.
Lawson hit a 3-pointer with 1:01 remaining to cut UT's lead to 4. But when the Jayhawks needed a defensive rebound with Kerwin Roach shooting a one-and-one at the foul line, Texas came up with the offensive board.
"That was not why we lost, but that eliminated (KU's best chance)," Self said. "That and the possession (just before) where we were down four after they turned it over."
At that juncture, Lawson was open up top for another 3-pointer, that would've cut it to 1.
"Dedric got a decent shot, but it was definitely too deep," Self said. "That was probably a situation where we probably would have been better off driving it."
The Jayhawks would have given themselves a much better chance of winning at Texas had they come through with consistent effort and focus, too. Those intangibles, as well as just a willingness to fight and compete, have to start with someone. Even if it's a different player every game that sets the tone it needs to happen.
"That's the difference in winning and losing, things like that," Self said of KU's inability to close possessions with winning plays on either end of the floor. "And I do think those are things that are correctable. But when you go back over time, I think the consistent theme on a lot of our situations when we're playing good talent away from home is we have less margin for error. And when you give away possessions, it's hard to come back from that."