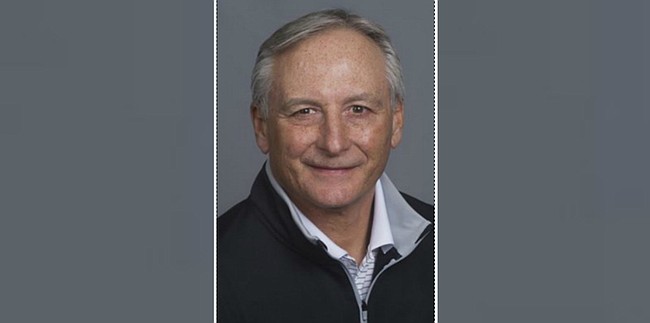 Having now hired two offensive coordinators in the two-plus months since Les Miles took over the University of Kansas football program, the Jayhawks would love to avoid doing so again anytime soon.
Should current OC and quarterbacks coach Les Koenning become in demand on the coaching market, it won't be as straightforward or budget-friendly for an interested program to hire him away.
According to documents obtained by the Journal-World, the five-year term sheet Koenning signed with Kansas Athletics includes a stipulation that if he were to leave KU for a job "in any athletics or coaching related role" between now and Nov. 15 of this year, the move would come with a $1 million buyout.
The terms agreed to in December by short-lived KU offensive coordinator and QBs coach Chip Lindsey allowed him to leave KU for an FBS head coaching job without a buyout. And when Troy asked him to take over its football program in January, Lindsey accepted, and KU received no compensation.
Koenning, who signed on with KU for five years at $500,000 per, with only the first two years guaranteed, could leave for an FBS head coaching job after Nov. 15 and, from that point on, KU would be owed nothing.
If KU exercises its options in each of the final three years of Koenning's deal, it would be worth $2.5 million in total over five years.
Lindsey was due to make $500,000 at KU in 2019, but his deal would have paid him more in ensuing years of a four-year, $2.65 million agreement, with KU holding an option for the fourth year.
Koenning's deal is set to pay him a base salary of $225,000 and a "personal services payment" of $275,00 every year, but KU must exercise its options ahead of the 2021, 2022 and 2023 seasons for him to remain in place beyond the first two years.
Kansas Athletics has to exercise its option for a following year by giving written notice to Koenning of its plans to retain him on or before the Dec. 5 that precedes the ensuing year of the deal.
According to USA Today's list of FBS assistant coaching salaries, Koenning made $100,000 in 2018 at Southern Miss as the team's running backs coach.
Incentives of Koenning's deal are the same as those that appeared in Lindsey's, before he left to become the head coach at Troy:
• 20 percent of base salary for KU making the national title game
• 16 percent of base salary for KU making the College Football Playoff
• Eight percent of base salary for KU being chosen for one of the New Year's 6 bowls
• Four percent of base salary for KU playing in any other bowl game
The incentives are noncumulative, so Koenning would receive payment of just one bonus if multiple incentives were achieved in the same season.
He also would receive $25,000 for KU reaching the Big 12's title game (Lindsey's deal included the same potential bonus).
Should Koenning decide to terminate his contract early, Kansas Athletics would be owed "the sum of his remaining base salary and personal service payments," except in some specific cases, including the aforementioned scenario in which KU would be owed $1 million if he left before Nov. 15 of this year.
Additionally:
• if Koenning took an athletics or coaching job other than an FBS head coaching position between Nov. 16, 2019, and Dec. 15, 2020, KU would be owed $500,000.
• and if KU exercises its options in any of the final three years of the deal, a buyout for a non-FBS head coaching job would be $250,000.
If KU were to terminate the contract "without just cause," Koenning would be owed "an amount of release payments equal to the sum of his remaining base salary and personal services payments," to be paid over 23 months from the termination "or the otherwise unexpired term of the contract, whichever is longer."