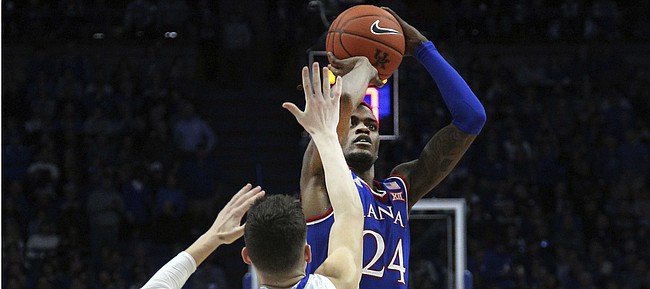 Lexington, Ky. — Pretend for a second like Saturday night never happened.
Congratulations. You're now thinking like a Jayhawk.
No. 9-ranked Kansas played against one of the nation's other most powerful programs, No. 8 Kentucky, inside one of college basketball's most recognizable venues, Rupp Arena.
And KU's players left the SEC/Big 12 Challenge's main event in need of some selective amnesia.
Forget that Kentucky won, 71-63. Stop thinking about how the Wildcats controlled the paint and outscored the Jayhawks, 38-20, on the portion of the floor colored UK's specific shade of blue.
Let your mind drift to an alternate reality where this defeat, KU's fourth on the road in five trips to opposing arenas, can be disregarded.
Dwelling on the negatives won't do this Kansas team (16-4 overall, 5-2 Big 12) much good. There are too many difficult conference games left to play during the next six weeks to get caught up in KU's shortcomings against the never-ending wingspans of the Wildcats.
Bill Self, forever more concerned with league outcomes than wins or losses in made-for-TV nonconference matchups in late January, said five words that sum up the way KU has to view its unsuccessful hiatus from Big 12 play.
"This doesn't really mean anything."
Self figured that's the approach his contemporary from Kentucky, John Calipari, would take, too. While bragging rights for rabid fan bases were externally at stake, the loss didn't impact KU's chances of winning at least a share of the Big 12 title for a 15th consecutive year. And UK's victory won't help the Wildcats' pursuit of the SEC crown.
Consider this game a freebie. Had the Jayhawks pulled off a victory, they wouldn't have to summon their voluntary short-term memories, and a win might have boosted their confidence for a couple of days. When they lost, they were ready to find the bus, ride to the airport and move on with their season.
That's the proper mental approach; far better than blowing the loss out of proportion. A team's psyche has potential to turn fragile during the more vulnerable junctures of the five-month schedule. No need to turn one defeat into some false end-all moment, somehow capable of predetermining what these Jayhawks will or won't be able to accomplish in the weeks ahead.
Now, back to reality.
Even the most skilled mental hurdlers can't completely erase on-court experiences from their brains. So it's on Dedric Lawson to find a way to learn from the 11 shots he missed against Kentucky's Travis Reid and his fellow UK bigs. The seven shots Lawson made — three from the paint, two on jumpers and two 3-pointers — weren't enough, because the Wildcats' length bothered and challenged him more often than not.
Trust that Lawson will study the moments when he struggled and improve because of them. And realize that it's not humanly possible for all memories from this escapade will be left inside Rupp Arena.
What will Lawson take away from the loss at Kentucky that may benefit him moving forward?
"Just enjoying the experience, really. I mean, you don't get too many opportunities to play against Kentucky, especially in a great facility — this is one of the greatest facilities, legendary facilities in college. We've got to take the game and the competitiveness and just learn from it," Lawson said. "Just learn from different teams and things like that. The way they played: they played hard."
That's a lesson that may not be dwelled on much in the next 48 hours, but will come in handy when KU is trying to win at Texas Tech or Kansas State, or trying to advance during the postseason.
"Just stay in the game," Lawson said, "and you can get better from that watching film."
Those same arms that harassed Lawson, as well as the appendages of other Wildcats, pestered sophomore KU guard Marcus Garrett into a difficult, forgettable 1-for-9 shooting night, as he totaled 4 points in 32 minutes.
Garrett, like Lawson, is the type of player who will take his discerning recollections from the loss and become a better player for it down the road.
As for other potential enlightenment through adversity, Self wasn't fully convinced anything the Jayhawks encountered in the defeat would benefit them as they return to Big 12 play.
"I hope so. I don't know right now off the top of my head. Seeing Q make some shots obviously's a bonus," Self said of freshman guard Quentin Grimes' 3-for-5 showing from 3-point range, as he put up 13 points.
"Ochai's going to be a really good player," Self said next of another freshman, Agbaji, who scored all 7 of KU's bench points.
A redshirt player when January began, Agbaji, Self pointed out, has now played in all of six games and was at one point ranked lower than 300th in his recruiting class before making a leap and signing with KU.
"And now we need him to play well to win in Rupp. So that's a lot to ask from a kid," Self added, after Agbaji shot 2 for 6 in 21 minutes.
"I don't know if there's anything definite that'll definitely make us better moving forward," he added.
And that might be the strongest endorsement of them all for the Jayhawks to banish their latest loss from their minds.
Recollect what lessons can be salvaged. Move on from everything else all together.