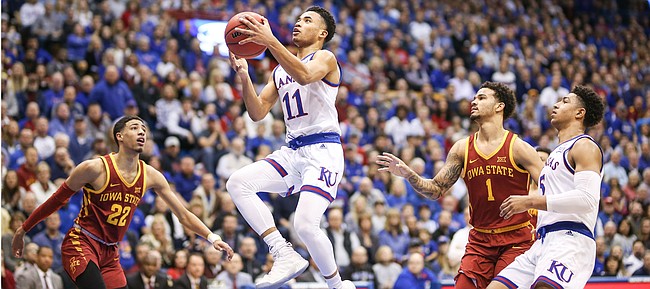 Kansas flipped the script in the second half to secure another Big Monday victory.
After suffering a 17-point loss to Iowa State just a few weeks ago, KU got its revenge with a 80-76 victory Monday night in Allen Fieldhouse. Since the 2013-14 season, the Jayhawks (16-3, 5-2 Big 12) are 37-3 following a loss. With the loss, ISU (14-5, 4-3) dropped from a four-way tie for first place in the Big 12.
KU has won 32-straight Big Monday games in Allen Fieldhouse. Overall, KU has won its last 12 ESPN Big Monday contests. The win came just two days after the Jayhawks suffered a 1-point defeat at the hands of West Virginia, in which KU was unable to finish things off after leading by 6 points late in the game.
This time around, the Jayhawks closed it out. Dedric Lawson and Lagerald Vick each hit clutch 3-pointers in the final minutes. Marcus Garrett got a key bucket down the stretch as well, and Devon Dotson hit three of his final four free throw attempts in the final 15 seconds to create some cushion.
Lawson led the way with 29 points and 15 rebounds, notching his NCAA-leading 13th double-double on the year. Garrett poured in 16 points, while Vick registered 14 points. Dotson finished with 11 points.
Here's a quick look back at some of the action:
• The game turned when:
• Offensive highlight: The best play of the game came at the most opportune time for the Jayhawks.
After trailing for much of the contest, Kansas took the lead for good at the 10:26 mark in the second half. Garrett collected the long rebound, and quickly pitched it back to Dotson to begin the sequence.
Dotson proceeded to push the ball up the floor, as senior Lagerald Vick filled the right side. Dotson lobbed it up to Vick, who flushed it down for KU's first dunk of the contest. It gave the Jayhawks a 55-53 lead — their first such advantage in the second half — and the rest was history.
• Defensive highlight: KU knows better than anyone how tough it can be to defend Iowa State.
In the 17-point win in the first meeting between these two teams, the Cyclones stretched the floor and buried 13 3-pointers. They emphasized the long ball for much of the night in the rematch, which led to a number of open looks by ISU. KU coach Bill Self even told Holly Rowe on the broadcast that his team had to change up its ball-screen defense.
That being said, Garrett served as a bright spot for the Jayhawks during their early lulls on the defensive end. This play, in particular, highlighted how active Garrett was on the defensive end during the latest Big Monday tilt.
•Up next: Kansas travels to No. 8 Kentucky at 5 p.m. Saturday for the Big 12/SEC Challenge.