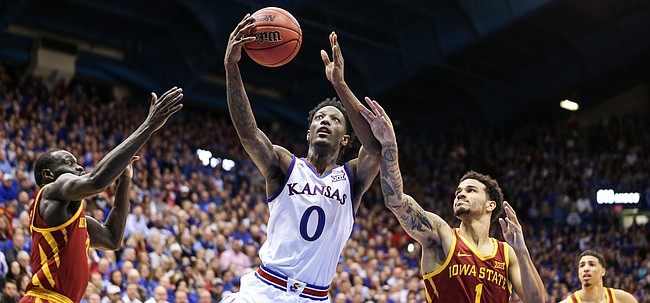 For all the big performances, memorable moments and clutch plays that helped lead No. 9 Kansas to a wild, 80-76 home victory over No. 24 Iowa State on Monday night at Allen Fieldhouse, Kansas coach Bill Self had a way of summing it all up that made this latest KU victory sound rather simple.
And Self's assessment had a lot more to do with each player's all-around basketball effort than just the fact that junior forward Dedric Lawson and sophomore guard Marcus Garrett led the Jayhawks in scoring on Monday night.
"The two players of the game, obviously, were Marcus and Dedric," said Self, two minutes into his postgame meeting with the media. "They were both great."
Together, the KU duo combined for 45 points and 20 rebounds on 21-of-29 shooting from the floor. Perhaps more importantly, both of them stayed on the floor as long as the Jayhawks needed them, with Garrett sitting for just a minute and Lawson just two. Both players also toughed out all 20 minutes of the wild second half.
The Jayhawks (16-3 overall, 5-2 Big 12) trailed by 5 at the break, by as many as 8 early in the second half and even saw an 8-point lead of their own eliminated completely in the final minute. But every time they had to make a play, someone did. Usually that was Garrett or Lawson.

"They were throwing haymakers and we were still standing," Lawson said after the victory.
Every one of those 21 field goals — including a 2-of-2 clip from 3-point range from Lawson that featured a huge jumper from the top of the key with 23 seconds left — was absolutely enormous in a game that went back-and-forth, both teams throwing the best they had at the other and waiting to see how their efforts impacted the final result.
Both Jayhawks had a huge part in determining that, and neither one was too interested in talking about himself after it was over.
Photo Gallery
Kansas basketball v. Iowa State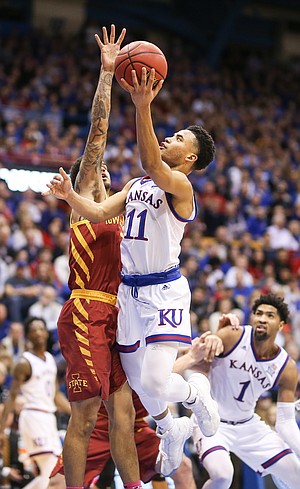 View a gallery of images from Monday night's game between the Jayhawks and Cyclones at Allen Fieldhouse.
Garrett, as you might expect, emphasized KU's defense, crediting Self with a mid-game adjustment to switch on ball screens that helped the Jayhawks hold ISU to 33 percent shooting in the second half.
That, Garrett said, sparked KU's 14-0 second-half run that wound up flipping the game and giving Kansas control to the finish line.
"It felt like the ball was getting from corner to corner and we almost couldn't guard it," Garrett said of an ISU team that hit 12 of 30 3-pointers in a losing effort. "(It was) just (about) coming together and making stops. Coach made a great adjustment during the game that was able to help us going on the run."
Self, of course, likes hearing Garrett — or any of his players, for that matter — talk and think defense first, and few do it as well as Garrett (16 points on 8-of-12 shooting).
His strong play all over the floor at this point in the season is merely fueling his offensive production, which now includes Garrett making 23 of his last 37 shots over four games.
"Marcus is playing at a really high level," Self said. "I'm happy to see that. But we shouldn't judge him on how many points he scores. We should judge him on if we win or not, because that's who he is. I mean, he (makes) winning basketball plays and he did a lot of those tonight."
And then, there was Lawson, who finished with 29 points and 15 rebounds — his 13th double-double of the season — and absolutely carried Kansas when the Jayhawks had no one else to turn to.
"He was great," Garrett said. "He had 15 at the half and he was getting anywhere he wanted to get. They basically couldn't stop him."
Lawson finished 13-of-17 from the floor and even blocked a nasty dunk attempt by ISU's Lindell Wigginton late in the game.
"Yeah, he tried to dunk on me," said Lawson, half laughing and half insulted. "I told him at the free-throw line, 'You tried to dunk on me for the game?' And he laughed. He's an exciting player, one of the best players in the Big 12."
But he couldn't touch Lawson on this night. Wigginton finished 1-of-8 from the floor for 3 points in 25 minutes. Lawson surpassed those numbers in 25 seconds.
"He just played so good," Self said of his junior forward. "People just play behind him and bang on him and he held his composure and he had a great game."
While Lawson's energy and effort and intensity all over the floor were as good as in any game this season, Self said he sensed that it would be a good night for Lawson's jumper, as well.
"In shootaround today, he was jacking around and he kept shooting because he made, like, 14 in a row," Self recalled after the win. "So I was hopeful that would translate to tonight."
It did, and the Jayhawks survived yet another Big 12 battle, moving into sole possession of first place in the conference race for the next 20 or so hours.
After that, Kansas will be tied again with the winner of Tuesday's game between Kansas State and Texas Tech.
Such is life in the wild and crazy Big 12 Conference, and no one knows how to handle that better than Self and the Jayhawks.
"We've had some talks since Saturday," Self began, referencing the last-minute loss at West Virginia. "And we've got to become a team. People can say what they want to, you know, teams aren't teams in November and December. We've been playing without Dok now for three weeks now. We've played six games without him. And it takes time to become a team and who you are. So much of it is a mindset. If we're going to be soft or timid, this team can't be like that and outskill people. We've got to be more of an attack-type team on both ends."