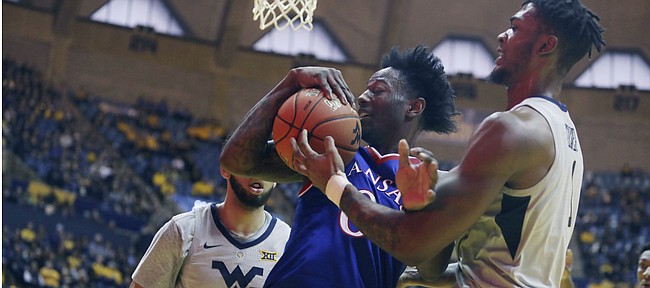 Morgantown, W.Va. — Five days earlier, in a home win over Texas, it was Marcus Garrett's jump shot that led to a career night and 20-point outburst for the Kansas sophomore.
On Saturday, in KU's 65-64, gut-wrenching loss at West Virginia, Garrett's offensive encore was one of the few bright spots in a day gone horribly wrong for the 7th-ranked Jayhawks at WVU Coliseum.
Although he missed the only jumpers he attempted against the Mountaineers, Garrett looked downright unstoppable at times when it came to attacking the basket, finishing with 15 points on 6-of-12 shooting and adding a career-high six steals to his final line.
"Isn't it amazing we can't play without Marcus Garrett?" Self said of his second-year combo guard who has hit 15 of his last 25 shots. "He was really good."
Garrett's strong performance in Saturday's loss was not limited to the offensive end, where he carried Kansas at times — far from it. As per usual, the Dallas native also delivered a monster defensive effort, both in terms of his stat line and in the way he frustrated every West Virginia player he guarded, big or small.
"He's playing great," Self said. "And he can guard anybody. That's the thing about him; he's tough as nails and he can guard anybody. We get seven steals and he gets six. That tells you a little bit about his toughness level compared to how aggressive maybe some other guys were."
Junior forward Dedric Lawson, who tied with Garrett for the team lead in points on Saturday, offered up a slightly different take on a familiar breakdown of Garrett's game.
"I know he's got it in him because I've seen (it)," Lawson said of Garrett's offensive game. "He's playing great. I'm glad everyone else is getting to see the capabilities and the type of player that he really is. I just hope he continues to grow. His (potential is) through the roof."
Said Garrett of his recent offensive hot streak, while noting that this past couple of weeks is the most comfortable he has felt on offense in his KU career: "I'm just trying to be aggressive, trying to get downhill and make plays. I'm just trying to make the defense respect me."
Physical education
All week, the Jayhawks, who had yet to experience playing in Morgantown against the Mountaineers, had heard how physical the game can get. And then on Saturday, they went out and experienced it.
Against a defense that only slightly resembled the "Press Virginia" mantra the Mountaineers have made felt and famous throughout Big 12 country, the Jayhawks turned it over 18 times and shot just 43.6 percent from the floor, constantly finding the shortest shots to be their toughest.
"Yeah, it was definitely physical," Lawson said after the loss. "They were fouling. But that's West Virginia. I watched it last year. That's just a style of play. You can't call every foul and I understand that. You've got to play through it and be a man and finish the plays."
Kansas outrebounded WVU, 34-28, including a 9-5 margin on the offensive glass, prompting Self to call KU's defensive rebounding "probably as good as it's been all year long." But in the moments that mattered most, both in the first half and at the end of the game, West Virginia's tenacity and toughness won out.
Quick turnaround
For the second week in a row, the Jayhawks will have roughly 48 hours between games, with a home game against Iowa State slated for ESPN's Big Monday at 8 p.m. Monday at Allen Fieldhouse.
In many ways, the chance to get back on the floor so quickly after a tough road loss stands to benefit the Jayhawks. But given the fact that this turnaround comes against a team that, two weeks ago, whipped Kansas by 17 and forced 24 turnovers in the process, Self was in little mood to dive too much into KU's next game on Saturday night.
"I don't want to talk about Iowa State," Self said. "We know they kicked our (butt) the first time we played them and we know that we've got to be a lot better Monday. It's important that we get back, regroup and not let one (loss) become two. Right now, this one stings quite a bit."
GameDay up next
Next week, the Jayhawks will be on the road over the weekend for the fourth time this month, traveling to Kentucky for ESPN's annual SEC/Big 12 Challenge in Lexington.
The matchup between two of college basketball's biggest programs and richest blue bloods will be Saturday's featured game and attract the attention of ESPN's College GameDay at Rupp Arena.
The all-day affair on Saturday — ahead of a 5 p.m. tipoff — will mark UK's 17th College GameDay appearance overall, behind only North Carolina (18), and the eighth trip by GameDay to Lexington, tied for second overall.
Kentucky boasts a 6-10 all-time record in GameDay appearances, with two of those losses coming to Kansas: 90-84 in overtime in 2016 at Allen Fieldhouse and 79-73 in 2017 during the last meeting between these two programs inside Rupp Arena.
Kansas has won three in a row over John Calipari's Kentucky Wildcats.
This and that ...
Kansas now leads the all-time series with West Virginia, 10-5, including a 2-5 mark in Morgantown ... The loss to 0-5 WVU was KU's first to a team with an 0-5 record or worse in Big 12 play since it fell at 0-8 TCU in February 2013 ... The 23-23 tie in the first half marked both the fewest points in a half by KU and the fewest points allowed in the first half by the Jayhawks this season ... The loss marked the second time this season KU has fallen after leading with 5:00 remaining in regulation. The Jayhawks are now 13-2 on the season and 424-17 in the Self era when ahead with 5 minutes to play ... KU missed its final five shots from the floor over a span of 2:14 ... Lagerald Vick's 13 points moved him past Cole Aldrich (1,038), Carl Henry (1,044) and Nolen Ellison (1,045) into 51st place all-time on the Kansas scoring list, with 1,046 points. Vick's two 3-pointers moved him past Jerod Haase (156) for 14th all-time in 3-point makes at 157.