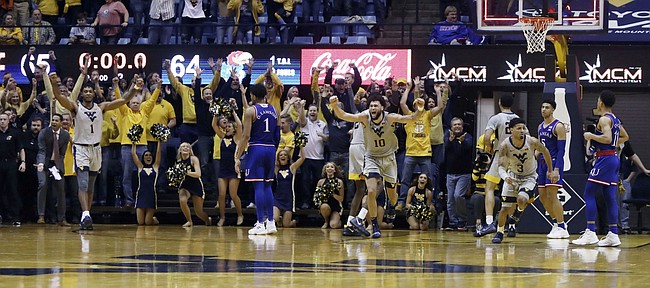 Morgantown, W.Va. — Morgantown strikes again.
Despite controlling the second half and leading for more than 26 minutes of Saturday's game at West Virginia — including nearly all of the second half — the No. 7-ranked Kansas men's basketball team said hello to an old nemesis as the final horn sounded at WVU Coliseum.
From up 6 with a chance to close it out to down 1 at the final buzzer, the Jayhawks fell, 65-64, after a wild final minute that featured the Mountaineers, who had yet to land a conference win, making all the right plays at the end and the Jayhawks shrinking in yet another road environment.
"We blew it," said junior forward Dedric Lawson after Saturday's 1-point loss, which dropped the Jayhawks to 2-5 all time in Morgantown. "We've just got to close games. That's something we've talked about all along and we just blew the game."
Even with subpar execution down the stretch, the Jayhawks (15-3 overall, 4-2 Big 12) had their chances. More specifically, senior guard Lagerald Vick had his chances.
After a hard-driving missed layup by sophomore guard Marcus Garrett at the one-minute mark, with KU leading by a point, 64-63, Garrett jumped in front of a pass from WVU freshman Derek Culver and gave Kansas a second chance to add to its lead.
After the Jayhawks frantically worked the ball around the perimeter, it ended up in Vick's hands in front of the KU bench. With the shot clock winding down and Vick dribbling left, then right, then back left again, the KU senior fired up what wound up being a desperation airball toward the rim.
Garrett, who easily was KU's best and toughest player in this one, grabbed the rebound, but he couldn't avoid falling out of bounds and lofted a soft pass back onto the court that WVU's Jermaine Haley grabbed and turned into the game-winner.
Haley's coast-to-coast layup with 7 seconds to play put the Mountaineers up 1 and Kansas had one last chance.
Again, the ball wound up in Vick's hands and, again, Vick chose to settle for a tough 3 instead of driving to the rim.
Sounding a little like he did after KU gave one away at Arizona State for the Jayhawks' first loss of the season in December, Kansas coach Bill Self put the blame for the late-game collapse on his shoulders.
"It was my fault," said Self after calling KU's final two shots "awful." "I should've called timeout. We had no chance on that last possession. I should've called timeout."
So why didn't he?
Self said the decision was circumstantial, and, if you've been paying attention to Kansas basketball at all over the years, you probably weren't surprised. Self's teams have made a living off of countering big baskets by their opponents with quick-strike answers on the other end. And the opportunity for just that was present in this one, as well. But Vick's decision to settle for a jumper instead of attacking the rim sealed KU's fate.
"Broken floor. Double bonus. Down 1. You drive it," Self said.
After the loss, Self said he contemplated calling timeout, but chose not to. Asked whether he thought a timeout might be coming, Garrett made it clear that the team was well prepared for the situation but simply did not execute.
"We practice it a lot," Garrett said of that particular late-game scenario. "It's the same play that Mario Chalmers hit the shot on (in the 2008 national title game), so we weren't looking to call a timeout. And we knew we were in the double bonus, so we were basically trying to get downhill and draw a foul."
Both teams opened Saturday's game hot from the floor — Kansas made four of its first six shot attempts and West Virginia four of five — but as the first half played on, the offensive output leveled off and improved defense and sloppy offense became the story on both ends of the floor.
The teams combined for 12 turnovers in the game's first eight minutes, seven coming from the Jayhawks and five from the Mountaineers. By halftime, which featured the two teams deadlocked at 23, Kansas had coughed it up 13 times — this time, unlike in the past, against very little West Virginia pressure.
"That first half set basketball back a few decades," Self said after the loss. "So many of those turnovers weren't forced, it was more reputation forced. But give them credit for that. … You look at the turnovers and unforced errors; you could say some of that could be attributed to inexperience, but not there at the end."
A year ago, it was the end of the game in Morgantown where Kansas was at its best, storming back from a double-digit deficit in the final 6 minutes to steal the win and snap a four-game losing streak at WVU Coliseum.
In this one, it was at the end where the Jayhawks were at their worst.
So, it's on to the next one for a Kansas team still trying to piece everything together and ever-so-slowly running out of time to do it. Luckily for the Jayhawks, that next one comes a little more than 48 hours after this one, so there won't be much time beyond the long trip home to sulk and stew over another one that got away.
But there's little doubt that this team knows it has problems. And, according to Lawson, it's not just on game night when the Jayhawks' inability to close out games gives Kansas fits.
"We do it at practice, too," said Lawson of this team's late-game struggles. "We take it for granted in practice when we scrimmage against the (scout) team and they score at the end and we don't get stops. We take it for granted. And it's something that coach preaches about a lot. He gets mad at us a lot, and we look at him like he's crazy. Guys have got to take that stuff seriously moving forward.
"It's definitely frustrating. The whole loss is frustrating. I hate losing. But we can't dwell on this. We've got to play Monday, so we've got to put this behind us as soon as possible."
Added Self: "We'll be OK. We'll be OK. You know, you can't get this one back, so you've got to put it in your rearview mirror, so to speak. Yeah. We'll be OK. We'll be excited to play Iowa State."