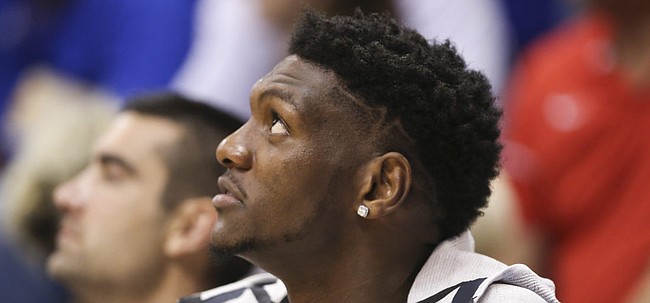 According to a Monday report from Seth Davis of The Athletic, the Kansas men's basketball program is prepared to rule KU sophomore Silvio De Sousa ineligible and request that the NCAA immediately reinstate him.
Davis' report, which cites multiple sources who claim KU is prepared to "formally acknowledge to the NCAA that a violation took place," answers the question that KU officials would or could not answer last week.
When reached by the Journal-World last month for clarity in De Sousa's case, an NCAA spokesperson said that NCAA rules require KU to first rule the player ineligible, then submit a request for reinstatement before the NCAA can even begin to review the case.
When asked last week if KU either had ruled De Sousa ineligible or submitted a reinstatement request, KU associate director Jim Marchiony said, "We cannot get into any particulars, but everyone is working together for a resolution that is best for all parties involved."
Without knowledge of whether KU had submitted a request, it was hard to know whether the NCAA was simply moving slowly, as many critics claimed, or if De Sousa's case was even being reviewed at all.
Davis' report, if accurate, would suggest that the NCAA, per standard procedure of eligibility reviews, has not formally been reviewing De Sousa's case.
However, the report also addresses what the NCAA has been doing while De Sousa has sat in street clothes waiting to find out more about his status. That status has been in limbo since Kansas coach Bill Self voluntarily elected to hold De Sousa out of competition while waiting for some kind of guidance or answer regarding whether the 6-foot-9 sophomore from Angola would be eligible if he played.
"Over the last three months, Kansas has been working directly with members of the NCAA's enforcement division to investigate the matter and agree upon a set of facts," Davis wrote. "There is no guarantee the NCAA will accede to Kansas' wishes, and there is no standard for how long the NCAA must take to render a decision. However, the anticipated step raises the possibility that De Sousa could play for the Jayhawks this season."
According to Davis' sources, KU's formal request to reinstate De Sousa is expected to be submitted to the NCAA's Academic and Membership Affairs Group as early as this week.
KU officials on Monday morning had no further comment on De Sousa's status or Davis' report.
The violations in question stem from De Sousa's recruitment and its role in the recent college basketball corruption investigation, which revealed in federal trial that De Sousa's guardian, Fenny Falmagne, allegedly received a $60,000 payment from Under Armour to steer De Sousa to Maryland and, later, requested $20,000 from an Adidas rep to help him "get out from under" the Under Armour payment so De Sousa could attend KU.
Also in play is an alleged $2,500 payment from Adidas rep T.J. Gassnola to Falmagne to help De Sousa enroll in online classes so he could attend KU after graduating from IMG Academy in Bradenton, Fla., a semester early.
Big Monday big shot
Monday's 80-78 KU victory over Texas marked the Jayhawks' 84th all-time appearance on ESPN's Big Monday, by far the most in the Big 12.
Since the inception of the conference in 1996-97, KU is 66-18 all-time on Big Monday, including a 38-1 mark at home, 28-17 on the road and 46-12 under Self. The Jayhawks have won 31 straight Big Monday games at Allen Fieldhouse and 11 consecutive Big Monday games overall.
ESPN broadcaster Fran Fraschilla, who has worked Big Monday games for the past handful of years, can remember his first encounter with the Big Monday phenomenon, back when he was a young coach at Manhattan, and he said the KU brand played a huge role in building it into what it is today.
"Anything that involves a team like Duke or Kansas or Kentucky is going to get a lot of promotional support so that people know where and when that game is on at all times," Fraschilla said before Monday's game. "And it's a combination of the great (KU) tradition, it's great TV, because of Allen Fieldhouse — it looks great on TV — and it's Kansas; it's a staple of ESPN college basketball."
Lawson honored again
For the third time on the newcomer circuit and sixth time in the weekly awards, KU junior Dedric Lawson was honored by the Big 12 on Monday as the conference's newcomer of the week.
Lawson, who averaged 24 points and 8.5 rebounds during wins over TCU and Baylor last week, earned the top newcomer honor for the third time.
Lawson scored a season-high 31 points and grabbed 14 rebounds in KU's win over the Horned Frogs last Wednesday and followed that up with a 17-point effort at Baylor last weekend.
His performance in Waco, Texas, included a season-high five blocked shots and a career-high five steals, which made him the third player in Big 12 history to record five blocks and five steals in the same game. Baylor's Quincy Acy (2008) and Brian Skinner (1996) previously achieved the feat.
Jayhawks still 7th in AP poll
Despite two victories last week, including yet another Top 25 win, the Jayhawks stayed in the No. 7 spot in this week's Associated Press Top 25, released Monday.
The top 10 spots remained unchanged, with Duke, Michigan, Tennessee, Virginia and Gonzaga holding down the top five spots and Michigan State, Texas Tech, Virginia Tech and Nevada surrounding KU in rounding out the Top 10.
Future KU foe Kentucky (Jan. 26 in Lexington) and past KU victim Marquette, each jumped six spots to Nos. 12 and 15, respectively.
Oklahoma jumped three spots to No. 20, and Iowa State, which was ranked No. 20 after knocking off KU, fell out of the Top 25 following losses to Baylor and Kansas State.
Five of this week's Top 25 teams owe one of their losses to Kansas, with No. 3 Tennessee, No. 6 Michigan State, No. 15 Marquette, No. 20 OU and No. 22 Villanova all falling to Kansas earlier this season.
This and that ...
KU's victory improved the Jayhawks to 15-2 overall and 4-1 in Big 12 play or better for the 13th consecutive season, dating back to 2006-07 ... KU now leads the all-time series with Texas, 32-8, including a 17-1 record in games played in Lawrence and a 15-1 mark at Allen Fieldhouse. KU won a pair of games against the Longhorns in 1940 at Hoch Auditorium ... The Jayhawks are now 28-7 against Texas in the Big 12 era ... KU has won 14 consecutive games in Allen Fieldhouse and is 10-0 at home this season.