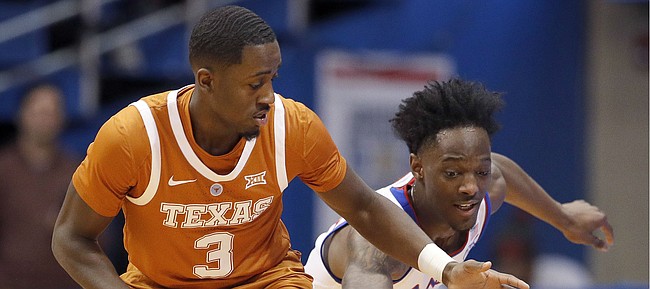 For all of the power and prestige that the burnt orange brand represents throughout college athletics, the Kansas men's basketball team sure has found a way to give the Longhorns the short end of the stick.
Thanks to an anxiety-ridden, down-to-the-wire 80-78 victory by No. 7 Kansas at Allen Fieldhouse on Monday night, the Jayhawks now have won 10 in a row over Texas (10-7 overall, 2-3 Big 12) and 15 of the past 16 meetings, dating back to the 2013-14 season.
The only two KU losses to Texas this decade came the day after Thomas Robinson's mother passed away in 2011 and on the first day of February in 2014, when KU shot 26 percent and lost by a dozen in Austin, Texas.
Other than that, it's been all Kansas for the better part of two decades. During that stretch, the Jayhawks (15-2, 4-1) have racked up a 12-point average margin of victory over Texas. That includes Kansas winning by 26, 30 and 31 points in three of those games and the Longhorns failing to score 60 points four different times, including reaching just 47 in a 73-47 KU victory in Lawrence back in 2013.
On Monday, a new name was wildly responsible for KU's latest win.
Anyone who has watched, or perhaps even criticized, KU sophomore Marcus Garrett's shot during the past couple of years, likely would have been surprised by what unfolded in the first half.
Not only did the KU sophomore drain all seven shots he attempted, including 3 of 3 from 3-point range, but the 24 electronic video boards Allen Fieldhouse video boards above the tunnels to the seats flashed dozens of fire emojis after each Garrett 3-pointer.
Yes, Garrett was, in fact, on fire, and nothing anybody did stood much chance of cooling him off. By game's end, Garrett had recorded his first 20-point game, topping his previous career-high of 13 in the first 10 minutes of Monday's game.
"He played great," junior forward Dedric Lawson said. "He carried us the first half. We know he's capable of making shots, it's just all about him shooting the ball."
Added Kansas coach Bill Self of his sophomore from the Lone Star State: "He looked like (former Detroit Pistons star) Vinnie Johnson in the first half, The Microwave, he was heated up."
So much so that Garrett's first miss did not come until early in the second half and he responded to that with what was arguably his prettiest play of the night, a driving, spinning, one-handed scoop shot off the glass that put KU up 57-47 and capped a 19-7 Kansas run.
While the red-hot shooting night came out of nowhere, Garrett did, of course, deliver some of the plays for which he is better known.
Steals, sliding his feet, extra effort and simple execution highlighted those, with none being better than a second-half assist to Lagerald Vick, which saw Garrett briefly pause while looking to swing a pass to Vick on the wing. Rather than throwing it away or into the outstretched arm of a Texas defender, Garrett simply waited for Vick to reposition himself and then threw behind the defender, hitting Vick (21 points on 5-of-8 shooting from 3-point range) in stride for a 3-pointer that put Kansas up 48-42 early in the second half.
And a late tie-up of UT's Dylan Osetkowski, with KU leading by 2 inside the final 2 minutes, played as big of a role in the win as anything.
"That was probably the best play of the game," KU coach Bill Self said. "That was huge. Marcus played unreal."
A big question entering KU's first of four Big Monday games this season was how the Jayhawks would match up with the Longhorns' deep lineup of exceptional athletes.
It's a question that has been posed often when these two teams meet, and Self's teams have rarely had trouble.
Starting four guards and playing small most of the time certainly helped that endeavor. But so did Garrett.
In a single play in the first half, the KU sophomore stole the ball from Jericho Sims in the post and outran the Longhorns to the other end, smoothly stepping by and over Texas super-athlete Kerwin Roach Jr., in the process to put the Jayhawks up 17-12.
The play was merely the start of Garrett's monster half, during which his confidence seemed to grow with every trip up the floor. And it also served notice to Texas that if the Longhorns wanted to run up and down the floor, the Jayhawks were happy to oblige.
Not to be outdone, Roach, Matt Coleman III, Jase Febres and Courtney Ramey routinely outran KU's defense back for easy buckets on the other end.
"It was a great basketball game," Self said. "By far the best basketball game that's been in our building this year from an execution standpoint. I thought that (was) the best we've played. That was a great win for us."
Of course, as KU fans have seen all year with this team, all good things always come to an end. And even after jumping out to that 8-0 lead, the Jayhawks encountered a dog fight the rest of the first half, even finding themselves trailing, 30-29 with 4:12 to play in the half.
But Garrett quickly put an end to that with another driving layup — his 16th and 17th points of the first half — and Kansas built a 33-30 lead before Texas rattled off a 10-2 run to take temporary control late in the half.
The Longhorns, behind a couple of lightning-fast, ultra-athletic plays by Roach, built a 40-35 lead before a Vick 3-pointer, with 4 seconds to play in the half, pulled KU within a bucket at the break.
Even while getting up and down the floor whenever possible, both teams played clean halves, with Texas coughing it up just three times and KU failing to commit a single turnover. KU turned it over just four times all night and won the points-off-turnovers war, 15-3.
Despite hitting just 11 of 21 from the free throw line, Kansas shot 54 percent from the floor and made 11 of 22 3-pointers.
Texas' halftime lead did not last long. The Jayhawks reclaimed control on a 3-pointer by Devon Dotson on the first possession of the second half and went up four, 44-40, after a rhythm 3-pointer by Grimes on KU's second possession of the half. One trip later, Dotson hit one of two free throws and the Jayhawks were back up five, 45-40, after winning the first 1:45 of each half by a total of 13 points.
Playing with more energy and much better urgency, the Jayhawks controlled most of the second half but never fully put the Longhorns away.
Much the way Baylor closed last Saturday, UT erased a one-time, 10-point Kansas lead with 5 minutes to play when Febres hit three consecutive 3-pointers, trading three for two with KU's Dedric Lawson, who, once again, carried Kansas down the stretch.
Lawson came two rebounds shy of his nation-leading 12th double-double, but his eighth board of the game was arguably the biggest all night, giving him two free throws and a chance to put Kansas up two possessions with less than 20 seconds left.
Saddled with foul trouble, Lawson had just 4 points and 4 rebounds in 11 first-half minutes, but scored eight in a row late in the second half to help Kansas reach the finish line first.
He finished with 17 points and 8 rebounds in 26 minutes.
Even with all of that, KU did not fully have control of the game until the final horn sounded, after a last-second, would-be, game-winner by Febres from 3-point range clanged off of the rim.
UT coach Shaka Smart said after the loss that the clock (8.6 seconds left to play and Texas out of timeouts) dictated that the Longhorns had to go for the win, and added that things got "too jumbled up" on the last play.
From Self's vantage point, the missed game-winner was the result of solid defense from his group, which had five guards on the floor — Garrett, Vick, Devon Dotson, Quentin Grimes and Ochai Agbaji — and was planning to switch every screen and eliminate everything they possibly could.
"I didn't have any idea what they were going to go for," Self said of Texas' plan. "But we called timeout and told them to try take away the 3 and switch everything and no and-ones and guard the 2. So I guess we told them to do everything. We defended that well."
Added Self of the close call: "Every game in our league is going to be like this. We're not going to run away from people and our league is not one that's going to allow that."