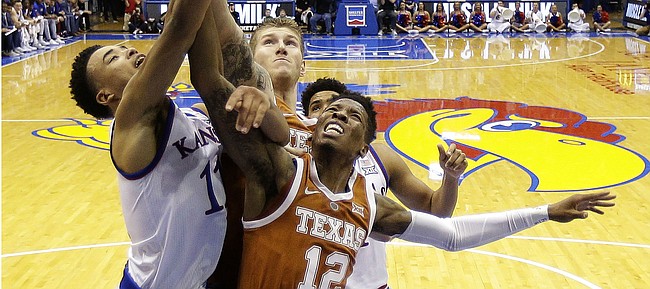 He's neither the type of player to bewilder observers with explosive scoring nights nor one to rack up eye-popping assist numbers. But freshman point guard Devon Dotson might be the most indispensable player on the Kansas basketball roster.
His teammates and coaches will tell you Dotson possesses more competitive drive than any player on the team, and the freshman from Charlotte, N.C., reminded every one of them, as well as the 16,300 fans inside Allen Fieldhouse, of that yet again Monday night — in both the opening minutes of the second half versus Texas, as well as the final minute of the nail-biter, 80-78 Kansas victory.
With the Jayhawks doing all they could to maintain a three-point lead with the game clock ticking down toward 30 seconds, Dotson defended the most athletic man in the building, Kerwin Roach, on the perimeter and then showed the wherewithal to do his best to contest a potential game-tying 3 from Courtney Ramey once Dotson forced the ball out of Roach's hands.
Despite those efforts, Texas had a chance to get out of Lawrence with a victory in the game's final seconds. But Dotson defended Ramey (2 of 4 on 3-pointers) too well for the UT guard to get off a would-be game-winner, forcing him to pass to Jase Febres, who misfired on a 3.
Dotson's play proved just as crucial earlier on. With KU trailing at intermission for the sixth time this season, the 6-foot-2 freshman opened up the second half by regaining the lead for KU, knocking down a 3-pointer from the left corner with the shot clock winding down.
Seconds later, Dotson blew past UT's transition defense the next trip down the floor, creating space for a rhythm 3-pointer by Quentin Grimes and a 4-point KU lead.
On possession No. 3 of the half, Dotson encountered 6-foot-9 Texas big Dylan Osetkowski trying to check him on the perimeter. The speediest ball handler in KU's four-guard lineup sped by the senior forward only to encounter a longer Longhorn, 6-11 Jaxson Hayes, at the rim. Dotson attacked the shot blocker in the fashion a much older lead guard would, and drew a foul to get to the charity stripe. Hayes had to find a seat next to his head coach, Shaka Smart, on the UT bench, with three fouls on his stat line and more than 18 minutes to play.
After a first half in which the Jayhawks couldn't figure out a way to sustain any separation from Texas, KU's freshman point guard turned a 2-point halftime deficit into a 5-point lead with ease. And even though Dotson didn't parlay that into a dominating second half, his brief takeover was just the spark KU needed in what went down as another victory for the No. 7-ranked team in the nation.
Putting up 10 points (3-for-6 shooting) for the 11th double-figure scoring outing of his young career, Dotson continued to show against the Longhorns (10-7 overall, 2-3 Big 12) his legitimate scoring potential for this season, as well as glimpses of even greater star potential to come for the remainder of his KU career, however many seasons that ends up being.
The third-leading KU scorer on the season when you don't include now injured Udoka Azubuike, Dotson rarely forces shots, preferring to rise to the occasion on cue.
Again fooling onlookers who don't know him into assuming he's a veteran, Dotson scored his first basket of the night with a smooth fast-break layup in the first half, timing his takeoff perfectly to allow his defender to fly past him before he scooped it off the glass.
While Dotson has only led the team in scoring once this season (16 points versus Oklahoma), there will be more of those to come as he becomes even more assertive as a driver and shooter.
Already KU's best free-throw shooter (53 of 68 on the year), Dotson of late has made active efforts to get to the foul line (3 of 4 against UT) and make easy points a regular part of his arsenal. Much like — dare one even say the name — Frank Mason III a couple of seasons before him, Dotson is not afraid to draw contact and end up on the court with a fresh floor burn or bruise.
If you were looking for a knock on the freshman point guard it would be that he's not yet a natural at setting up his teammates the way an old-school, pass-first point guard would. Dotson's career-high for assists is six and that came against South Dakota. He entered the week averaging 3.1 assists per game. But that playmaking for others will come in due time. He dished four versus UT without turning the ball over.
So, too, will come Dotson being the type of player to demand the ball when the other team is fouling late in the game.
For now, KU is fortunate to have as talented a point guard as Dotson on this team. It's difficult to envision the Jayhawks (15-2, 4-1) winning so often without him.