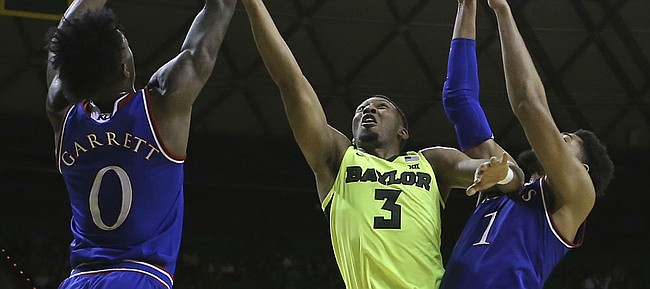 Waco, Texas — In the midst of his ongoing evolution to become the total basketball player that Kansas needs him to be, Dedric Lawson made some headway in a bit of uncharted territory Saturday afternoon at the Ferrell Center.
A redshirt junior, Lawson has proven time and again that he can score from most spots on the floor, drive and spin his way to easy baskets, and attack the glass as well as any big man in the Big 12.
And even though the Jayhawks' 6-foot-9 forward didn't exhibit his skill set in its totality against Baylor, he grew as a player by showing he's willing to do more defensively.
Stopping post players or drivers in the paint never has been a strength of Lawson's. Yet, during much of KU's 73-68 victory at BU, the most talented offensive player in a KU uniform demonstrated he's far from a lost cause on the opposite end of the floor.
When the Bears entered the paint and tried to attack Lawson, he didn't backpedal or put forth some guise of a contest. The big man positioned himself to bother would-be BU scorers and often took his under-the-rim protection to another level by getting his hands on the ball.
By the end of the Jayhawks' first road victory of the season, Lawson had a season-high five blocks and career-best five steals to go with his 17 points and three rebounds.
"I'm always trying to improve on the defensive end," Lawson said afterward. "I didn't know I had five blocks and five steals. I guess I was kind of active."
Freshman point guard Devon Dotson noticed the defensive gains from Lawson, as well.
"Yeah, he was great. You know, he really battled down there and made hustle plays and it showed today," Dotson said.
Baylor (9-6 overall, 1-2 Big 12) only shot 14 of 44 on 2-pointers and turned the ball over 14 times, in part, because of Lawson's improved approach as a defender. His hands routinely found their way in the path of Bears shots and passes, and if they hadn't, the Bears would have done far more damage than they inflicted while outscoring KU 32-24 inside.
"I just tried to come in with high hands, be active," Lawson said. "When they went up, try to go up strong with two hands — that's the rule inside the paint; jump up vertical, things like that. Just try to get some type of rim protection, seeing as how Udoka's out. That's something that we need."
Lawson's not going to be the physical presence 7-footer Udoka Azubuike was, nor athletic enough to turn into a shot blocker. And he's no fool, either. Lawson knows he has a long way to go, and he took it upon himself during the postgame press conference to change the subject from his defensive progress to KU's inability to keep Baylor off the offensive glass.
"They got 26 offensive rebounds," Lawson pointed out after the Bears missed 25 of their 75 field goal attempts versus Kansas. "You get 20 of those and that cuts down the game right there — maybe instead of (KU leading by 23 late in the second half), it's a 30-point lead. That can change the outcome of a game."
As one would anticipate, KU coach Bill Self wasn't extolling Lawson's defense or overall liveliness on that end of the court after the win. Asked whether Lawson was more involved as a defender, Self pointed to one area where the junior didn't deliver.
"I thought he was more active because he got five steals and five blocked shots. They were just wall-up blocks. I thought that was good, but that's the worst he's rebounded the ball all year long," Self pointed out of his star player's season-low three boards. "So, I'll say yes to your question. OK, he was more active in some ways. But certainly not rebounding the ball."
Typically, when KU (14-2, 3-1) gets stops on defense, Lawson is the most likely Jayhawk to conclude it with a rebound (averaging 7.7 defensive boards a game).
That didn't mean Baylor's 26 extra chances (resulting in 14 points) were all about Lawson coming up short where he often thrives.
"I think it's on everybody," Self said of KU's failures on the defensive glass, which allowed the Bears to dominate in rebounding margin, 49-30. "I think we were just soft. We were soft on the glass. We did some other things pretty well, but that was an area ... You know, rebounding's such a misleading stat sometimes. Like, you could get beat on the glass, but if you have 10 more steals than your opponent, it's misleading because there's 10 less possessions they get a chance to get a defensive rebound. A team that misses a ton of free throws, the second end of free throws you get credit for a defensive rebound, and that's not really saying much. So rebounding stats can be skewed, but that wasn't skewed tonight. That was a beat down."
Part of what makes Lawson great is that he doesn't get complacent. He knew he had to become a better defender, so he put forth more effort and came through with a Landen Lucas impression that he needs to keep perfecting. Simply being in position, walling up and extending his hands high above his head can go a long way, as Lawson discovered at Baylor.
He's adding to his game the deeper KU gets into its season, and the more Lawson picks up, the easier it will become for him to put all the pieces together.
Lawson has it in him to do it all: carry KU's offense, control the glass and play smart, effective defense. The next step in his development will be fulfilling those responsibilities in unison.