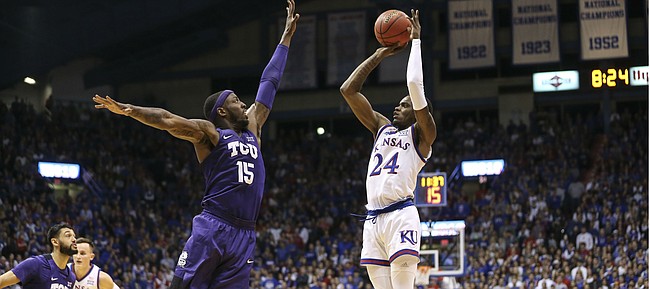 Some wondered, when Udoka Azubuike's season ended, how Kansas could survive with a four-guard lineup when its current crop of perimeter players aren't exactly known for their lights-out 3-point shooting.
Even if it wasn't a convincing one, the Jayhawks provided their first answer Wednesday night at Allen Fieldhouse, as they embraced their new small-ball image.
Being down a 7-footer didn't kill KU's ability to rebound or score on the interior against No. 25 TCU. And even though the 3-pointers, as expected, didn't rain down, the offense didn't completely suffer.
With Dedric Lawson basically serving as KU's lone big man — the 6-foot-9 junior forward logged 35 minutes, while Mitch Lightfoot played 10 minutes off the bench and David McCormack only made a 32.4 second cameo to close the first half — the Jayhawks didn't play like a team lost in the early stages of trying to reinvent themselves. Sure, the turnovers (12) remain a concern, but the players were ready to go small and still leap over a potential midseason obstacle.
The insertion of would-be redshirt, now sixth man, Ochai Agbaji into the rotation invigorated the Jayhawks, and the 6-foot-5 freshman from Kansas City, Mo., basically provided a blueprint for his fellow guards on how to thrive within KU's new configuration.
When the Jayhawks' guards ran the floor and played with energy, like Agbaji, you could talk yourself into a version of this season in which Bill Self and his players figure everything out in time to win the Big 12.
Photo Gallery
Kansas basketball v. TCU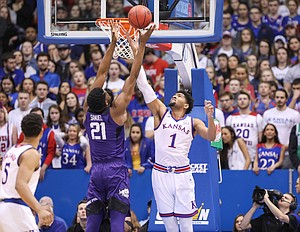 View a gallery from Wednesday night's game between the Jayhawks and Horned Frogs at Allen Fieldhouse.
The solution to KU's Udoka-less problem wasn't to go big. It was to ride its most talented player, Lawson (31 points and 14 rebounds), and let the rest of the Jayhawks play off of him as the solitary big grabbed most of the defense's attention.
Even when the TCU defense smothered Lawson in the paint, he didn't let those looks faze him for long. And KU guards Lagerald Vick, Quentin Grimes, Marcus Garrett and K.J. Lawson all proved at times that their athleticism in the open floor or off the bounce can offset some of this team's 3-point shooting deficiencies.
So can a timely offensive rebound and putback (see: heady sophomore guard Garrett's hustle play for a 73-68 lead with just over a minute left to play).
Totally readjusting as a college basketball team in January isn't supposed to be a smooth transition. And it wasn't for the Jayhawks in their first crack at it.
But proving they were eager to modify their approach qualified as a step in the right direction. Self proved adaptable on the fly, too. For the pro-old-school basketball crowd out there, Self even played Lawson and Lightfoot together for five minutes in the second half when he needed to throw a different look at the Horned Forgs (12-2 overall, 1-1 Big 12).
By the end of the regular season, freshman McCormack might be another answer for KU. But the big man's minutes aren't going up in Azubuike's absence for the time being. It's all guards — and Dedric Lawson — all the time for Kansas.
And even if the games are tight in crunch time, with an ultra-competitive freshman point guard such as Devon Dotson ready to steal the ball in the backcourt in one instance and swat a TCU shot in the paint in another, it seems these flawed Jayhawks (13-2, 2-1) are more than capable of surviving without their overwhelming low-post scorer Azubuike.