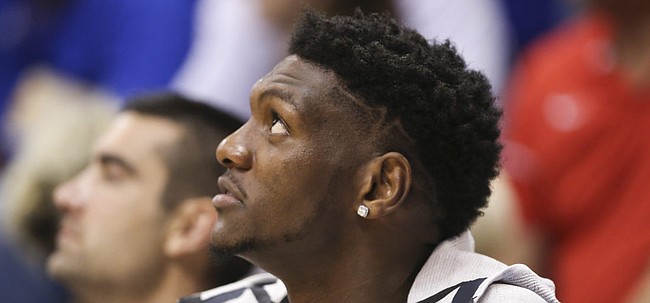 The Silvio De Sousa question likely just went from a simmer to a full-blown boil for Kansas basketball fans.
With news of Udoka Azubuike's season-ending wrist injury surfacing on Sunday, expect more focus on the question of whether the University of Kansas and the NCAA will reach resolution on the eligibility of De Sousa.
Don't, however, expect the timeline to be sped up.
When reached by the Journal-World last month, before NCAA offices closed for winter break, an NCAA spokesperson said there would be no comment regarding a timeline for a ruling on De Sousa's eligibility, what the investigation into De Sousa and/or KU included and whether there had been recent correspondence between KU and the NCAA regarding De Sousa's status.
"I recommend you reach out to the school on this matter," Emily James, the NCAA's associate director of public and media relations, told the Journal-World.
KU officials, of course, have remained quiet on De Sousa's situation, with KU coach Bill Self occasionally addressing the matter by saying there was nothing new to report, or that he hoped news would come soon.
De Sousa has not played a game yet during his sophomore season, as KU voluntarily has held him out of competition after allegations surfaced during a federal fraud trial this fall that his guardian accepted money as part of an illegal scheme involving Adidas officials and De Sousa's path to KU.
The 6-foot-9, 245-pound De Sousa has experience filling in for Azubuike, having done so down the stretch last season, starting with the three games Azubuike missed at the 2018 Big 12 tournament because of a knee injury and spilling into the NCAA Tournament all the way to the Final Four.
When asked in more general terms about eligibility reviews like the one involving De Sousa, James, the NCAA spokesperson, said, "Generally speaking, each eligibility case is evaluated on the specific and unique facts of the case, but all cases use the same process.
"If a student-athlete is involved in a potential rule violation, the school declares the student-athlete ineligible, works to find out what happened and then submits a reinstatement request to the NCAA. The NCAA's reinstatement staff reviews the request and issues a decision that may include a withholding or repayment of benefits. A school can appeal the staff decision to a committee made up of representatives from the membership."
James also said there was no set timeline in any such cases and added that the NCAA could not even begin its review until it received a request from the school.
"Once it receives the request, the staff reviews as quickly as it can," James explained. "The timeline can be impacted if new information is produced during the review or if the staff requests more information from the school."
It is currently unclear when, or if, KU has formally made or needed to make a reinstatement request to the NCAA regarding De Sousa. The Journal-World asked that question of KU officials Monday morning and received a response late Monday afternoon.
"We cannot get into any particulars," associate athletic director Jim Marchiony told the Journal-World. "But everyone is working together for a resolution that is best for all parties involved."
Without knowledge of whether KU has submitted a request, it's hard to know whether the NCAA is moving slowly or if De Sousa's case is being reviewed at all.
During his regularly scheduled news conference on Monday, Self said that he checks in with KU administrators on De Sousa's status daily, and that there was still no news to report.
"No, there is not at this point in time that I know about," Self said. "I know the university is working hard trying to bring a resolution to it, but that hasn't occurred yet. I'm not privy to all the information on timetable and stuff like that. When I ask my daily deal, it's 'working on it', which is 100 percent accurate and we know that to be the case."
As for how De Sousa has handled being withheld from action now that his time on the bench has spilled into conference play, Self painted the picture of a player becoming increasingly frustrated by the situation.
"He is crushed," Self said Monday. "And he will be more crushed now because his partner (Azubuike) can't play and he knows his role could be bigger. Whether Dok plays or not, that is totally isolated from Silvio, totally different. We would want him to be available and have him the chance to do regardless of Dok's situation. You could think it could be a little more magnified now. In my world and my eyes, it's not. It's still the same situation that we are in. People are trying to move forward with it. It's just not as quickly as we had hoped."
The De Sousa situation is somewhat similar to that of former KU forward Billy Preston, who also was mentioned in the corruption case and left KU about a year ago without playing in a single official game for the Jayhawks.
While review of Preston's case, which later was revealed to be a reinstatement matter, dragged out and hit a snag because NCAA offices were closed for an extended period over the holidays, the former five-star prospect got tired of waiting and left KU last January to play for a professional team overseas. The move made him eligible for the NBA draft and Preston later briefly caught on with the Cleveland Cavaliers organization after going undrafted last June.
According to information in two separate indictments and testimony at a federal trial last October, De Sousa's guardian received a payment from Under Armour to steer De Sousa to Maryland and later received $2,500 from an Adidas executive to help De Sousa enroll in online classes in order to be able to attend KU a semester early.
Both De Sousa and Falmagne have denied taking any kind of payment, but the program has operated with caution and sought complete clarity in order to avoid any potential future punishments for using an ineligible player.
De Sousa has continued to practice with the Jayhawks during the past couple of months and can be seen sitting on the bench in street clothes during KU games.