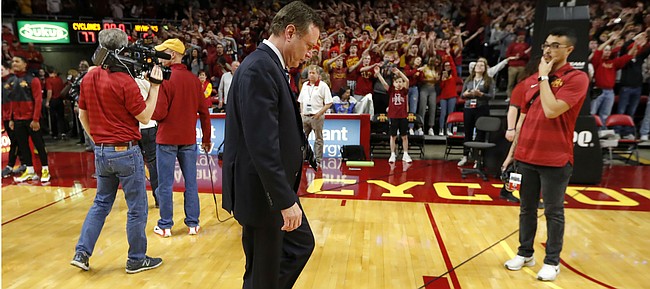 Ames, Iowa — Throughout the month of December, after an ankle sprain against Wofford cost him a few weeks of game time, the Kansas men's basketball team knew it would be without junior center Udoka Azubuike during the four full games he missed and planned accordingly.
The fifth-ranked Jayhawks had no such luxury on Saturday and were forced to scramble as a result.
After spraining his right wrist during a practice leading up to KU's 77-60 loss at Iowa State, Azubuike was held out of action as a precautionary measure.
Kansas coach Bill Self announced the news about an hour before Saturday's tipoff, saying Azubuike was in "quite a bit of discomfort and pain and said he couldn't go."
After KU's loss, Self offered a deeper look at Azubuike's current status.
"I had no idea that this was going to happen until I got on the bus (Saturday) morning to come over here to shoot," Self said. "He didn't fall on it, he didn't do anything like that, but it did get hit in practice. The X-ray and hand specialists looking at it felt comfortable with where it was. They said, 'It's going to be sore, Dok. You sprained your wrist.' But, still, I think in Dok's mind, (it was best) to get an MRI (scheduled for Sunday) just to make sure we're square."
Photo Gallery
Kansas basketball v. Iowa State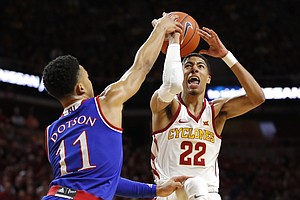 View a gallery of images from Saturday afternoon's game between the Jayhawks and Cyclones at Hilton Coliseum.
Although Azubuike's absence may not have accounted for the entire 17-point deficit and struggles that led to it, the Jayhawks said playing without their 7-foot center, and doing so on such short notice, made things difficult.
"He definitely was a big part of our game plan," junior forward Dedric Lawson said after the loss. "We didn't know until the shootaround that he wasn't going to play so we had to go small."
The injury is the latest on a suddenly long list of Azubuike's injuries at KU.
In addition to the ankle injury that cost him a portion of the current season, Azubuike broke bones in his other wrist 10 games into his freshman season and missed the rest of the year as a result. Last season, Azubuike battled a back issue but did not miss any time midway through the season, and later missed all three games of the Big 12 tournament and portions of KU's first two NCAA Tournament games because of a sprained MCL in his knee.
Although Self remarked after Saturday's loss that "the way we played today it was probably better that he didn't play today," the KU coach left Ames hopeful that Azubuike would not be out long as a result of his recent injury to his right wrist.
"It could be a one-game deal or it could be a season-ending deal," Self said. "But there's no indication that it'll be the latter based on the early diagnosis."
Hilton hopping
Earlier in the week, Self explained to his team that it would not play in any tougher environment during the rest of the Big 12 season than what the Jayhawks would experience on Saturday at Hilton Coliseum.
In front of another rocking crowd of 14,384 ISU fans, Self's claim proved to be prophetic.
"The crowd was great," Self said. "It always is when we come up here. It definitely played a role. But I'm not sure that was the determining factor."
Instead, Self pointed to 24 Kansas turnovers and an overall lack of poise — part of which may have been the result of some Hilton hostility — as the biggest reasons Kansas left on the losing end on Saturday.
Added KU freshman Quentin Grimes of his first taste of Hilton Coliseum: "You could tell when they were making those 3s that their crowd was getting into it, pumping energy in like I've never seen before for sure."
Historical context
Saturday's 17-point victory was Iowa State's largest over the Jayhawks since a 24-point win over KU on March 10, 1973 in Lawrence ... The ISU victory marked the eighth time an unranked Iowa State squad had defeated a top 5 KU team and the 14th time, overall, that the Cyclones had knocked off a Kansas team ranked in the top 5 ... The 17-point margin of victory was Iowa State's largest ever against any top 5 team ... The Cyclones, who shot 13 of 25 (52 percent) from 3-point range against Kansas, have now made at least one 3-pointer in 381 consecutive games, dating back to the 2007-08 season.
This and that ...
Kansas now leads the all-time series with Iowa State 181-65 and is 26-22 in games played inside Hilton Coliseum ... The Jayhawks' loss Saturday ended a two-game winning streak in Ames ... Kansas outrebounded Iowa State 41-26, including a 13-5 advantage on the offensive glass ... KU's 60 points were the fewest it had scored in a game this season ... Junior forward Dedric Lawson's double-double (13 points, 12 rebounds) was his 10th of the season and the 46th of his career, including two seasons at Memphis.