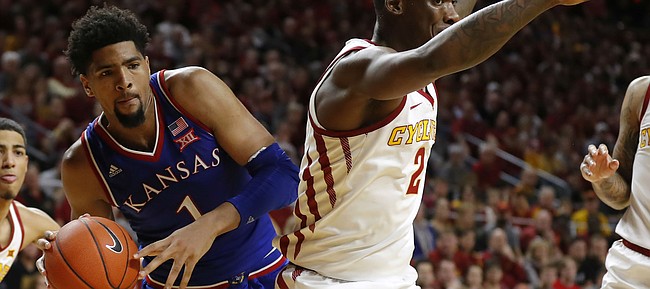 Ames, Iowa — The stage was set for a Dedric Lawson takeover.
The Jayhawks would have to play without 7-footer Udoka Azubuike in their first Big 12 road game of the season, inside one of the best environments the conference has to offer.
Lawson, a 6-foot-9 redshirt junior forward from Memphis, Tenn., had carried the offensive load before. And Saturday at Iowa State, a virtuoso performance from the most fluid scorer wearing KU's road blue uniforms seemed inevitable, because it was exactly what the No. 5 Jayhawks needed from him at Hilton Coliseum.
A likely first-team All-Big 12 performer, Lawson never found any momentum, though, in a 77-60 Cyclones victory that moved ISU to 2-0 in league play and KU to 1-1.
Photo Gallery
Kansas basketball v. Iowa State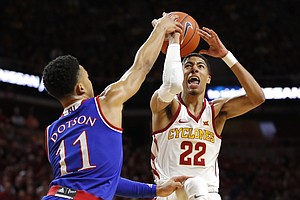 View a gallery of images from Saturday afternoon's game between the Jayhawks and Cyclones at Hilton Coliseum.
"I thought Dedric was going to have to get 25 today for us to have a good shot," Kansas head coach Bill Self said afterward. "But I actually thought he could. And usually when we've needed him to step up and put up numbers, he has."
A 1-for-5, four-turnover first half for Lawson muddied his start, and the offensive domination he's capable of delivering never transpired.
"Today, we got the ball to him, not as much as we would like," Self said. "But he had some easy opportunities early and came away empty. It wasn't our day, but it certainly wasn't his day either. He's had a lot of good games for us, but today he struggled a little bit."
Although Lawson obviously played a part in his lack of productivity, what with his six turnovers and 5-for-11 shooting on a day that he came through with his 10th double-double of the season (13 points and 12 rebounds), his subpar showing wasn't completely his fault.
There were 18 other turnovers by Jayhawks at ISU, and with Azubuike nursing a right wrist bruise, the Cyclones gladly made Lawson the focal point of their defensive game plan before he could become the center of KU's offense.
"It felt crowded at times. I think that's where my six turnovers came from. Some games I have more room to work," Lawson said, adding that he should have kicked the ball out to teammates more often.
Even so, because Lawson is a team-first player, he didn't mind shouldering the blame after KU dropped to 0-2 in true road games and 12-2 on the season.
"I played terrible. I had six turnovers," Lawson said, caring not one bit about his double-double. "There's a lot of things I could've done more. I missed a couple easy layups around the basket, I didn't get guys open shots. So a lot of this falls back on me and my leadership tonight."
It seemed appropriate that Lawson, clearly KU's best overall player, used that particular L-word after a road "L," because that's one intangible quality Self is still seeking from his Jayhawks.
There is no Frank Mason III. There is no Devonte' Graham. And there is no veteran guard by any other name to carry this team when obstacles turn into near impossibilities. It's hard to perform miracles down double digits in a hostile venue. That just happened to be one of Mason's and Graham's many specialties.
"We've played like crap a lot up here and somehow we hang around at the 10-minute mark and veterans figure out a way. There was none of that today," Self said. "And as young as our guards are, and this includes Lagerald (Vick, a senior who turned the ball over seven times in 29 minutes), we played very, very, very immature today."
KU's 16th-year coach didn't want to characterize the Jayhawks' play as egocentric, but in at least one way, he pointed out, they were.
"I guess it is selfish, but not from a basketball standpoint. It was from everybody went into their own little cocoon when things were going poorly, as opposed to galvanizing a group," Self assessed.
As the coach, who spoke to his team at length in the visiting locker room afterward, reflected on some of KU's "best" victories in recent years, he referenced an implausible rally and win in 2018 at West Virginia, when his team played "awful" for 30 minutes and somehow won.
"And those old kids just kind of hang around and hang around," Self recalled fondly. "That never had a chance to materialize today, because Iowa State was better than us, but also because we didn't have the leadership — yet. That needs to develop so we can be in situations like this and actually perform better."
Although Lawson seems as natural a No. 1 as any player on this roster, it remains to be seen if he can take on that load.
It would be ridiculous to ask any current Jayhawk to reproduce the type of dominion Mason or Graham pulled off. That's not going to happen. What KU needs is some reasonable facsimile of that.
"That's what I actually talked about to our guys in the locker room for a while about," Self said, stating further that he's not completely certain how to cultivate it. "It'd be nice if anybody were able to step up. But in my experiences it needs to be somebody that's a guard."
According to Self, he saw one such player suited up for ISU (12-2 overall, 2-2) in senior guard Nick Weiler-Babb.
KU needs an alpha who, as Self described it, "basically can take the heat, send coach's message" to the players.
"And we don't have anybody that's an extension of that yet," the KU coach made clear. "Right now, I don't know how it's going to play out and how we're going to get better at that."
Point guard Devon Dotson may one day become that player. But that's a lot to ask of a freshman.
So that extension of Self might have to become Lawson — at times a guard in a forward's body. He's certainly mature enough and sufficiently unique as a big man to take on that type of responsibility.
Lawson holds himself to high standards. His teammates enjoy and respect him. If anyone can be tasked with carrying the offense, crashing the glass and demanding the most from the Jayhawks around him, it's Dedric Lawson.