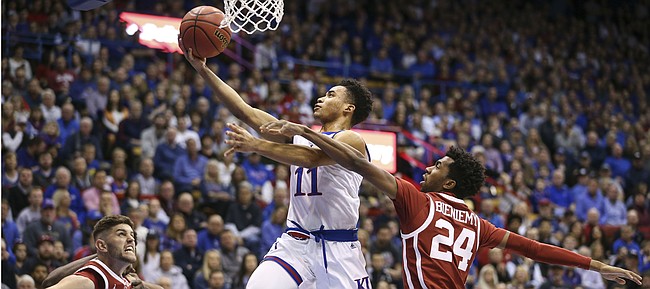 With Wednesday's 70-63 victory at Allen Fieldhouse, the games are underway and the race is on, as No. 5 Kansas — and three other Big 12 teams that won on Wednesday night — took an early lead in the chase for the 2019 Big 12 Conference crown.
While 17 games and a ton of grinding remains in the weeks ahead, KU coach Bill Self recently was asked what he thought it would take to win the Big 12 this season.
It's a customary question that Self is asked to answer year after year. More often than not, the Kansas coach, who has guided the Jayhawks (12-1 overall, 1-0 Big 12) to an NCAA-record 14 consecutive regular-season Big 12 titles, perfectly predicts how many wins the league champ will need to walk away with the trophy.
On the rare occasion that he has been off, it usually has been because Self missed low, with the Jayhawks winning a game or two more than he predicted. That was the case during the 2016-17 season, when KU finished 16-2 and won the Big 12 by four games.
So what's his call for the 2018-19 race?
"Oh, I don't know," Self said with a sly grin. "I'll say the same thing I say every year: 14-4 will get it outright and 13-5 will tie it. I think that's what I always say, so you can take that and go to the bank."
During KU's current, 14-year championship streak, the Jayhawks have averaged 14 regular-season Big 12 victories per year — good for an average record of 14-3 — and finished with fewer than 13 wins just once. That was all the way back in 2005, when the conference played a 16-game schedule — instead of the current, 18-game, round-robin format — and Kansas finished 12-4 to tie for the title with Oklahoma.
It's that track record, along with his praise for the rest of the teams in the conference, that led Self to pick the 13-14 range for this year's champion.
"I don't see any team having a record that would be a lot better than that," Self added. "I think there's too many hard games to play in and too many good teams."
The beat goes on
KU's victory Wednesday night extended its winning streak in conference openers to 28 in a row, a run that dates back to the 1991-92 season.
A year earlier, back in the old Big Eight Conference, an unranked Kansas team opened conference play with an 88-82 loss to No. 15 Oklahoma in Norman. The Jayhawks won 10 of their next 13 games that season to finish 10-4 and tied for first in the Big Eight standings.
The Jayhawks also made fans forget about the stumble in the Big Eight opener by advancing all the way to the national title game in 1991, knocking off North Carolina in the Final Four and falling to Duke in the championship game.
KU's loss to open the 1990-91 conference season snapped a seven-game winning streak in conference openers, which means the Jayhawks now have won 35 of their last 36 conference openers, dating back to the 1983-84 season.
KU-OU series history
The Jayhawks and Sooners have been doing battle on the basketball court since 1920, when both were members of the Missouri Valley Intercollegiate Athletic Association.
KU now leads the all-time series, 148-67, and has won six of the past seven head-to-head matchups. Dating back a little further, KU now has won 19 of the last 22 KU-OU clashes since 2006.
The Jayhawks are 76-16 against OU all-time in games played in Lawrence, including a 49-7 record at Allen Fieldhouse. Oklahoma's last victory on KU's home floor came on Feb. 17, 1993, when No. 19 OU walked away with an 80-77 victory over the sixth-ranked Jayhawks.
This and that...
Wednesday's victory improved Kansas to 27-7 all-time against the Sooners in Big 12 competition ... KU coach Bill Self is now 20-6 all-time against OU, with all 20 victories and four of the six losses coming during Self's 16 seasons at Kansas ... Kansas native and current OU coach Lon Kruger drops to 8-22 all-time against the Jayhawks, including a 3-12 mark while leading the Sooners ... With the win, Kansas jumped out to a 1-0 start in January for the fifth year in a row and KU now has won 12 consecutive games in Allen Fieldhouse, dating back to the end of the 2017-18 season.