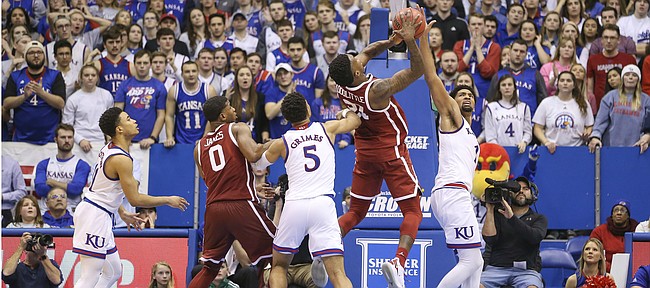 Say this for the fifth-ranked Kansas men's basketball team: It sure does know how to make things hard on itself.
The latest example of this reality, call it unnecessary complexity, came Wednesday night at Allen Fieldhouse, where the Jayhawks struggled through sleepy starts to both halves, but still held off No. 23 Oklahoma, 70-63, in the Big 12 opener for both teams.
If you were to judge this one by the first three minutes of either half, you might have shut off the television or left Allen Fieldhouse early.
The Sooners (11-2 overall, 0-1 Big 12) raced out to a 7-0 lead before KU woke up in the first half and also opened the second half with a 11-1 run that cut a 15-point halftime deficit to just five during the first five minutes of the second half.
The Jayhawks (12-1, 1-0) did plenty during and around those rough patches to pick up their 28th consecutive win in a conference opener. But had their play during the first five minutes of the second half at all resembled the final 15 of the first half that got them that double-digit lead, OU would have been put to bed much earlier.
"If we just can capitalize on getting those stops when we've got teams down, I think we'll have a much easier (time) closing out games," said senior Dedric Lawson after recording yet another double-double of 13 points and 15 rebounds that included 8 of each in all 20 minutes of the second half. "Coach talked about coming out with energy at the beginning of games and at halftime. And that's something we're definitely going to have to do now that conference play is here. We're not always going to have a 15-point lead going into the half, so we've just got to pick it up."
Photo Gallery
Kansas basketball v. Oklahoma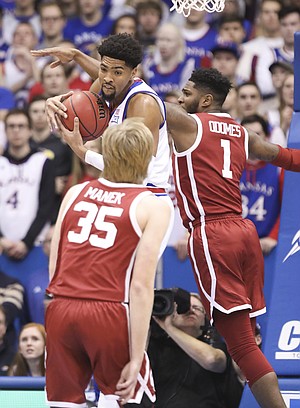 View a gallery of images from Wednesday night's game between the Jayhawks and Sooners at Allen Fieldhouse.
Added freshman point guard Devon Dotson: "Yeah, it's a little frustrating. When we have a 15-point halftime lead, we know we can come out there and really put them away. If we get out to a 6-0, 10-0 run, we'd really put them away. But we didn't. So we had to battle back and just stay strong and finish out the game."
The Jayhawks did just that by answering every mini-OU run down the stretch with a tough play, big steal or key rebound that allowed them to keep the Sooners at arm's length. OU cut the KU lead to four in the final minute, but could draw no closer.
After runs of 21-4, 17-5 and 17-8 at various points during Wednesday's victory, Kansas' final blow, for which OU simply had no answer, came when the Jayhawks went small and scored on four straight possessions midway through the second half, with three baskets coming from Lawson and the fourth on a 3-pointer from Dotson in the corner opposite KU's bench after yet another perfect pass from sophomore guard Marcus Garrett.
"That was the best pass of the game without question," KU coach Bill Self said after the victory.
Garrett, who played 28 minutes and finished with five assists and just one turnover, was a key part of KU's four-guard lineup that helped keep Oklahoma off balance and allowed Kansas to better feature Lawson in a position to score.
While that strategy helped Kansas survive, it still might not have been enough had it not been for some key timing.
With Kansas leading by nine inside the final five minutes, Oklahoma coach Lon Kruger made a move that worked wonders last year, fouling KU big man Udoka Azubuike to intentionally send him to the free-throw line, where Azubuike entered the game as a 36 percent free-throw shooter.
Azubuike missed the front end of a one-and-one situation the first time Kruger went to the strategy with 4:32 to play, but the Sooners could get just one point from it on the ensuing possession.
From there, Self subbed Azubuike out at the under-4 timeout and the KU center remained on the bench the rest of the way.
"They went to the Hack-a-Dok in the second half, which worked again," Self said after the game. "He didn't play very good in the second half. We've got to get him in better shape."
Azubuike finished with 8 points and nine rebounds after starting the game with 8 points and six rebounds in 14 first-half minutes.
Four Jayhawks reached double figures in scoring in this one, with Dotson's 16 points and four steals on 4-of-10 shooting from the floor and a 7-of-8 clip at the free-throw line leading the way.
But it was freshman Quentin Grimes, who scored 11 first-half points and made a huge defensive play late in the second half who might have made the biggest difference.
After turning the ball over with 2:41 to play and KU leading by just six, Grimes, who shot 6-of-11 overall — most coming in transition — dove in and stole the ball back and quickly flipped it ahead to Dotson for an and-one layup that put Kansas up by nine.
"That was the best play he's made all year," Self said of Grimes' steal and assist. "That was a great play. And the reason it was, was because he turned it over and went and got it back. ... It could've been a 5-point swing real easily just on that one play. Great play."
Added Grimes of his thoughts on the play: "(It) kind of swung the game. I know how tough Big 12 play is and we don't want to let any game get away from us, especially at home."
That mindset, and the collective effort to make plays in key moments like the one Grimes made late, carried Kansas to victory.
While it might not have been pretty from start to finish and certainly featured as many warts as highlights, Self was willing to look big picture when it was all said and done.
"Even though we didn't do a lot of good things, we've won a lot of games like tonight over the course of the years, where you don't play great but you make sure the other team doesn't play quite as well as what you do," Self said.
The next opportunity to do that — or something better — comes at 4 p.m. Saturday in Ames, Iowa, where the Jayhawks will get their first Big 12 road test of the 2018-19 season against Iowa State. The Cyclones (11-2, 1-0) kicked off their Big 12 schedule with a 69-63 road win at Oklahoma State on Wednesday night.