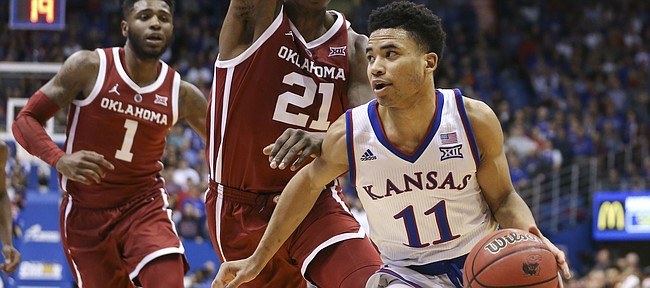 Big 12 basketball victories are never guaranteed — even for the league's perennial champion Kansas Jayhawks when they're playing inside Allen Fieldhouse.
Conference battles in this league typically trend toward less difficult only if a coach can utilize a group of veterans with the Big 12 scars to prove their collective value.
Bill Self's supply of those types of Jayhawks was slim, though, Wednesday night, with six of his 10 rotation players making their league debuts against Oklahoma.
The Sooners arrived in Lawrence ranked No. 23 in the AP poll and No. 24 by KenPom.com, and, like KU, with just a single blemish on their record.
Yet the Jayhawks' group of freshmen and transfers showed they could hold their own in the kind of gritty, 70-63 victory that Self always has taken great pride in coaching.
Photo Gallery
Kansas basketball v. Oklahoma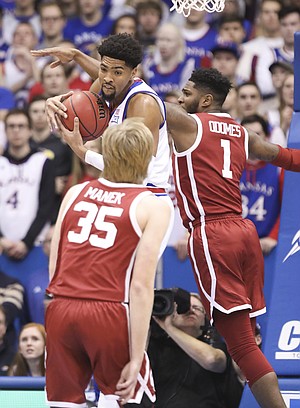 View a gallery of images from Wednesday night's game between the Jayhawks and Sooners at Allen Fieldhouse.
Each of the Big 12 newcomers in KU's starting lineup missed his first shot attempt, combining for an 0-for-4 start that allowed OU to jump out in front 7-0. Self even yanked freshman guard Quentin Grimes for sophomore Marcus Garrett less than three minutes in, after calling a quick timeout.
But freshmen Grimes and Devon Dotson and transfer Dedric Lawson found their footing before long, some quicker than others.
A likely first-team all-conference forward by the time March rolls around, Lawson missed his first seven shots before tipping in his own miss to give KU a 37-24 cushion late in the first half.
Grimes bounced back nicely from his early trip to the bench, sprinting up the right sideline off a Jayhawks stop to find himself an easy transition layup.
Though Dotson misfired on his first lay-in on the night, he ignited a potent transition offense for Kansas in the first half, getting himself jumpstarted with a coast-to-coast bucket off a defensive rebound.
All three of them helped Kansas play one of its better stretches of the season after a cluttered opening few minutes.
"I didn't think we played particularly well except for the last 17 minutes of the first half," Self said. "I thought we played really well, and played pretty smart. Defensively, I thought we were really in tune."
And though they couldn't reproduce that stretch after halftime, the Jayhawks who were experiencing their first taste of Big 12 basketball did much to gain their coach's approval.
"I thought Devon (16 points and five rebounds) and Quentin (14 points) — if you're going to get 30 points out of those two little guys every night, you can take that and go to the house," Self declared. "I thought those guys played well."
The freshmen shone enough to get KU by when neither junior Udoka Azubuike nor senior Lagerald Vick completely took over like one may expect out of a conference vet. Then again, the No. 5 Jayhawks (12-1) didn't have to sweat about that development because their newbies didn't cave in the moment, even as the Sooners (11-2) rallied late.
A double-double from Lawson (13 points and 15 rebounds) didn't register as a huge success, because, as Self put it, the junior forward wasn't as effective as he could be while shooting 6 of 17 from the field.
His coach, who has guided Kansas to 14 Big 12 titles in a row, while wanting more out of Lawson, didn't leave the conference opener overly concerned.
Self values ugly wins, maybe more so than the more crowd-friendly ones.
The fact that KU pulled that off with a couple of freshmen and one talented junior transfer from Memphis stepping up bodes well for title No. 15.