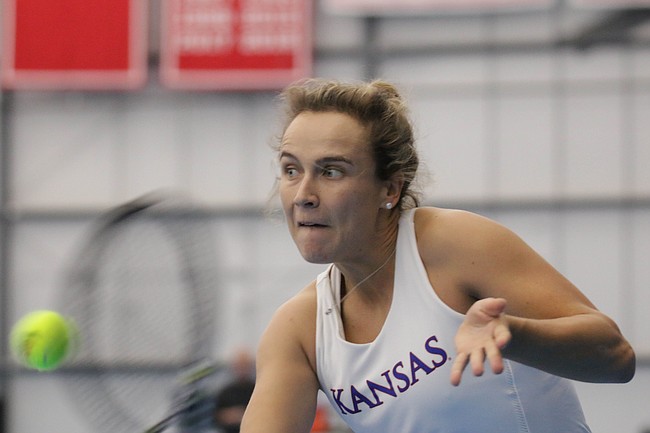 Kansas tennis senior Anastasia Rychagova walks off the court after a win in straight sets over Air Force's TJ Frumagalli on the No. 1 singles court on a Sunday afternoon in late February.
It's often a quiet crowd while as many as six matches can go on simultaneously. When they're over, the athletes always make sure to shout up to the 100-plus fans on the walkway with a simple message.
"Thank you for coming," Rychagova says as she packs up her bag and heads to the locker room after a 6-0, 6-4 victory.
So far at home this season, the 7th-ranked KU tennis team has won 35 of the 40 matches it has played. Four of the five Jayhawks have gone to a third set, and one match ended with two courts still playing.
With a trio of seniors in Rychagova, Janet Koch and Nina Khmelnitckaia, the Jayhawks have tied for their highest ranking in program history. And the doubles duo of Khmelnitckaia and Koch is currently ranked third in the nation
"They have a really great chemistry together," KU coach Todd Chapman said. "They play really well together, they make each other better... they complement each other's game styles, but they also complement each other personalitywise. And I think they keep each other at a good tension level."
The way they work together on the court is fairly simple but also effective. Khmelnitckaia says Koch likes to joke around between games, but, ultimately, they need each other to succeed at the highest level possible.
"We know each other well, and we both know what we need," Koch said. "I'm pretty relaxed as a person and Nina, she can be a little uptight sometimes … I need her to balance off my jokingness and she needs me to make her calm down. And I feel like in the pressure situations, we know what to do and how to make each other feel at ease with the moment."
Last fall, the doubles team won the prestigious Riviera ITA All-American championships, and they haven't lost a match all season. To advance to the quarterfinals in that tournament, they defeated defending national champion Stanford's No. 1 doubles pair, 8-5.
As a team, the Jayhawks have taken the doubles point in each of their matches this season, which has contributed major points to their lofty ranking. Their doubles pairs are so deep, Kansas has four different teams inside the top 51.
"Since we started playing doubles in the summer together, we had a really good dynamic," Khmelnitckaia said. "When we're not playing well, or playing well, I think the dynamic has been keeping up our energy and being positive with each other and encouraging each other when we miss some balls or something."
In singles, Rychagova hasn't lost a match all season for the Jayhawks. She's currently ranked No. 47 in the country.
"That's something the rest of the team can look at," Chapman said of his seniors. "The way those three compete and the energy they provide and the intensity they bring – that's something you hope that your younger players see and realize you're expected to bring each time out."
Next up, Kansas (8-1) will travel to Washington on Friday.