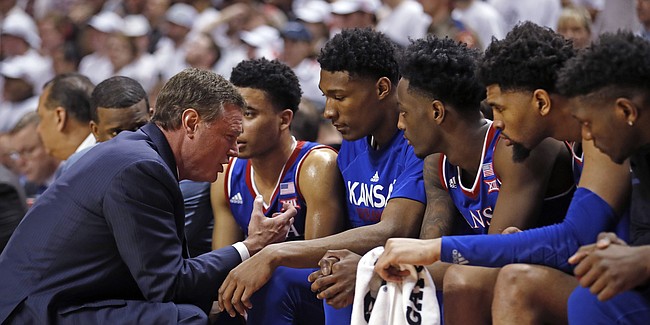 Lubbock, Texas — It took Kansas sophomore Marcus Garrett just eight seconds to get back into the scoring column following a five-game absence because of a high ankle sprain.
Garrett, who checked into Saturday's 91-62 loss at Texas Tech at the 14:49 mark of the first half, scored on the Jayhawks' first possession, coming free underneath after some confusion by the Texas Tech defense left him wide open for the uncontested layup that pulled the Jayhawks within 18-10 in a game in which KU never again trailed by single digits.
In all, Garrett played 22 minutes in his first game back and shot 4-of-6 from the floor and 1-of-1 from the free throw line for 9 points. That ranked him second behind Dedric Lawson's 14 points on 3-of-8 shooting and the Jayhawks (20-7 overall, 9-4 Big 12) were clearly thrilled to hear that one of their most poised and experienced perimeter players was back in the lineup this week.
"I think we've gone through enough people being taken away," junior forward Mitch Lightfoot said. "We might as well just add someone back. Marcus has been working really hard and we're all excited for him to get back and give us another guard out there. It allows for us to play even more aggressive. You kind of have to dial it back a little bit when you don't have (a great) amount of depth. He also brings a calming presence to the team, too. So that'll be important."
Asked how his injured left ankle felt upon his return to the floor, Garrett said he had no issues.
"I think it responded pretty great," Garrett said. "I felt good at the beginning of the game."
Added KU coach Bill Self of Garrett's return: "I thought he did fine considering he hadn't been out there in three weeks. He tested his ankle a little bit and I thought Marcus did some good things."
2 back with 4 to go
KU's loss Saturday and K-State's home win over Oklahoma State put the Jayhawks two games back in the Big 12 standings with four games to play.
Luckily for the Jayhawks, their next game — 8 p.m. Monday at Allen Fieldhouse against KSU — affords them the opportunity to pick up one game in the standings with a victory.
K-State defeated Kansas earlier this season in Manhattan and the Jayhawks, despite Saturday's disappointment at Texas Tech and quick turnaround, believe they'll be ready for the massive Sunflower Showdown that will be staged roughly 48 hours after the final horn sounded in Saturday's loss in Lubbock.
"It's a challenge," Self said. "But it'd be a challenge no matter what. The Big 12 plays us at 7 o'clock (vs. Texas Tech) and then we have to get home at 2 (a.m.) and get ready to go on Monday. It'd have been a lot easier to prepare if we had won here, but it's one game. It doesn't matter if you lose by one or lose by 30, it's one game. "That will not put a damper on our spirits and getting ready to play K-State on Monday."
Long breaks normally beneficial
With six full days off between games, the Jayhawks had plenty of time to rest, scout and prepare for the Red Raiders heading into Saturday's matchup.
That recipe has spelled disaster for most of KU's opponents since Bill Self took over in Lawrence.
Self and the Jayhawks are now 70-10 since the 2003-04 season in games with at least five days to prepare, including 4-1 this season.
That winning percentage (.875) is the best in NCAA Division I during that time frame, putting KU just ahead of Duke's mark of .864, which ranks second.
North Carolina (.832), Gonzaga (.830) and Kentucky (.812) round out the Top 5 in that category since the 2003-04 season.
This and that...
Saturday's loss snapped a seven-game winning streak in Lubbock and the Jayhawks are now 14-5 all-time against Texas Tech in its home venue, including a 10-4 mark at United Supermarkets Arena ... Before Saturday, Texas Tech's last home win over KU came on March 4, 2009 ... The Jayhawks' five conference losses tie them with last year's total with four games still to play ... Kansas leads the all-time series with Texas Tech 35-6 ... The Jayhawks are now 2-7 in true road games this season and 6-7 in games played away from Allen Fieldhouse. KU has two true road games remaining before postseason play — March 2 at Oklahoma State and March 5 at Oklahoma.