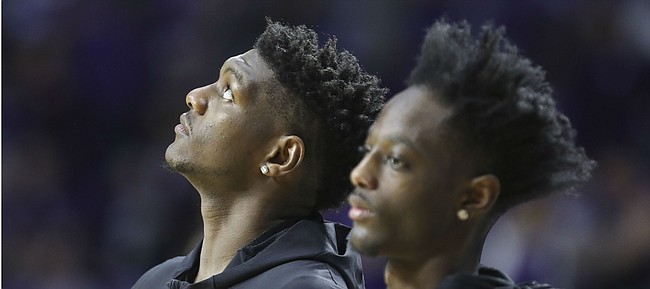 Fort Worth, Texas — Vernon Turner remembers, four or five years ago, when KU sophomore Marcus Garrett, then a freshman at Skyline High in Dallas, would warm up with the Skyline freshman team and scare the dickens out of the opponent on just about every occasion.
"He was dunking, doing 360s, tearing it up and nobody wanted any part of him," Turner said before Monday's game at TCU's Schollmaier Arena, about a 45-minute drive from the Pleasant Grove neighborhood where Garrett and Turner both grew up.
The funny thing about that warmup story that Turner shared was that Garrett never actually played for Turner's freshman team. He saved his minutes for Paul Graham's varsity squad and went on to become a force for four years before coming to Kansas.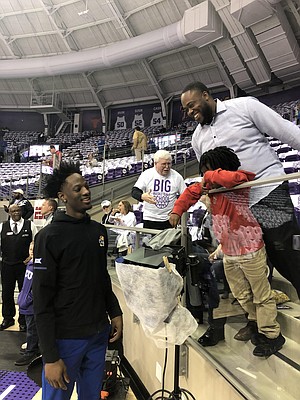 When Turner, who now is the head coach at the International Leadership School of Texas Arlington/Grand Prairie, first saw the 2018-19 KU schedule, he naturally penciled in Monday as an automatic night for him to finally come see Garrett in person again. But the KU sophomore sat out for the fourth consecutive game to nurse a high sprain in his left ankle and Turner and his son, Jace, 6, were forced to cheer on the Jayhawks without him.
KU coach Bill Self said after the Oklahoma State win last weekend that the hope was that Garrett could return on Saturday for KU's home game against West Virginia.
If he does, Turner will have missed him by one game.
"That was tough to hear," Turner told the Journal-World. "I talked to him Saturday night and he said 'Coach, I'm trying to get out there,' but they don't want to risk it. I'm always talking to Marcus about taking care of his body and focusing on his grades and doing all of those other things that are important. We all know he can play. We all know he can defend 1 through 5 and he can do whatever else his team needs. That's what has impressed me most about Marcus in college. He's been able to adjust to whatever Self needs. People want to say he can't shoot. He can shoot. But what he's doing is playing his role."
If Jace, who has known Garrett since he was 2, has it his way, he'll see a lot more high-flying dunks from Garrett in the near future.
Asked what his favorite part about Garrett's game was, the young Garrett fan demonstrated a reverse dunk from his seat in the KU section at Schollmaier Arena.
Turner and his son caught up with Garrett briefly before Monday's game, which brought a huge smile to Garrett's face as he sat in street clothes and watched his teammates warm up back like he used to for Turner's freshman team in Dallas.
With Garrett out, Kansas went with its 4-freshman starting lineup for the second game in a row — Devon Dotson, Quentin Grimes, Ochai Agbaji and David McCormack joined junior Dedric Lawson.
Jayhawks drop a spot to 14th
Another road loss sent the Kansas men's basketball team falling in the polls, but the Jayhawks managed to hang on to a spot in the Top 15.
Kansas fell one spot from No. 13 to No. 14 in The Associated Press Top 25, released Monday afternoon.
The Jayhawks, who sit a game and a half behind first-place Kansas State in the conference race, remain the highest-ranked team in the Big 12 Conference, with Texas Tech (14), K-State (18) and Iowa State (23) not far behind.
Photo Gallery
Kansas basketball at TCU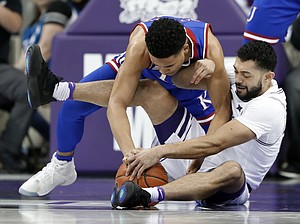 The Jayhawks picked up just their second road victory of the season by surviving, 82-77, in overtime at TCU, on Feb. 11, 2019
Monday's foe, TCU, and Shaka Smart's Texas Longhorns were among the eight unranked teams who received votes in this week's poll.
In all, KU this season has played eight teams currently ranked in the Top 25, recording a 6-3 record against those teams.
Lawson honors keep coming
KU junior Dedric Lawson on Monday was named the Big 12 Conference's co-newcomer of the week for the fifth time this season.
He also has three conference player of the week honors to his credit so far this season.
In helping Kansas go 1-1 against K-State and Oklahoma State last week, Lawson averaged 21.5 points and 8 rebounds per game, bringing his season totals to Big 12-leading 19.6 points and 10.6 rebounds per outing. He is the only player in the conference averaging a double-double and ranks 7th nationally with a Big 12-best 15 double-doubles this season, including four in his past seven games.
In the past week, KU's leading scorer also has been named a finalist on 3 separate postseason honors lists — one of 10 players on the Karl Malone Power Forward of the Year list; one of 12 players on the Oscar Robertson Trophy's midseason watch list; and one of 20 on the John R. Wooden Award's Late Season Top 20 Watch List.
This and that ...
The Jayhawks now lead the all-time series with TCU, 18-2, including a 7-1 record in Fort Worth and 5-1 mark at Schollmaier Arena ... Kansas has now won 4 in a row over the Horned Frogs and 14 of the last 15 meetings ... KU extended its Big Monday winning streak to 13 games while improving Bill Self's record at Kansas to 466-102.