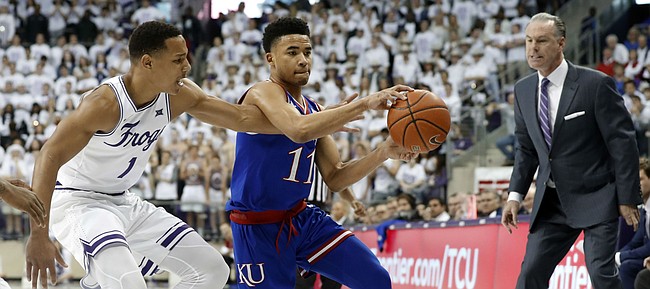 Fort Worth, Texas — Ever since it became clear that winning away games could no longer be considered the foregone luxury that it typically is for Bill Self-coached teams at Kansas, the Jayhawks have searched for one of their role players to drag them out of their road stupor by becoming more of a leading man.
As good as Dedric Lawson has been this season for KU, the redshirt junior big needed a wingman.
All season long, Devon Dotson seemed the most likely candidate to transform from a freshman feeling out his way through the conference to a playmaking point guard with star power.
Finally, playing on Big Monday at TCU, Dotson delivered a breakthrough performance, and Kansas broke its four-game road losing streak with an 82-77 overtime victory at Schollmaier Arena.
Self couldn't afford to take the 6-foot-2 guard from Charlotte off the court in the first half, or at any point of the 45-minute affair for that matter, as the Jayhawks avoided constantly looking discombobulated in a road venue for a change.
"You can't take him out," Self said after the win.
Even though Dotson opened the night matching up with Big 12 veteran Alex Robinson, the senior who is the Horned Frogs' all-time career assists leader, and Robinson blocked the freshman's first shot attempt on a long 2-point jumper, Dotson powered through the mistake to come through with a killer first half, a performance so good that it didn't matter that Lawson wasn't on his A-game level.
With Kansas (19-6 overall, 8-4 Big 12) down 7-0 1:34 into its latest road challenge, the night opened with the proper ingredients for another road defeat for the perennial conference champions.
Then up stepped Dotson, who finished with a career-high 25 points, plus 10 rebounds and 5 assists to boot.
The point guard scored KU's first basket of the night by making a point to attack the paint for a layup, cutting into a potentially disturbing early deficit.
Dotson notched the first assist for the visitors, too. Once again his tenacity was on display as he willed his way inside, this time doing so in order to kick the ball back out for KU's first 3-pointer, a shot from fellow freshman Ochai Agbaji that made it a two-point game and reminding the Jayhawks they could, in fact, compete in an opponent's arena.
Photo Gallery
Kansas basketball at TCU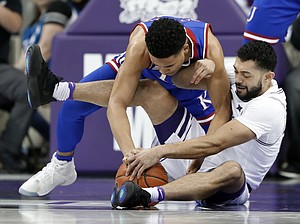 The Jayhawks picked up just their second road victory of the season by surviving, 82-77, in overtime at TCU, on Feb. 11, 2019
As Dotson put up 14 points, 2 rebounds and 2 assists in the first half without taking a breather, his counterpart, Robinson hit the locker room with 6 points and 4 assists, but found himself stymied by Dotson's defensive efforts on several occasions.
Although the game was tied at halftime, it was Dotson in the opening seconds of the second half who helped set a tone for the win-hungry Jayhawks.
Always one to see a possible steal before it's evident to lesser ball hounds, Dotson stole the ball away from Desmond Bane, setting up an Ochai Agbaji fast break for an and-one, and a quick 3-point advantage for a KU team looking for some momentum.
A little more than 6 minutes later, Dotson connected on his career-high fourth 3-pointer of the night, providing the Jayhawks with their first double-digit lead of the game, 53-43.
Another assertive foray into the paint by the freshman with fewer than 7 minutes to go went down as a bucket for Dotson, who padded KU's lead to 11 when his swooping shot got goaltended en route to the hoop.
How tough was Dotson Monday night?
"He was really tough," Agbaji said. "Like one of the toughest guys on the court."
Still, Dotson wasn't perfect in the second half. His turnovers late in the game allowed TCU to rally and he finished with 6 giveaways on the night. It was a reminder that every freshman can have those moments, even on nights when that same has otherwise stood out for all the right reasons.
"He got tired," Self said of some late second-half missteps for Dotson. "I thought Alex did a really good job there for a stretch where it just wore him out. He was dogging the ball hard."
While the coach noted Dotson did some "poor things" in terms of ball security during that stretch, Self didn't have any reason to fault his point guard.
"For a freshman to get 25 and 10 and 5 and not come out and play all 45 minutes," Self said, "he was pretty special tonight."
Dotson had never been awful on the road. In fact his shooting percentages (52.8 percent on 2-pointers and 46.2 percent on 3-pointers) were better in away venues than in Allen Fieldhouse (51.4 percent on 2's and 34.5 percent on 3's) entering the week.
But he had scored in single digits in three of KU's previous four road losses and scored a personal road-high 14 points to go with 5 assists and 5 boards in KU's first road win of the season at Baylor.
The freshman spent most of the night making the exact types of plays that will do well for both him and this team going forward.
Dotson's defense in the final minute helped get KU to overtime on the road.
In the extra five minutes, he was whistled for a charge, committing a turnover early on.
But he followed it up with a defensive rebound, and an assist for an Agbaji 3-pointer.
With 40.8 seconds to go in OT and KU up just 1, Dotson stepped to the foul line and knocked in both of his free throw attempts, making it 78-75.
With 23.8 seconds showing on the overtime clock, Dotson did it again, with two more freebies, making it a four-point lead. He even followed that up by grabbing the defensive rebound KU would need to seal it.
This Kansas team just may have a shot at keeping its Big 12 title streak alive after all. And, in large part, it has its freshman point guard to thank.
"I thought Devon and Ochai (20 points, 11 rebounds) were both fabulous," Self said.