Midway through the first half of Saturday's 84-72 victory over Oklahoma State, the NCAA Tournament Selection Committee was busy revealing its early glance at where things stand today, with Selection Sunday now 5 weeks away.
Entering Saturday, the 13th-ranked Jayhawks, according to the committee, were a 3 seed, on the same line as Purdue, Houston and Marquette.
Committee chair Bernard Muir, of Stanford, explained the Jayhawks' standing shortly after the Top 16 seeds — broken down in four sets of 1 through 4 seeds — were revealed.
"The final spot on the 2 line came down to Michigan State's eight Quadrant 1 wins, five of which have come away from home," Muir said. "While Kansas has a similar number of Quadrant 1 wins as the Spartans, we thought Kansas' performance on the road, along with the unfortunate season-ending injury to Udoka Azubuike, kept the Jayhawks behind Purdue. At the same time, the abundance of quality wins kept Kansas ahead of Houston."
Muir said the top seven teams in Saturday's bracket reveal had clearly separated themselves from the rest of the pack up to this point.
Photo Gallery
Kansas basketball v. Oklahoma State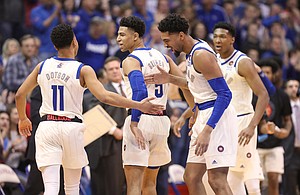 View a gallery of images from Saturday's game between the Jayhawks and Cowboys at Allen Fieldhouse.
They were, in order, Duke, Tennessee, Virginia, Gonzaga, Kentucky, Michigan and North Carolina. Spots 8-16 were: Michigan State, Purdue, Kansas, Houston, Marquette, Iowa State, Nevada, Louisville and Wisconsin.
Dunk you very much
Harassed all season — even by his own mother — for not throwing down a dunk, Kansas freshman Devon Dotson needed just two possessions to change that on Saturday.
After a smooth jumper from freshman Ochai Agbaji got Kansas on the board, Dotson swiped one of his 2 steals and raced the other way for one of those uncontested buckets that he has delivered so many times before. This time, however, he gave it a little more, elevating higher and flying farther for a one-handed slam that put Kansas up 4-0 in the game's early going.
His teammates, who have been looking for a spark wherever they can find it during the past couple of rough weeks, were appreciative, even if not overly complimentary, of Dotson's gesture.
"I haven't really seem him dunk, like, ever," said Agbaji, who is far and away this team's highest flier. "He doesn't dunk in practice or when we're just shooting around, but it was a good dunk. It kind of got everybody pumped up."
Dotson finished 6-of-10 from the floor for 18 points, 5 rebounds, 4 assists and just one turnover in 37 minutes.
McCormack starts
Although he logged just 14 minutes total, Kansas freshman David McCormack earned the first start of his KU career during Saturday's victory.
Pegged by many as a great answer to the void left in the starting lineup after the season-ending injury to 7-foot, 270-pound center Udoka Azubuike, McCormack has struggled to earn consistent minutes so far this season, playing just 7 minutes per game on average.
KU coach Bill Self said Saturday that the matchup — being able to play two bigs against the Cowboys instead of having to field four guards — favored the bulkier McCormack, and Self was eager to see what McCormack could do.
"I thought it was the best matchup for us," Self said. "But I actually thought (junior) Mitch (Lightfoot) would be better for us finishing the game than Dave probably would, because of experience, and I didn't see any reason to give Mitch 2 fouls in the first 5 minutes of the game."
Despite missing all three shots he attempted, McCormack finished with 5 rebounds — 4 offensive — and also blocked a shot and picked up 2 fouls.
Black History Month
The Jayhawks broke out some new uniforms for Saturday's victory, wearing what Adidas called "Harlem Renaissance uniforms" to honor Black History Month.
According to a press release, the jerseys and shorts were designed with features said to encapsulate the 1920s, when the Harlem Renaissance fostered black cultural identity and inspired people who took part in the movement to change stereotypes about the black community.
The KU women's team also wore Harlem Renaissance uniforms during their Saturday night home game against Texas.
This and that ...
The Jayhawks on Saturday started four freshmen for just the second time in the Self era. The only other time it had happened before Saturday came during a game on Dec. 7, 2013, when Andrew Wiggins, Joel Embiid, Frank Mason III and Wayne Selden Jr., all were in the starting lineup in a KU road loss at Florida ... Kansas now leads the all-time series with Oklahoma State, 115-59, including a 63-12 mark in Lawrence and a 48-10 record in Allen Fieldhouse ... The Jayhawks have won 17 in a row inside their home gym, dating back to the end of the 2017-18 season. KU is 13-0 at home this season ... KU is now 90-12 following a loss in the Self era, including a 5-1 mark this season ... Dotson scored in double figures for the third game in a row and Lawson recorded at least one 3-pointer for the sixth consecutive game.
https://www.youtube.com/watch?v=PFHIL3SjHNc
https://www.youtube.com/watch?v=7ngB7HIQjVg&t=1s
https://www.youtube.com/watch?v=2-Q6VNjjtIo&t=6s
https://www.youtube.com/watch?v=d8hqgkt5aqQ