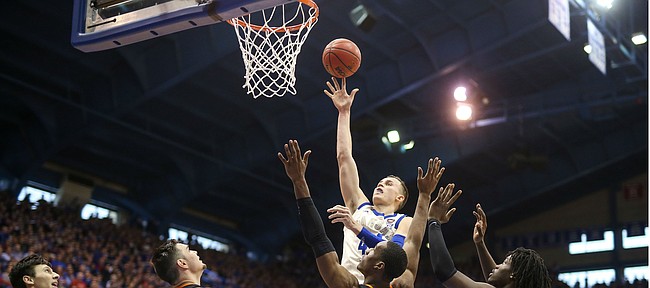 Allen Fieldhouse is loud.
Mitch Lightfoot is louder.
And with both his play and an audible Ric Flair-esque scream that somehow could be heard over the roar of the Allen Fieldhouse crowd as he walked to the bench for a timeout midway through Saturday's second half, Lightfoot helped lead No. 13 Kansas to another much-needed 84-72 victory over Oklahoma State.
"He was phenomenal," OSU coach Mike Boynton said of Lightfoot's 6 points, 9 rebounds and 2 blocks in 20 minutes on Saturday. "He did what you do when you put on that uniform. When your opportunity comes, you make sure you're ready, and you do whatever it is that your team needs on that day. And today was just bringing energy, even in the sense of not giving up a layup. It's a really, really small thing, but it sends a message that this is what we stand for."
The play Boynton was referencing came early in the second half, when OSU was still within striking distance and freshman Yor Anei caught a pass and had nothing but open space between him in the basket.
That was until Lightfoot saw it and decided to do something about it.
Despite giving up a couple of inches, a lot of length and 10 or 20 pounds, Lightfoot did not hesitate to challenge what, a split second earlier, looked like it would be an easy dunk for Anei.
Instead, Lightfoot rose for the block and Anei, who shuffled his feet before even going up, was called for a travel.
Photo Gallery
Kansas basketball v. Oklahoma State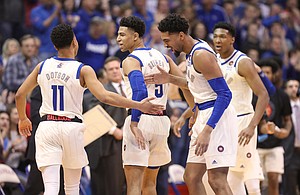 View a gallery of images from Saturday's game between the Jayhawks and Cowboys at Allen Fieldhouse.
"They were a little ahead of me on the play, so I was just trying to dead-out sprint as fast as I could to get there and just kind of gave it my all," Lightfoot said. "It's worth it."
Why?
"Like coach always says, 'No easy baskets,'" he added. "You've got to earn every one of them. That's something we're trying to enforce moving forward. You've got to earn every point against us."
After being tied at 36 at halftime, Kansas led by just 6 at the time of Lightfoot's all guts and little glory play, but soon got five consecutive 3-point makes that turned a 2-point grinder into a 15-point Kansas advantage midway through the second half.
Freshman Ochai Agbai (23 points on 8-of-12 shooting) hit two. Fellow freshman Quentin Grimes (6 points) also hit two. And junior forward Dedric Lawson, who led all scorers with 25 points while adding 5 rebounds and 5 assists, drilled the fifth after yet another highly intelligent basketball play by Lightfoot.
Instead of falling into the fever of 3-point buckets raining from the sky, Lightfoot caught the ball reversal at the top key, turned down an open 3-point shot of his own and whipped a pass to the corner to Lawson, who caught it and shot it in perfect rhythm to put Kansas up 68-53 with 9:16 to play.
"Dedric had made a couple and I thought I'd go ahead and get an assist," Lightfoot said with a laugh. "I'm such a selfless guy. Dedric has a great shot, and I trust his a little bit more than my own."
Kansas made 11 of 29 from 3-point range in this one and the offensive fireworks put the Cowboys away. But everyone in the Kansas locker room was well aware of Lightfoot's role in the victory, long before Self began talking about it.
"That's something he does on a consistent basis," said Lawson, noting that Lightfoot's hustle-and-heart play had inspired him to start trying to take more charges.
Added Agbaji of Lightfoot's block attempt on Anei: "Just the effort he gave on that shows he's willing to give his body for the team."
Self approved and agreed and said he never has to remind Lightfoot to play hard or do the little things.
"Mitch is always doing that," Self said. "He'll hurt somebody in practice — or himself — because he's doing the same thing. But he always tries. He always tries. … I don't think he was the best player in the game, but I thought he was certainly the most important player in the game today."
That importance took on even greater meaning on Saturday, as the Jayhawks were down to just eight scholarship players, with Marcus Garrett still injured and Lagerald Vick on a leave of absence.
Asked if the circumstances surrounding this team had any impact on the way he played, Lightfoot, true to form, said he was happy to contribute in any way he could.
"You've got to rise to the occasion," he said. "Obviously, we're a little short-handed, and I'm just trying to give the team what I can do to help us win. I just think it's all about taking your opportunities and making the best of them, whether that be 2 minutes or 20 minutes. You've got to come out there with that same energy and give coach what he wants."
You don't rack up an all-time record of 465-102 at a place like Kansas unless what you want is a victory every time your team hits the floor.
Boynton, now in his second year leading Self's alma mater, recognized that, but, as a coach who is cut from the same cloth as Self, he also recognized the importance of a player like Lightfoot.
"I know we talk about all of the Hall of Famers and Wilt (Chamberlain) and Paul Pierce," Boynton began. "But there's been a lot of guys like Mitch Lightfoot come here and help those teams hang those banners, as well."
Added Self: "I thought there was a positive energy within our group, and I think Mitch really contributed to that. He brought energy today. He hasn't had a lot of things go his way of late, but he keeps grinding."