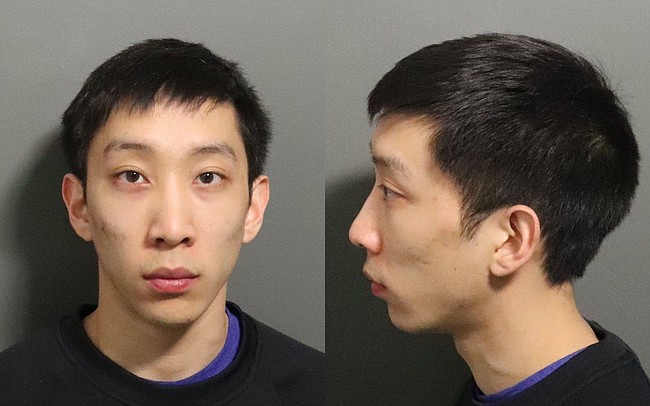 For over a year while he was the University of Kansas women's volleyball volunteer assistant coach, Skyler N. Yee also was breaking into homes and stealing underwear and swimsuits, criminal charges allege.
Yee was arrested and charged this week with 15 counts of burglary, property damage and theft from mid-December 2017 through last month, according to the complaint filed in Douglas County District Court, obtained Thursday by the Journal-World. The latest alleged crime happened Jan. 1.
Within a few weeks of that, in mid-January, Yee resigned his post with the KU women's volleyball team, KU Athletics officials said.
Yee had been the team's volunteer assistant coach since August 2016. Previously he was team manager during the 2013, 2014 and 2015 seasons.
Yee's charges do not list any victims' names, only initials.
However, when Yee made his first court appearance Wednesday a judge ordered him not to contact any KU volleyball team members — current or former, according to court documents. Yee also was ordered to have no contact with any current or former members of the Lawrence Land Sharks, a local youth volleyball club.
Yee's charges comprise four counts of felony burglary, eight counts of misdemeanor theft and three counts of misdemeanor property damage.
He allegedly broke into a home at Rockland West Apartments, 4301 W. 24th Place, once over Christmas break 2017 and once over spring break 2018, according to the complaint. Each time, he allegedly damaged a window and stole underwear, swimsuits, shoes and other clothing from the same three victims.
Charges further allege that Yee broke into a home in the 1500 block of Fountain Drive on Dec. 31, 2018, and on Jan. 1 of this year, again breaking a window and stealing underwear, swimsuits, shoes and other clothing from two victims.
No lawyer was listed for Yee Thursday in court records. His next court appearance is set for Feb. 26.
An Overland Park native, Yee was a KU junior when he took the volunteer assistant coach position at KU. As of Wednesday night, the KU directory still listed him as a student.