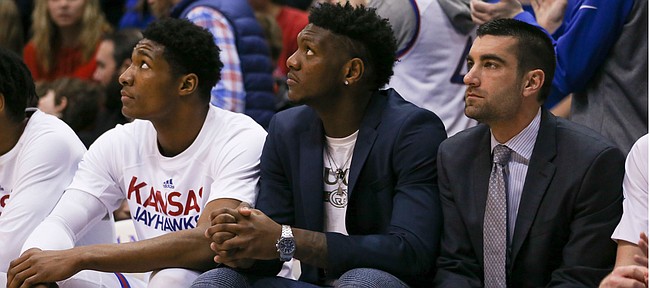 If the "Free De Sousa" chants from the student section and the raucous roar from the Allen Fieldhouse crowd when he took the floor and later was shown on the video board were not enough of an indication that the Jayhawks are still fighting for ineligible forward Silvio De Sousa, Kansas coach Bill Self's comments after the game had to be.
"It ain't over," Self said of the saga that had played out for months and finally came to a resolution on Friday.
That's when the NCAA ruled De Sousa ineligible for the rest of the 2018-19 season and all of 2019-20 for his guardian's alleged role in accepting $2,500 and making arrangements for more in a pay-for-play scandal that recently rocked college basketball.
The facts today are the same as they were when people arrived at Allen Fieldhouse for Saturday's 79-63 Kansas victory over Texas Tech. De Sousa is ineligible. KU isn't happy. And the future is uncertain.
Photo Gallery
Kansas basketball v. Texas Tech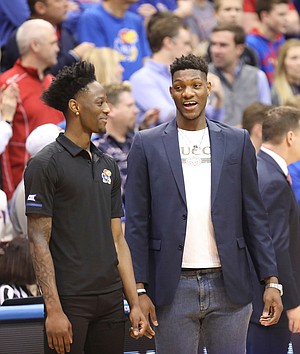 View a gallery of photographs from Saturday's game between the Jayhawks and Red Raiders at Allen Fieldhouse.
While there, however, KU officials provided a little more clarity about what comes next, both before and after the game.
Speaking to reporters during an impromptu news conference 15 minutes before tipoff, Kansas Athletic Director Jeff Long again expressed his outrage over the NCAA's ruling and then explained a little more about how things got there.
According to Long, who said De Sousa was not officially ruled ineligible by KU until Jan. 13, the process took 3 months.
"As they looked into potential NCAA violations regarding Silvio, we provided them with every witness, every document, every communication that they requested," Long said. "We kept pressing them for an answer, so Silvio could get back on the court, even if it meant serving a penalty first."
That moment never came. Instead, two months into the probe, Long said NCAA officials informed KU that they would consider reinstatement if KU did two things. The first was standard and required KU ruling De Sousa ineligible and formally requesting reinstatement. KU did that in mid-January. The second involved the NCAA mandating that KU "had to identify (former Adidas rep) T.J. Gassnola as an agent and as a booster, only as a hypothetical, for the purposes for reinstatement."
Asked if he gained any clarity as to what was meant by hypothetical, Long said, "We understood that the declaration for reinstatement purposes only was so they could move through the reinstatement process."
Asked if KU considered not classifying Gassnola as an agent and a booster, Long said, "We considered many, many things through the process and, in the end, we felt that that was the best approach to take based on the information we had."
Asked if KU considered declaring De Sousa ineligible before Jan. 13, Long said, "There's been a number of times through the process where we considered that, but it wasn't until Jan. 13 that we thought we had a path forward that could result in his eventual reinstatement."
KU is appealing the ruling, but Long said the NCAA has not given KU any sort of timeline for a ruling on the appeal. He added that the NCAA has given KU "a commitment from them that they will move along as quickly as possible," however. It wouldn't be a matter of days, he said, but he hoped the process would happen "quickly."
For now, De Sousa will remain at KU, where, according to Long, he will continue to receive all of his scholarship benefits, practice with the team and even travel to away games through the request of waivers obtained by Kansas.
Long said he remained "confident in Silvio's innocence in this" and added that De Sousa "did not benefit from the alleged violation and he had no knowledge."
And therein lies the biggest issue that Self has in this whole deal. Of course, Self wants De Sousa to play. And there's little doubt that his 6-foot-9, 245-pound frame that was so key in helping Kansas reach the Final Four a year ago would help this season's team immensely.
But beyond that, Self appears to be focusing his efforts toward what De Sousa needs.
"You know, I've got no crystal ball to say that this is what I'm hoping for and whatnot," Self explained after Saturday's victory. "You know what I'm hoping for? I'm hoping for fairness.
"I do feel that our university will do whatever they humanly can to create a situation to put our best foot forward in trying to get (De Sousa's) penalty reduced. Without question. I know that Jeff (Long) and the chancellor (Doug Girod) are totally on board with fighting for him. Not that you wouldn't fight for every student-athlete. I get that. You should. But this one, to us, is a little bit different and even more special because of the way he's handled everything so far."
Because of that, and because of KU's hope that De Sousa might still suit up some day, Self said nobody was operating with the mindset that this is now a thing of the past.
"I don't think that it's time for us to move on," Self said. "I don't think we go into this planning on having him. We prepare like we don't, and if we can ever get him, it would be a bonus. But I do think, regardless of the situation, we have to and should and want to fight and advocate for him, because to think that his college basketball career is over (is hard). To me, if you knew that something was not right, are you ever going to accept it? So, to me, no matter what happens, based on what was reported yesterday, you're never going to stop fighting, because it's just not right."