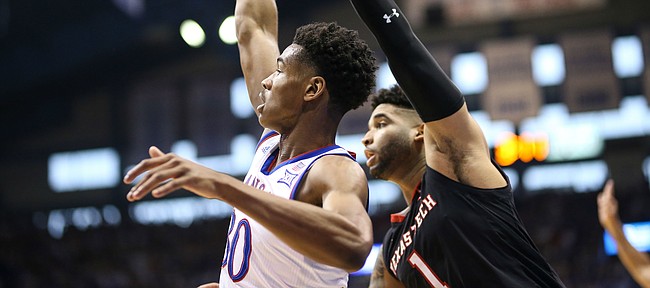 Former point guard Devonte' Graham, who is now with the Charlotte Hornets, is still finding ways to help Kansas win, even though he is 11 months removed from his last action in a Jayhawk uniform.
Before KU's 79-63 victory over Texas Tech Saturday afternoon in Allen Fieldhouse, Graham gave the team a message that proved to be pivotal. And before the team ran through the tunnel, Kansas played that message on the TV in the locker room.
The message? Don't be afraid to shoot the ball.
"Devonte' told them, 'We never passed up shots. I watched you guys, and guys pass them up all the time. I don't care what coach says, shoot the ball,'" KU coach Bill Self said. "They listen to him more than they listen to me."
Photo Gallery
Kansas basketball v. Texas Tech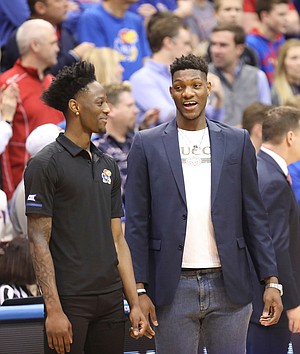 View a gallery of photographs from Saturday's game between the Jayhawks and Red Raiders at Allen Fieldhouse.
It is safe to say that the Jayhawks got the message. They knocked down a season-high 13 3-pointers, including nine in the first half, to take down the Red Raiders and end a two-game skid.
Kansas never trailed in its win over Texas Tech, jumping out to a 10-2 lead in the first five minutes of the game. Lagerald Vick and Ochai Agbaji each hit a 3-pointer, showing Graham's message had an immediate impact.
"He's one of the greatest to come through here," freshman point guard Devon Dotson said. "Just hearing a message from that gets you going."
KU attempted 30 shots from beyond the arc, which was two more than any other game this season. Other than the 28 such attempts against Arizona State, KU has actually not fired up more than 23 triples in a contest all year.
For at least one day, however, the Jayhawks were searching for their opportunities from deep. In fact, 50.8 percent of the team's field goal attempts were from long range. That is 17.1 percent higher than the team's average on the season.
But it is merely just the latest example of Graham's handprints on this year's team.
After the 73-63 loss to Texas on Tuesday, Graham sent a text message to Dotson about keeping his head up, and offering words of encouragement. Graham has also kept in touch with his former roommate, Dedric Lawson, throughout the course of the season.
"He loves this place more than anybody I've ever met here," Lawson said. "He's a guy who wants to see us win more than anybody."
Most of all, Graham has personal experience with what KU has been going through as of late.
Kansas had a similar skid last year when it dropped back-to-back contests in December, including a 95-85 home loss to Arizona State. In Saturday's pregame video message, Graham spoke about just that.
"I was a witness to that. How people counted them out, said they were going to lose and stuff like that," Lawson said. "Devonte' said, 'Just don't worry about that. It's early. It's February. You still got time to go out there and prove yourselves.'"
At least for Saturday's game, the Jayhawks did just that — thanks in no small part to some words of encouragement from the former Big 12 Player of the Year.