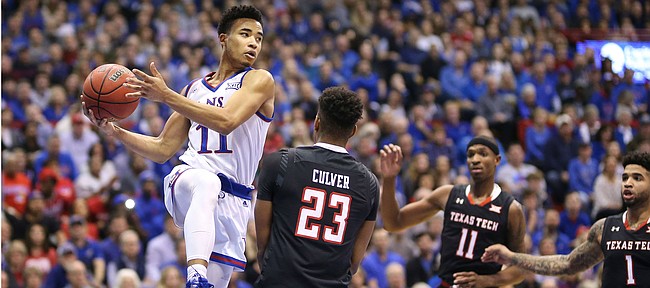 The questions lingered, doubt ran rampant and genuine concern to the point of full-fledged worrying was starting to cast its shadow on the entire Kansas basketball world.
And then, the Jayhawks returned to the building they call home and calmed everyone's biggest fears.
Behind the strength of a first-half offensive onslaught that KU coach Bill Self called the best half of basketball they've played in a while, the 11th-ranked Jayhawks torched No. 16 Texas Tech, 79-63, at Allen Fieldhouse on Saturday, with Silvio De Sousa now officially ineligible and Marcus Garrett on the bench in a walking boot.
"We needed it," Self said of Saturday's win, which improved KU to 17-5 overall, 6-3 in Big 12 play, and kept the Jayhawks right in the thick of the conference title race. "We can say what we want, but we've had a rough couple of weeks. … I don't think we put our best foot forward. And then, manhood being challenged a little bit, and then you have the news with Silvio and then the news with Marcus. You would think if we were going to rally the troops and fight together, this would be the perfect opportunity to do so."
Photo Gallery
Kansas basketball v. Texas Tech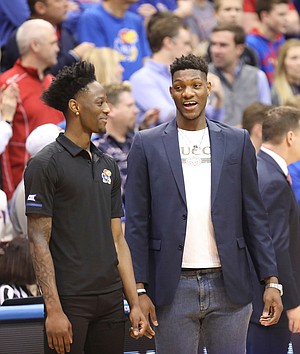 View a gallery of photographs from Saturday's game between the Jayhawks and Red Raiders at Allen Fieldhouse.
Self was not the only one thinking that way.
Texas Tech coach Chris Beard made that clear during his brief meeting with the media following the Red Raiders' fourth loss in its last seven games.
"Coach told us we were going to get their best pop, coming off two (losses) in a row," TTU senior Matt Mooney said after the game. "And we didn't listen. They embarrassed us tonight."
Added Beard: "You'd have to be an idiot not to understand what we were walking into. But I explained to the players, when you play a Hall of Fame coach that's lost a couple games in a row, one of their best players is hurt, that's one man down. Another player, the NCAA does what they do, stuff that makes no sense, that's another player down. And you think you're not going to come into a hornet's nest?"
Given all of the noise and distractions surrounding the Kansas program during the past 48 hours, Texas Tech was always going to have to survive an early surge from the Jayhawks and their loud and proud fans.
And that certainly came. The Jayhawks roared out to a 10-2 lead, only surpassing their red-hot offensive start — 4-of-8 overall, 2-of-3 from 3-point range — with their stifling defense.
Texas Tech made just 1 of its first 7 shots — 0-of-3 from 3-point range — and also watched the ferocious KU defense force a shot-clock violation and a jump ball, all in the game's first 5 minutes.
Tech momentarily climbed back into it, cutting the KU lead to 15-9 at one point, but the Jayhawks' offense never cooled, knocking in 11-of-19 and 6-of-8 from 3-point range in the game's first 13 minutes to build a 30-18 lead.
Asked to explain KU's good fortune in the game's opening minutes, Devon Dotson pointed to a change in attitude.
"Just taking every possession seriously and really locking in," said Dotson, who finished with 20 points, 4 assists and 3 soul-crushing steals in 34 minutes. "When we're turned up like that on the defensive end, I think we're really tough to beat. And we had our offense rolling tonight and we didn't look back."
Thanks in large part to a season-high 13 3-pointers, on 30 attempts, — 9 of the makes came in the first half — Kansas led 46-26 at the half and pushed the lead to as many as 23 in the second half before riding its way to victory. Texas Tech (17-5, 5-4) never crawled closer than 13 in the second half — more of a formality than anything else.
"Victory favors the team that's more aggressive," Beard said after his team's loss. "And they were (more) aggressive than us the whole game, every possession on offense and defense."
Added Texas Tech big man Norense Odiase: "We were in catch-up mode the whole game."
Making sure of that was a balanced Kansas attack that featured four players reaching double figures and one of those rare games this season where the Rock Chalk chant rang out and the KU walk-ons dribbled out the final seconds.
There were plenty of highlights between the opening tip and the final horn and, to no one's surprise, freshman Ochai Agbaji, who started his second consecutive game, was featured in most of them.
"He played great. Double-double, joined the club," said junior forward Dedric Lawson of Agbaji, who finished with 10 points and 10 rebounds in 33 minutes. "He's that type of guy to go out there and play with energy, playing with a free mind. He's a great player, a special talent and he just keeps going up each and every game."
A 3-pointer from the corner early in the first half produced an explosive reaction from the 6-foot-5 guard from Kansas City, Mo. An alley-oop from Charlie Moore (6 assists in 15 minutes) to Agbaji that served as an answer to an alley-oop involving Texas Tech star Jarrett Culver (10 points, 6 rebounds, 5 turnovers in 32 minutes) provided even more energy. And then, the real highlight, which featured an innocent bystander wearing a Kansas jersey.
This one was another lob from Moore to Agbaji and, as the KU freshman went up to flush it, he had to fly past teammate David McCormack in the process.
"I thought Dave was going to mess him up," Lawson said after recording another double-double of 25 points and 10 rebounds, including a 3-of-3 clip from 3-point range. "But he ended up getting it."
That bucket put Kansas up 59-41 with 11:43 to play. And the Jayhawks needed just five more points from that point to top the number that Tech finished with by game's end.
"We really came together," Agbaji said after the game. "That's what I think our statement was. We had a lot of pressure going into this game and I think we handled it well. … I really do believe this is a sign of what we can do."