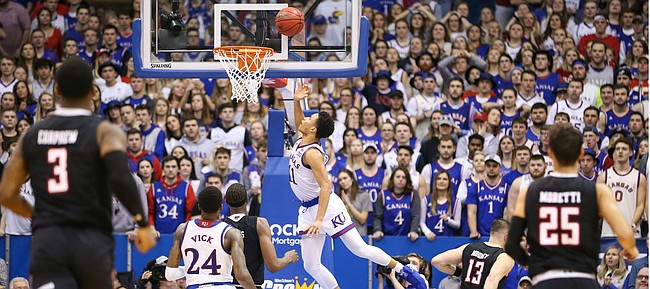 It's no coincidence that one of the Kansas basketball team's most impressive victories of the season came on the heels of the Jayhawks learning the on-court fate of one of the program's most popular players.
Throughout the first three months of the schedule, there always remained a chance. Maybe KU could add 6-foot-9 forward Silvio De Sousa to its lineup, and take off to another level as a result.
That cloud of hope hovering above both the highs and lows endured by the Kansas players during the first 21 games finally dissipated Friday evening. That's when the NCAA finally ruled that, because De Sousa's guardian received $2,500 and agreed to receive another payment of $20,000 from an Adidas employee aiming to steer the five-star prospect to KU, De Sousa will have to sit out the remainder of this season and the 2019-20 season as punishment.
The decision obviously didn't sit well with anyone tied to the KU basketball team, from the fan base that arrived Saturday at Allen Fieldhouse foaming at the mouth, to De Sousa's coaches and teammates.
While offensive tweaks brought about by back-to-back Kansas losses on the road fueled a 79-63 victory over Texas Tech, so, too, did the anger the Jayhawks felt for De Sousa, who will now enter an appeals process regarding his eligibility.
Photo Gallery
Kansas basketball v. Texas Tech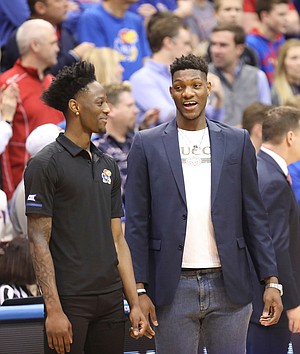 View a gallery of photographs from Saturday's game between the Jayhawks and Red Raiders at Allen Fieldhouse.
KU forward Dedric Lawson described Friday as "definitely tough," with an ankle injury to starting guard Marcus Garrett making matters worse. But Garrett could return to the court as soon as next week. De Sousa may never play for Kansas again.
"Silvio is a great human being. I don't wish that on anybody, no matter what the situation was," Lawson said. "That was a harsh punishment for a guy who's such a great person — always see him laughing throughout the whole time, his situation, what he's been going through, coming to practice hard, making me better."
How could the Jayhawks not feel for De Sousa and his predicament?
On the eve of their anticipated matchup with the No. 16 Red Raiders (17-5 overall, 5-4 Big 12), KU's players and coaches learned during Friday's practice, right before the NCAA ruling went public, that De Sousa wouldn't be joining the rotation.
"He was devastated," KU coach Bill Self shared of the would-be sophomore big man's reaction.

According to Self, KU Athletic Director Jeff Long met with both the head coach and De Sousa immediately after practice to further inform them about the situation.
"He was crushed. He is crushed," Self said following KU's win. "Which anybody would be crushed. But he held his head high. And he looked sharp today and he knew there'd be a lot of eyes on him today. He's handled it about as well as anybody could handle it."
No doubt emboldened by the way his teammates pulled together around him, De Sousa, sporting a white Gucci T-shirt and navy blue blazer, witnessed quite a show from his courtside seat on the bench.
The No. 11-ranked Jayhawks (17-5 overall, 6-3 Big 12) drained a season-high 13 shots from 3-point range and dished 19 assists, beating their previous best assist total in conference play by five.
The De Sousa news could have gone the other way for this team, what with KU coming off losses in three of the past four games. But the unpopular decision didn't distract the Jayhawks from the task at hand.
After waiting and waiting and waiting some more for some clarity on De Sousa, his teammates avoided compounding a bad Friday with another subpar showing.
"I thought our guys handled it well," Self said of the Jayhawks learning the news and then turning around to play one of the Big 12's better teams. "One thing about it, we can always look at how things affect — as a parent, it affects you so much because it's your child. But if you're one of the seven siblings, yeah, it's a big deal. But it's a much bigger deal for the one it affected as opposed to all of us. The older you get, the more you see it from a broader picture."
Even so, Self described De Sousa's teammates as "disappointed" and "down" upon discovering the NCAA's ruling.
"They love the guy and hurt for him," Self shared. "But they used that kind of as a rallying cry, too."
Now that they've used the basketball court as somewhat of an outlet, the best thing the Jayhawks can do is try to move on, while honoring the hard-working De Sousa by trying to mirror his work ethic.
Sure, they can hope, for the good of their teammate, that an appeal brings about a different immediate future for De Sousa, too. But they can't afford to assume something is going to change.
They will continue to support their teammate in whatever ways they can. And, in the meantime, they should be able to play with freer minds.
"Yeah, I guess so," Lawson replied, when asked if the news allowed them to move past it and forge ahead. "You keep dwelling on the situation. 'If we had Silvio … If we had Silvio …' But they gave the verdict."
KU's first official day without either the hope of a De Sousa return or injured and out for the season center Udoka Azubuike couldn't have transpired much better.
The Jayhawks were even without Garrett, and still put forth the type of game that should give them hope for what they can become in the weeks ahead.
"There's a point in time in every season where a team becomes a team," Self said, "and we've been given the opportunity, and maybe fortunately so, that we've dealt with some crap. And now's when you really need to become a team."
As much as they hate it for De Sousa, the NCAA's decision on his eligibility could end up becoming the exact galvanizing circumstance his teammates needed.