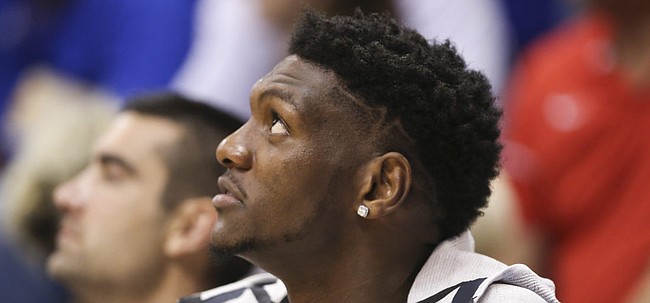 Silvio De Sousa will not play a game for the Kansas men's basketball team this season, nor will he join the Jayhawks' rotation for the 2019-20 campaign, the NCAA ruled late Friday afternoon.
The NCAA's ruling states that De Sousa must sit out the entirety of both this college basketball season and the next one, because his guardian received payment from a university booster and agent and agreed to receive additional funds from the same person.
Per NCAA rules, once KU learned a violation had occurred, it had to declare De Sousa ineligible and then request to the NCAA that he be reinstated. According to the NCAA, its staff reviews each such request "individually based on its own specific facts."
The ruling states that through KU's reinstatement request to the NCAA, it was determined De Sousa's guardian received payment of $2,500 from an agent and booster of the school. He agreed to accept additional payment of $20,000 from the same individual and an Adidas employee for securing De Sousa's enrollment at Kansas.
The decision may be appealed to the Division I Student-Athlete Reinstatement Committee, which comprises representatives from NCAA schools.
KU head coach Bill Self released a statement decrying the decision shortly after it came out.
"In my 30-plus years of coaching college basketball, I have never witnessed such a mean-spirited and vindictive punishment against a young man who did nothing wrong," Self stated. "To take away his opportunity to play college basketball is shameful and a failure of the NCAA. Silvio is a tremendous young man who absolutely deserves to be on the court with his teammates in a Jayhawk uniform. This process took way too long to address these issues. We will support Silvio as he considers his options."
Jeff Long, KU's first-year athletic director, took a similar tone in his response to Friday's news.
"We are shocked and incensed by today's decision," the statement from Long began, "and we will immediately appeal as this was clearly an unfair and punitive ruling for a young man who had no knowledge of any NCAA violation, nor did Silvio personally benefit from the violation. While we will continue to work with the NCAA on the broader matter, we have an obligation and a desire to advocate for our student-athletes, and will continue to do that for an outstanding young man."
According to KU spokesman Jim Marchiony, reached by the Journal-World on Friday night, KU does not know at this juncture how long an appeal process on De Sousa's behalf may take.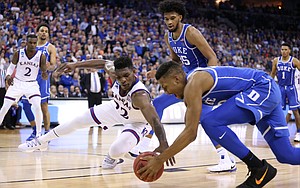 In the NCAA's response to its ruling on De Sousa's eligibility, it stated, "when a prospective student-athlete allows a third party to involve himself in the recruitment process, the prospective student-athlete is then responsible for the actions of that person, regardless of whether the prospective student-athlete had knowledge or if benefits were received."
The NCAA's response added that membership guidelines "state the starting point for these violations is permanent ineligibility, but the NCAA staff recognized mitigation based on the specific circumstances of this case when making its decision."
According to Scott Tompsett, an attorney who represents De Sousa, the five-star prospect in the Class of 2017 "never received any illicit money" during his recruitment.
In a statement released by Tompsett on Friday evening, the attorney called the NCAA's ruling "outrageous."
"It should shock the conscience of anyone who believes in fundamental fairness," Tompsett stated. "Silvio did absolutely nothing wrong. He was not involved in any wrongdoing by the adults, he did not know about any wrongdoing by the adults, and he did not benefit from any wrongdoing by the adults."
Tompsett argued that the NCAA's ruling "illustrates the absurdity of how the NCAA enforces its rules: A young man who did nothing wrong has had his life altered in a very negative way through no fault of his own."
He added: "That is not how we do things in this country. I will work with KU to do everything legally possible to get this outrageous decision reversed."
KU officials decided ahead of the team's exhibition opener this past October to withhold De Sousa, a 6-foot-9 sophomore forward from Angola, from competition, in the wake of his eligibility being called into question during a federal trial on college basketball corruption.
It was during the trial that a one-time Adidas consultant testified that he made payments to De Sousa's guardian, Fenny Falmagne, who allegedly received $2,500 for college courses to send De Sousa to KU.
Falmagne also allegedly received $60,000 from a Maryland booster. The Adidas consultant, TJ Gassnola, testified that he meant to pay $20,000 to get De Sousa out of the Maryland payment, but never did because the FBI investigation became public.
Falmagne did not respond to text messages from the Journal-World requesting comment on Friday.
Friday's ruling marked the first time that the NCAA acknowledged an Adidas employee making a payment to the guardian of a KU prospect. What's more, the language the NCAA used in its decision labeled the man who paid De Sousa's guardian as a "booster of the school."
Asked whether that brought about concerns that the men's basketball program could face further sanctions, Marchiony replied, "We're not going to have any comment until this process is complete."
The way Josephine Potuto, a University of Nebraska College of Law professor and former chair of the NCAA committee on infractions, described KU's current circumstances, KU will also be "on the hook" for De Sousa's violations and the violations committed by the "booster."
According to Potuto, more evidence would be required in order for the NCAA to decide KU exhibited a "failure to monitor" or "lack of institutional control." Such instances occur when it is found that a school was not sufficiently diligent in its systems for avoiding and detecting violations, Potuto explained.
"I don't know whether there is evidence here to support those findings," Potuto added of KU. "There are hundreds of student-athlete reinstatement decisions every year (meaning hundreds of violations) and there are hundreds of violations committed by schools, including some pretty serious, where no failure to monitor or lack of institutional control is found."
De Sousa played high school basketball in Florida, at IMG Academy, and graduated early, in December of 2017, in order to enroll at KU for the 2018 spring semester and join the basketball team.
During the big man's freshman season, he appeared in 20 games for the Jayhawks off the bench, and averaged 4.0 points and 3.7 rebounds as Kansas reached the 2018 Final Four.
Now 20, De Sousa remained an active participant at KU practices throughout the past several months as the program awaited clarity on his status.
— Journal-World reporter Dylan Lysen contributed to this story.